Up-and-coming indie rockers Coach Party reside just over the water in the Isle of Wight. It's a location unsuspecting of being responsible for giving us two of the most exciting British indie rock acts of the last year or so; Wet Leg and now Coach Party.
They return to the Wedgewood Rooms for what is essentially their homecoming gig, bookending a frantic and unforgettable couple of years for the band. They've supported rock royalty Queens of the Stone Age, fellow islanders Wet Leg, The Mysterines and opened for French new wave act Indochine in front of 97,000 fans.
Top this off with a Glastonbury appearance and positive critical praise, Coach Party seem to have squeezed years of growth and success into a very tight timescale, for which they feel extremely deserving.
Their show last night came weeks after the release of their debut record 'KILLJOY', a concise and aggressive love letter to 90's alt-rock that deals with the frustrations of day-to-day life, always with its tongue firmly placed in its cheek.
Coach Party musically aren't reinventing the indie rock wheel, but sure are having quite the time thrashing it about.
Support came from Girl Scout, a four-piece indie pop outfit who initially met while studying at the Royal College of Music in Stockholm. Formerly a jazz group, Girl Scout is led by singer Emma Jansson whose evident vocal training allows her voice to excel in powerful moments, but become incredibly precise when reaching her falsetto.
On stage, Girl Scout ditched the delicacy of their recorded material in lieu of an edgier performance. After touring with Coach Party for some time, I wonder if their presence has encouraged a meaner Girl Scout to arise.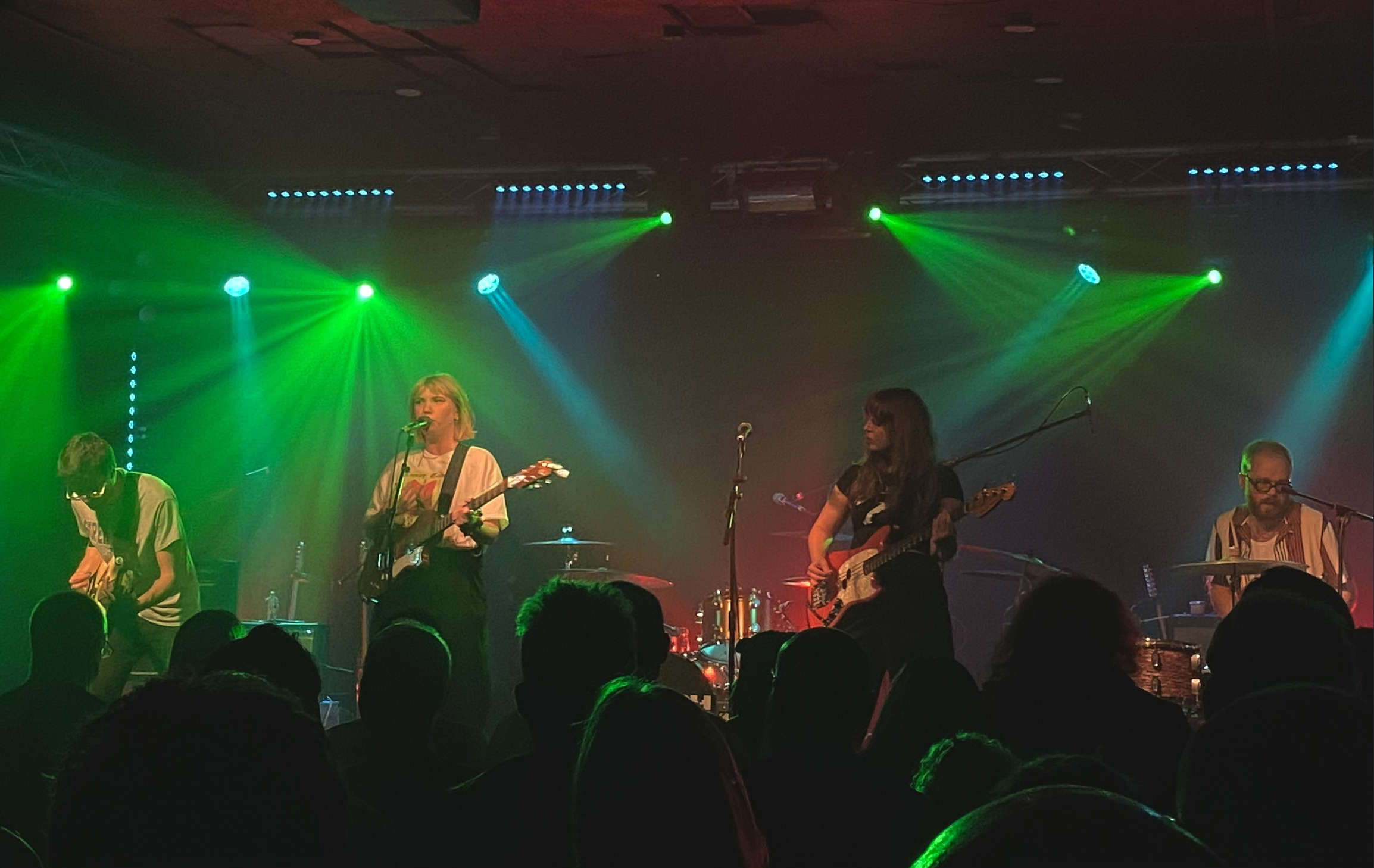 (Girl Scout are Viktor Spasov, Emma Jansson, Evelina Arvidsson Eklind, Per Lindberg)
The second support act, Panda Swim, also from the Isle of Wight, sound like they were taken out of a time capsule from the 1990's, ripped straight from the closing credits of a teen rom-com. It's joyful pop punk, full of nostalgic hooks and angst.
Coach Party opened their set with 'Micro-Aggression', the first single off their debut record and unofficial sequel to Wolf Alice's 'Smile'. The band's lead singer and bassist Jess Eastwood harbours a great confidence as a frontwoman, reserved enough to make all the playing and screeching look effortless but not enough to appear bored or apathetic.
That's a sentiment applicable to all members of Coach Party, who wholly embrace everything cool about being young and being in a band together.
Eastwood's vocals tend to be distorted and over-saturated in the studio, though the heights her voice hits live really negate the need for that. It was a well-measured touch to leave them less processed here.
When she declares (potentially declares is too nice a word) "I wanna hurt you bad / Just like you hurt me" to her perpetrator in 'FLAG (Feel Like a Girl)', it's packed full of conviction.
Coach Party's aesthetic thrives off their nihilism and dark humour, for which their live show is no different.
When album opener 'What's the Point in Life' is delivered with such exhilaration and energy, it's all too easy to let the very question being posed brush past you.
Their lyrical content is rarely shrouded in metaphor, although the pace of the songs wouldn't leave you any time to ponder deeper meanings anyways.
Guy Page felt like an unsung hero at the back on the drums. Page has predominantly produced all of the band's material, with his ferocity on the kit largely driving the band's power forward. His arms flew between each hit as if he were possessed, with his drum fills being equal levels intense and complex.
Guitarists Joe Perry and Steph Norris fit perfectly, coupling interesting lead guitar melodies with a very grungy rhythm section that almost became blistering on tracks like 'Breakdown'.
Some breathing space is left in the set (though not a lot of it) on the tracks 'Always Been You' and 'Sweetheart' and the band works just as well when they take a more refrained approach, letting the audience bask in some sweet indie bliss – at least for three seconds before the temptation to get mean again is just too large to ignore.
What made this particular show special is that past the cool demeanour of the band, moments of humility and genuine gratitude for their success shone bright.
All the support bands and their manager were invited to the stage to have a shot of tequila - probably more like three as it got crudely poured into plastic cups - in order to celebrate their success.
A Josh Homme anecdote about tequila was shared here, and it is evident in their assured stage presence how much supporting Queens of the Stone Age was a formative experience for the group. Though unsurprisingly, they couldn't refrain from nerding about name-dropping Queens.
Last night's appearance at the Wedge felt like a culmination of their relentless hard work thus far.
The set closed with 'Parasite', arguably their most unhinged track, serving as an uplifting finale. Though the crowd lacked the energy somewhat to carry such a song that's really crying out for a rowdy festival crowd – tut tut tut.
Coach Party are a band ready to progress to far larger stages, as if the last two years of touring were a training ground for playing live. 'KILLJOY' and the experience of supporting some big names certainly have provided them with the springboard to reach a bigger audience.
Coach Party truly make their show a cathartic experience. Lyrically, they encourage one to wallow in aggression, cynicism and self-loathing for the duration of their gig, with enough screaming rage to leave most feeling very much elated after the curtains have fallen.