Paul Marsh went along to the opening night of the Portsmouth Players production of School of Rock at the Kings Theatre, which is running until Sunday 29th October. Paul took his family including wife and 2 children who all thouroghly enjoyed the musical. Based on the hilarious hit movie, this new musical by Andrew Lloyd Webber, follows Dewey Finn, a failed, wannabe rock star who decides to earn a few extra bucks by posing as a substitute teacher at a prestigious prep school. There he turns a class of straight-A students into a guitar-shredding, bass-slapping, mind-blowing rock band!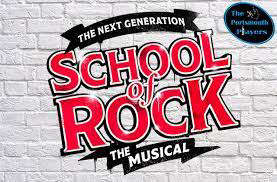 Paul said 'What a great night we had last night at the Kings Theatre seeing The Portsmouth Players School of Rock musical. We all had such a good time, all the songs were so much fun, the acting was on point and the kids were so talented, including playing all their own instruments. Sam Townsend was so good as Dewey, such incredible shoes to step into, but Sam did an amazing job and yes, he can shred on the guitar. Our family loved it and yours will too.'
You can buy tickets from www.kingsportsmouth.co.uk
Paul caught up with Sam who plays Dewey to talk about the show.