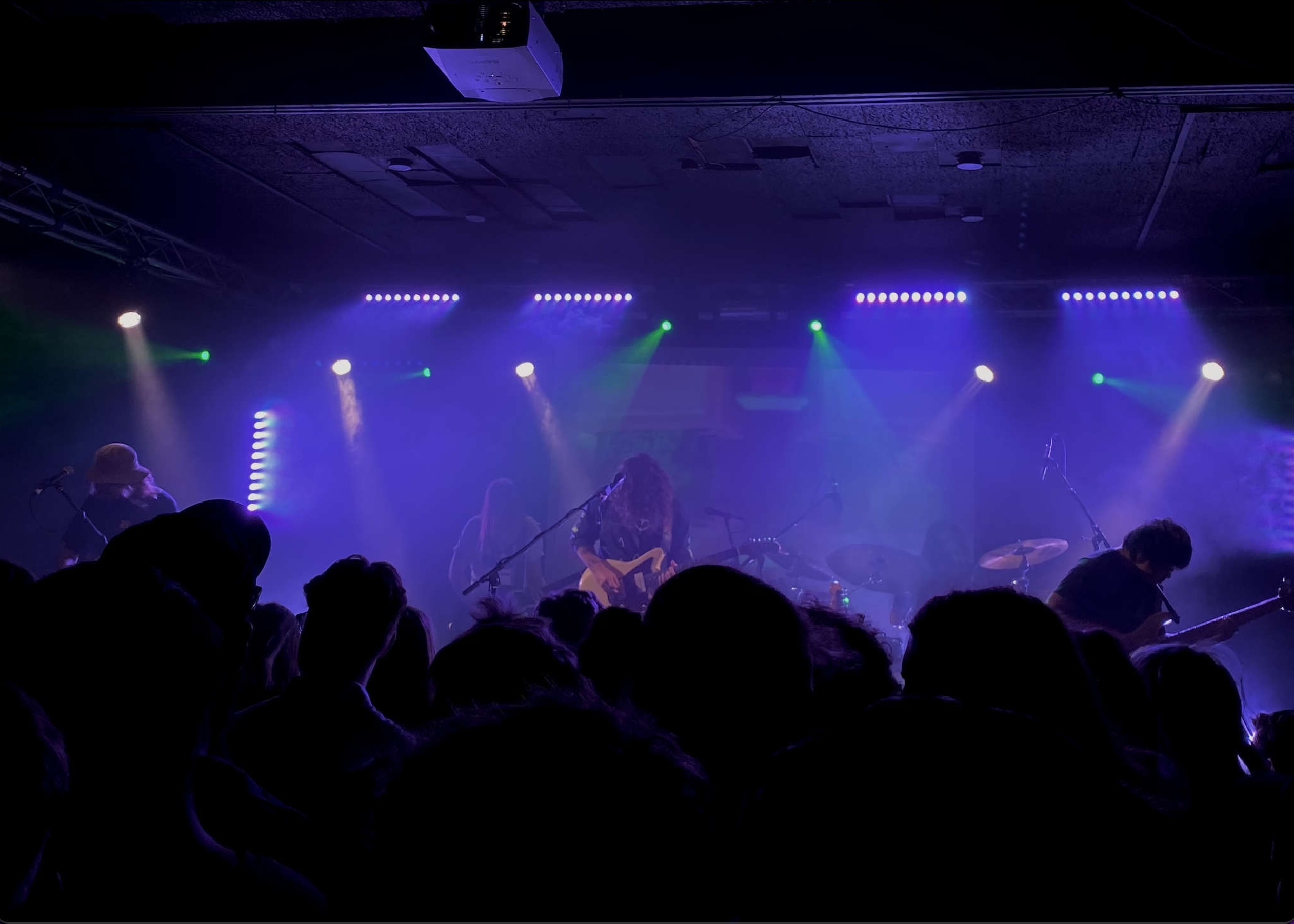 Psychedelic Porn Crumpets on stage at Portsmouth's Wedgewood Rooms, 31st May 2023
A controlled chaos at hyper speed. Unhinged is probably the most fitting description.
The Australian psych-rock band Psychedelic Porn Crumpets played a sold-out show at Portsmouth's Wedgewood Rooms last night, delivering an unrelenting set of some of the finest and most intricate psychedelic music the venue has ever hosted.
The band, formed in Perth in 2014, is often mentioned within the same breath as some of its Aussie counterparts such as Tame Impala, King Gizzard & The Lizard Wizard and Amyl and the Sniffers. Their music often feels like the evil twin to Tame Impala's debut album 'Innerspeaker', embodying the more chaotic side of psych-rock in an incredibly playful and colourful way.
Psychedelic Porn Crumpets' live show was a triumph of their musicianship, taking their Led Zeppelin IV-type riffage into heavier realms. Their live sound remained impressively faithful to their recordings. However, each note had considerably more weight and was more intense, toeing the line between fuzzed-out psych rock and metal, which they always kept on the best side of.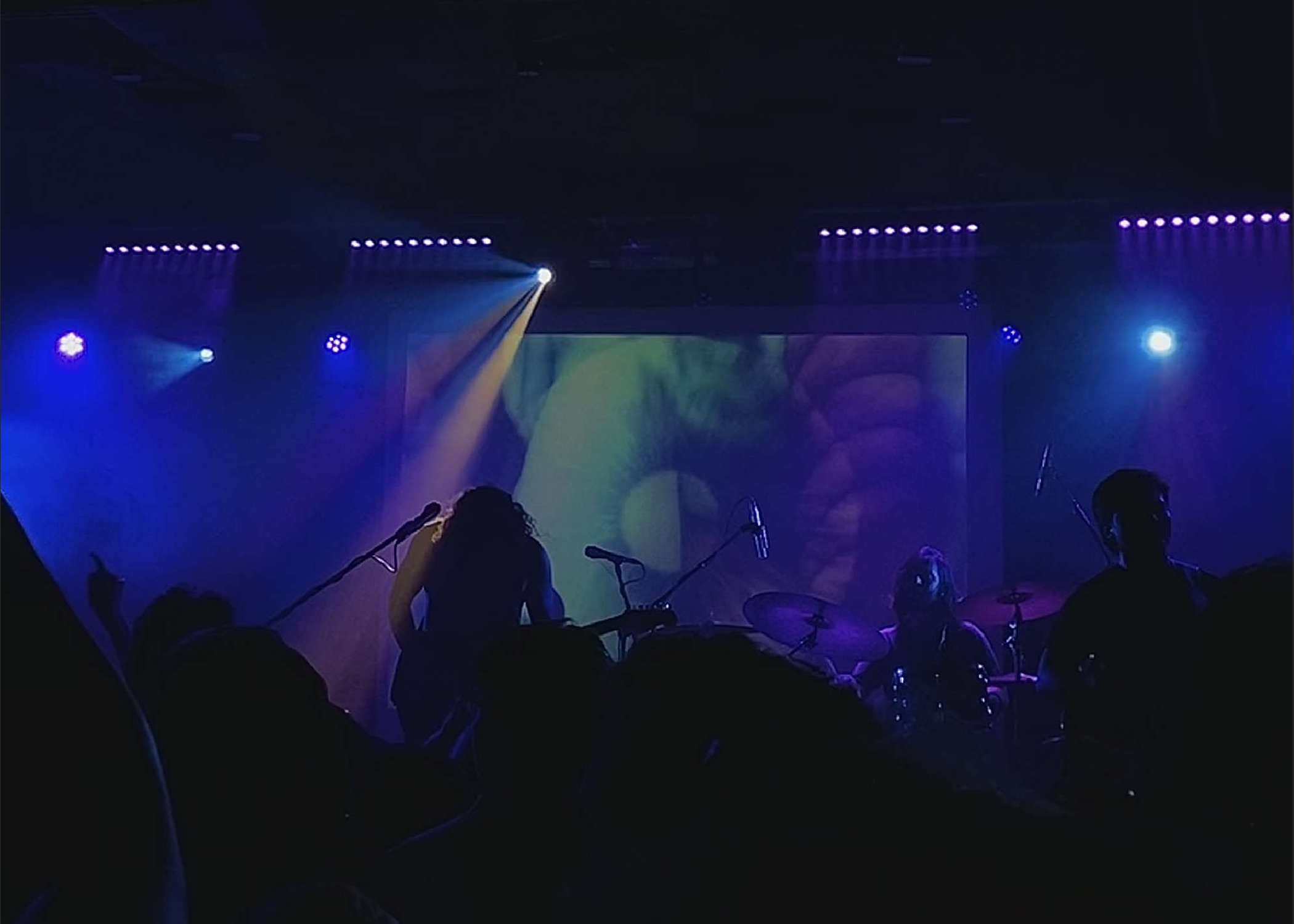 The Crumpets started their set with 2019's 'Bill's Mandolin' from their third album 'And Now for the Whatchamacallit', an energetic opener encapsulating what the set would come to behold; awe-inspiring guitar work, unusual time signatures and all 5 members having a great deal of fun on stage.
They are the band you want to be in, but are probably not skilled enough to be.
The rhythm section never faltered, thanks to Danny Caddy and Wayan Biliondana on drums and bass guitar respectively. They acted as the backbone the Crumpets needed in order to navigate their hectic blend of time signatures and tempo changes, which they did remarkably.
Frontman Jack McEwan, forever masked by a face of hair, incredibly managed the task of singing and playing these very demanding and chaotic guitar lines to an almost unrealistic standard, making it appear like second nature.
Lead guitarist Luke Parish's was complimentary to McEwan's, adding another layer of complexity to the performances as their playing harmonised one another, notably on tracks 'Tally-Ho' and 'Cornflake'. It is an integral part to the band's sound, made more apparent in a live setting. Aside from the ferocious pace of the band, it is often Parish and McEwan's playing that pushes the sound into unhinged territory.
Their latest single 'Nootmare (K-I-L-L-I-n-G) Meow!' featured early in the set and was an unsurprising highlight, feeling as if the track was designed to be a live experience.
Despite the fuzzy wall of sound they create, there is a discernible melodic nature that still cuts through the mix. For a band as bombastic as the Psychedelic Porn Crumpets are, the melodies are what elevate the band significantly from feeling like pure sensory overload.
Not to say the audience's senses weren't at least challenged. From some blinding pyrotechnics to the sheer power of their sound, and a healthy dose of dreamy psychedelic imagery projected behind them, the gig used the Wedge's capabilities to its fullest potential, balancing the intimacy of a small venue with the production of a bigger scaled show.
The set delivered some of the band's most popular work towards its latter half with 'Cubensis Lenses', 'Tally Ho' and 'Cornflake'. The band returned with 'Hymn for a Droid' for their encore.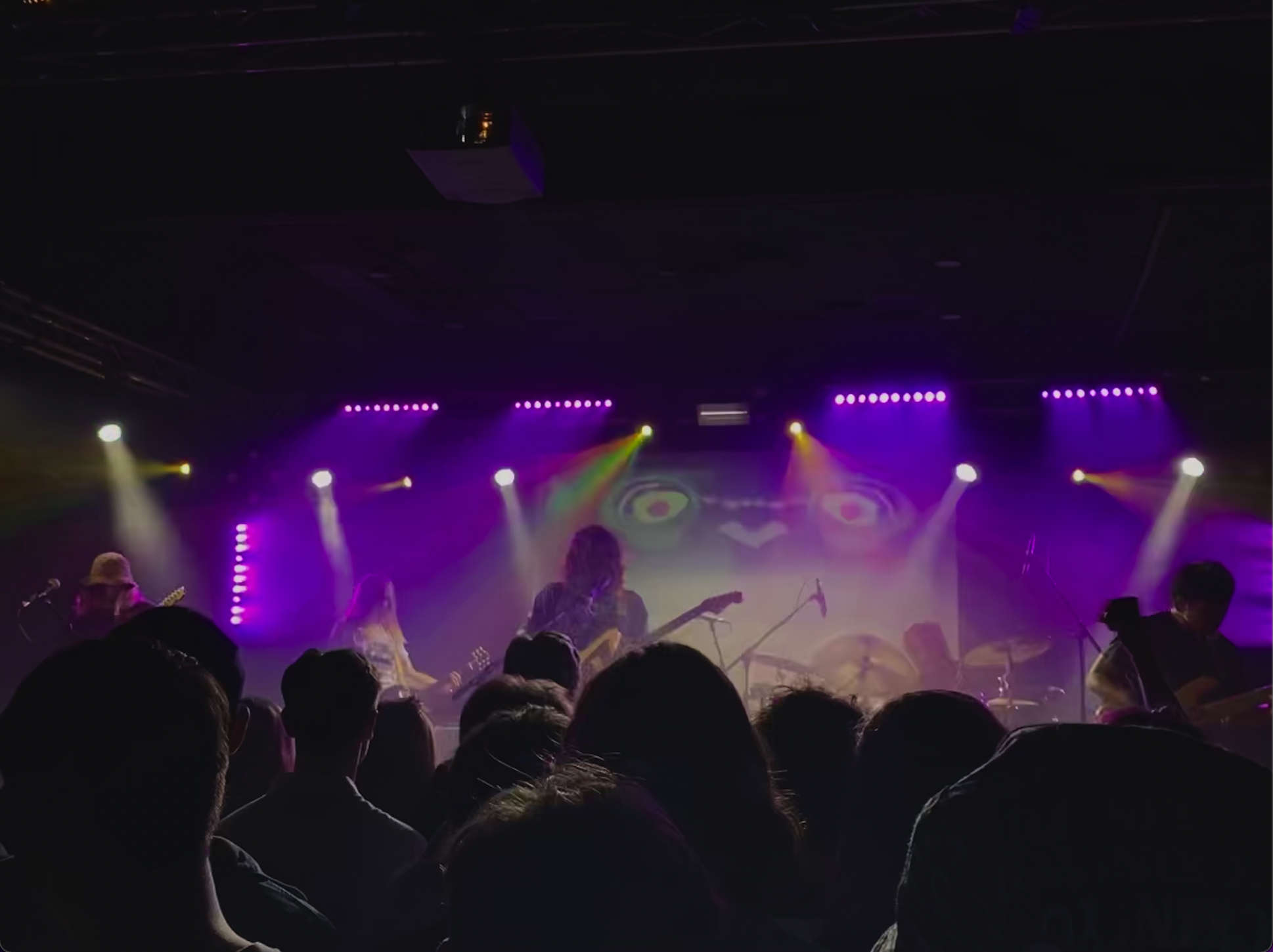 With the outlandish nature of the name Psychedelic Porn Crumpets and their song titles, it could be easy to assume that the band is somewhat a joke. But their live show and sound disproves that notion wholly. Beyond the pure adrenaline-fuelled fun they create, there is a seriously astonishing level of talent and musicianship that is hard to understate.
Last night's performance demonstrates how much more life a song can take on live. A controlled chaos at hyper speed. Unhinged is probably the most fitting description.