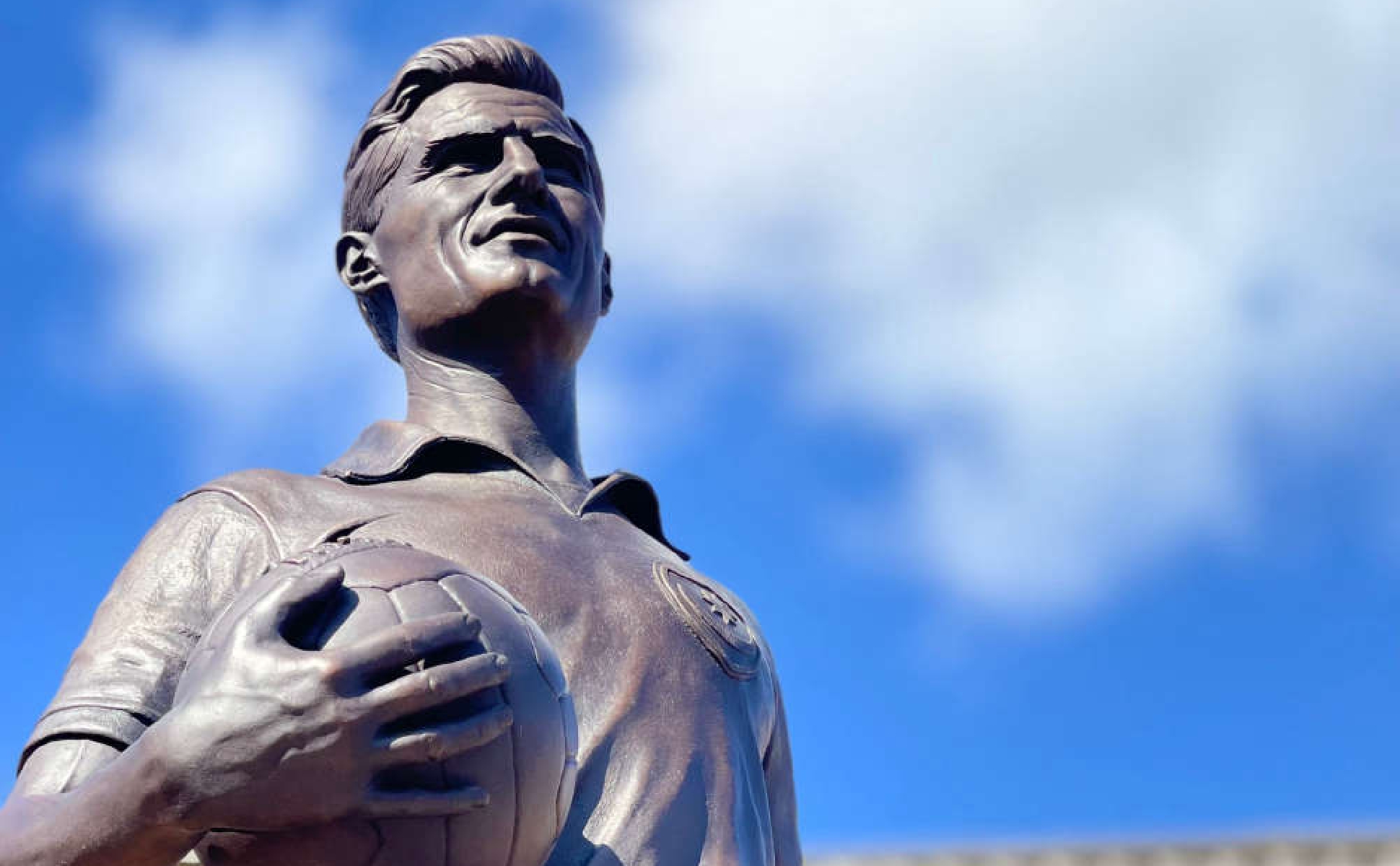 REACTION: Express FM's Jake Smith speaks with Pompey Supporters' Trust treasurer Donald Vass and sculptor Douglas Jennings following the unveiling of the Jimmy Dickinson statue at Fratton Park.
At noon on Saturday, the 23rd of September, the long-awaited reveal of the Jimmy Dickinson statue took place outside of Portsmouth FC's historic home.
A tribute to remember the club's undisputed biggest legend had been proposed by many down the years but only now has anything come to fruition.
After years of plan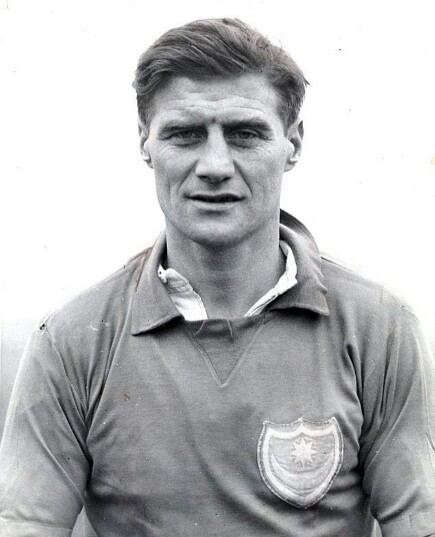 ning by the Pompey Supporters' Trust, hard-work from sculptor Douglas Jennings with the help of Dickinson's family and of course the generosity from Blues supporters to raise funds, Jimmy Dickinson MBE has finally been immortalised with a statue by Fratton Park.
Dickinson was born in Alton, Hampshire on the 25th of April, 1925 and went on to make over 800 appearances in all competitions for Pompey across a playing career spanning 19 years between 1946 and 1965.
No player has played in more league matches for the Blues than Jimmy Dickinson (764) did. Only Swindon Town's John Trollope (770) and MK Dons' Dean Lewington (765) have featured more times for a single club.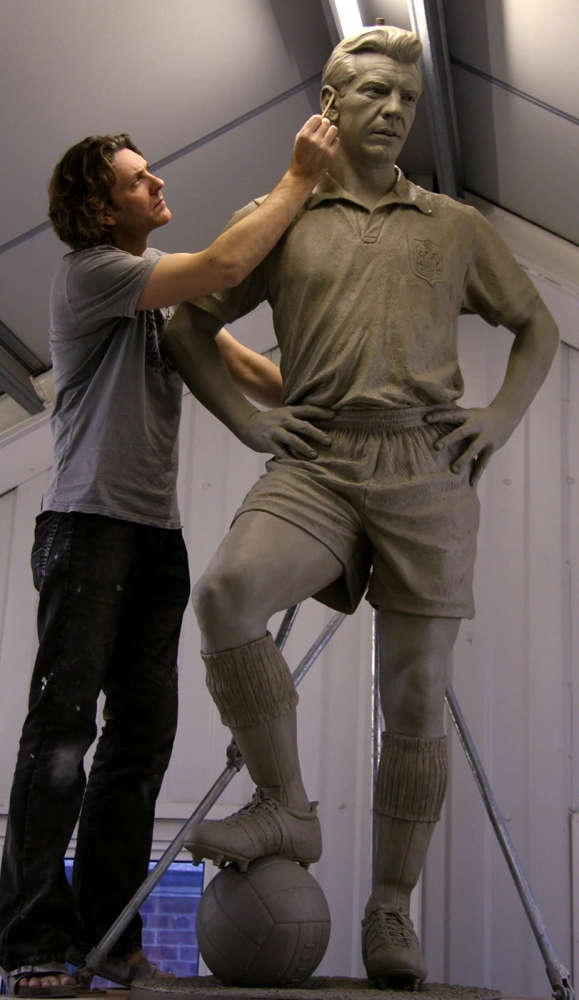 Prior to his death in November 1982, Dickinson had remained loyal to Pompey, serving as the club's secretary and manager at one stage too!
The left half earned the nickname 'Gentleman Jim' as he had never once been booked or sent off whilst playing for Portsmouth and England.
Douglas Jennings MRSS (Member of the Royal Society of Sculptors) had been recruited by the PST and tasked with the monumental job of bringing Jimmy Dickinson and his legacy back to life.
Jennings studied Classical figurative sculpture at Stafford Art College and has previously specialised in portrait sculpturing for Madame Tussauds, now offering his services to create art works for public figures in world sport, entertainment and politics.
In 2018, Jennings created a statue of Queen Elizabeth II to mark Her Majesty's 90th birthday. This was commissioned by Gravesham Council and is believed to be the only statue to show the Queen in a seated position.
Following t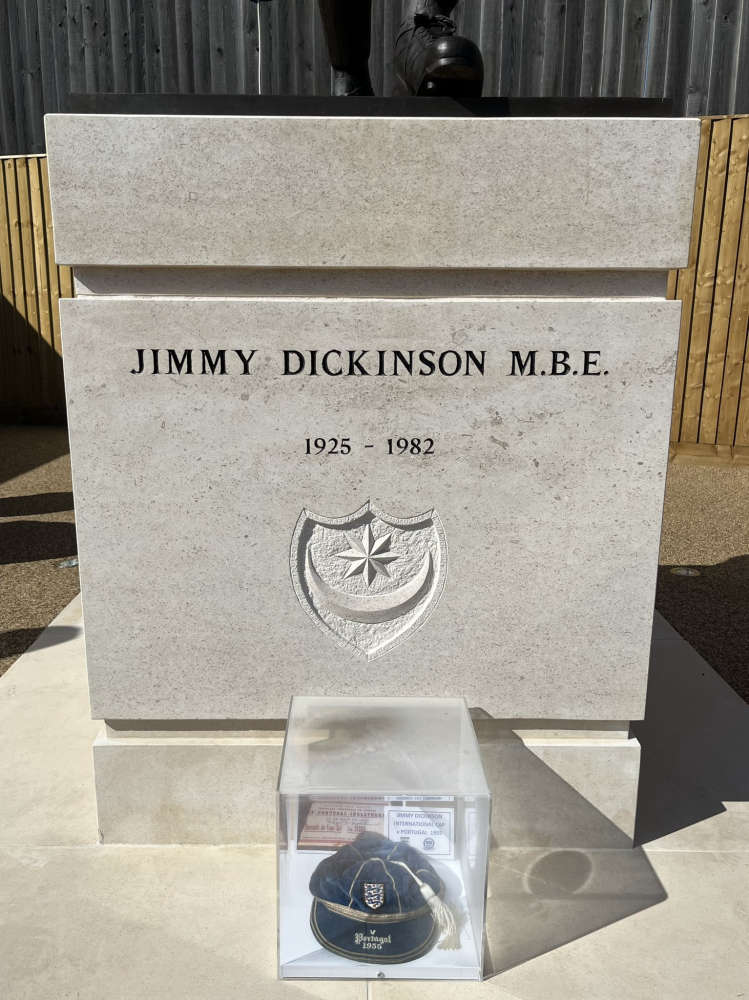 he ceremony and unveiling at Fratton Park on Saturday, Football Hour host Jake Smith gathered the feelings of sculptor Douglas Jennings.
Treasurer of the PST, Donald Vass has been on Express FM multiple times to help promote the fundraising for the statue since their intentions were first announced in 2020 - He also spoke with Jake to explain how proud he was to see the statue completed and available for supporters to appreciate.
The Jimmy Dickinson statue can be found just inside the main gate of the North Stand car park on Anson Road, in the corner of the North Stand and the Fratton End.
Here's how social media reacted to seeing the new statue:
We are so, so thrilled by the response to the statue. Buzzing that you love it as much as we do, #Pompey fans.

Here's a behind-the-scenes look at the Jimmy Dickinson statue project, along with lots of new pictures of it to enjoy🧵 pic.twitter.com/yhjYJCjIlu

— Donald Vass (@donaldvass) September 24, 2023
Simply put, this is magnificent and such a perfect tribute to the greatest player to have represented Pompey .
Well done to everyone involved and all the supporters that gave donations for this statue.

— John Seager 🇺🇦🇬🇧 (@johnseager3) September 24, 2023
Absolutely Brilliant Tribute! What a masterpiece 💙 #PUP

— Steve Leaver (@StevenLeaver) September 23, 2023
Excellent. I am chuffed to bits with this.

— Roy Clark (@royclark567) September 24, 2023
On behalf of the Pompey Supporters' Trust, the Pompey History Society and the family of Jimmy Dickinson, we thank all Blues fans for their hard work and generosity to ensure this project was able to cross the finish line. Play up Pompey!