With four albums worth of material, the setlist was bound to be packed with non-stop fan favourites which the band delivered upon undoubtedly.

This time round, Blossoms have found their comfort on stage, looking as if their meticulously polished set was all done by some happy accident. The maturity in their musicianship was undeniable, with songs effortlessly blending in from one to another as if they were a band with many more years' experience under their belt.

Lead singer Tom Ogden's performance was a far cry from the band's more reserved early days, now often ditching the guitar in favour of a more theatrical performance. Whether its charismatically swinging his microphone about as he dances across the stage, or even bringing out the harmonica for the Paul Simon inspired 'Ode To NYC'.

Throughout the set, Ogden had a command for the stage and kept the crowd engagement firmly in his control. even telling a handful of humorous anecdotes before songs which provided a light-hearted and intimate feeling.

Blossoms always kept it interesting, hardly ever performing a song exactly as it was recorded. Through the use of segues between songs, to extended jam-like outros on cuts such as 'Oh No (I Think I'm In Love)' and acapella introductions for 'Care For' and the massive opener 'There's a Reason Why (I Never Returned Your Calls)'. The energy beckoned a lively crowd singalong.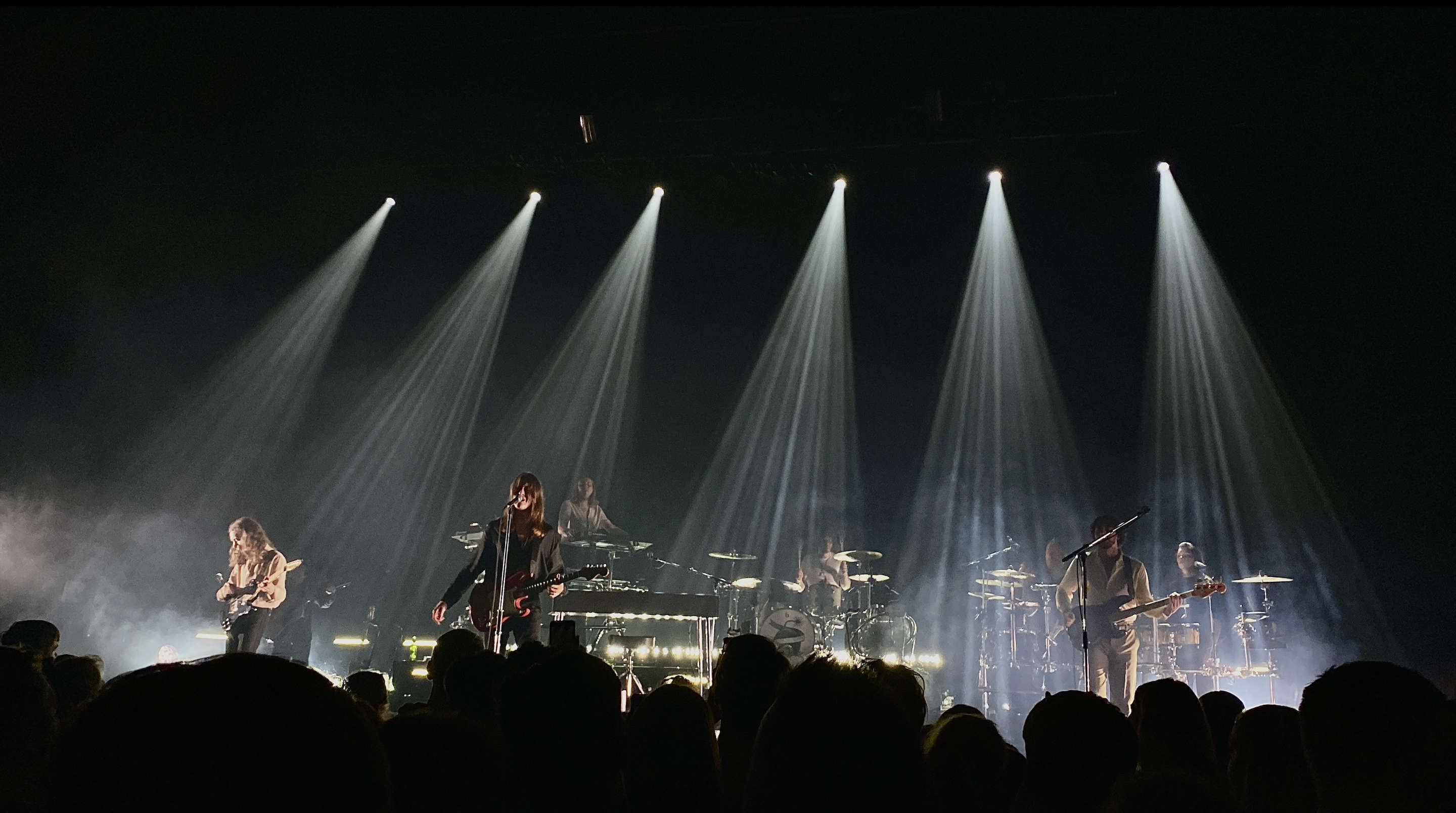 The band's maturity is evident in the sense that they never feared to let a song breathe and have its moment. The live set became so much more special as the crowd watched them reassembling their own music to such engaging effect.

The quality of sound in the venue did Blossom's aesthetic justice. It was most notable when the whole band kicked into a song simultaneously causing this shimmery, dreamy wall of sound to hit you.

The quintet had a number of extra players on backing vocals, percussion and acoustic guitars which filled out their arena ready sound. On tracks such as 'I Can't Stand It', the driving acoustic guitars complimented Josh Dewhurst's luscious jangly guitar tones perfectly.

Each member had a moment to shine, with Charlie Salt's addictive bass work on fan favourite 'Your Girlfriend' being a very strong presence. Donovan's drumming got an impressive workout with the heavier first album classics 'At Most a Kiss' and 'Charlemagne', though softer moments showed his range and dedication to serving the song. Myles Kellock's synthesizer work demanded adoration, from not only how close it sounded to the recordings, but for how integral it is to Blossoms' giant sound.

Whilst sounding extremely rehearsed and precise, the smiles and attitude made everything appear effortless and relaxed.

For the band's main set closer 'My Favourite Room', the band left Ogden on his own with his acoustic guitar backed by a strong singalong from the crowd, before launching into Babybird's 'You're Gorgeous', Oasis' 'Half the World Away' and Wham!'s 'Last Christmas' as a medley to sing the crowd into the encore.

Whilst a left turn, Ogden understands Blossoms' audience and it felt like an incredible testament to crowds at concerts in the UK, with certain songs having enough legendary status to bring a whole group of strangers together singing as if they had known each other for years.

Moshes broke out for set closer 'Charlemagne's outro, though the overall crowd atmosphere felt joyous and always respectful. Even the lengthy new album cut 'Visions' was given a lot of patience from the audience. Though that patience had been more than earned throughout the night.

After the very sweaty end of the show, I was lucky enough to meet the band outside who all came across as very sincere and extremely witty. There is no doubt that Blossoms are serious about the upward trajectory of their musical output, and their relationship with one another feels deeply interconnected and admirable.

Blossoms have quickly matured into a phenomenal live act and accomplished songwriters in such a short space of time, making one excited at the prospect of what is next in store for them.