Down Memory Lane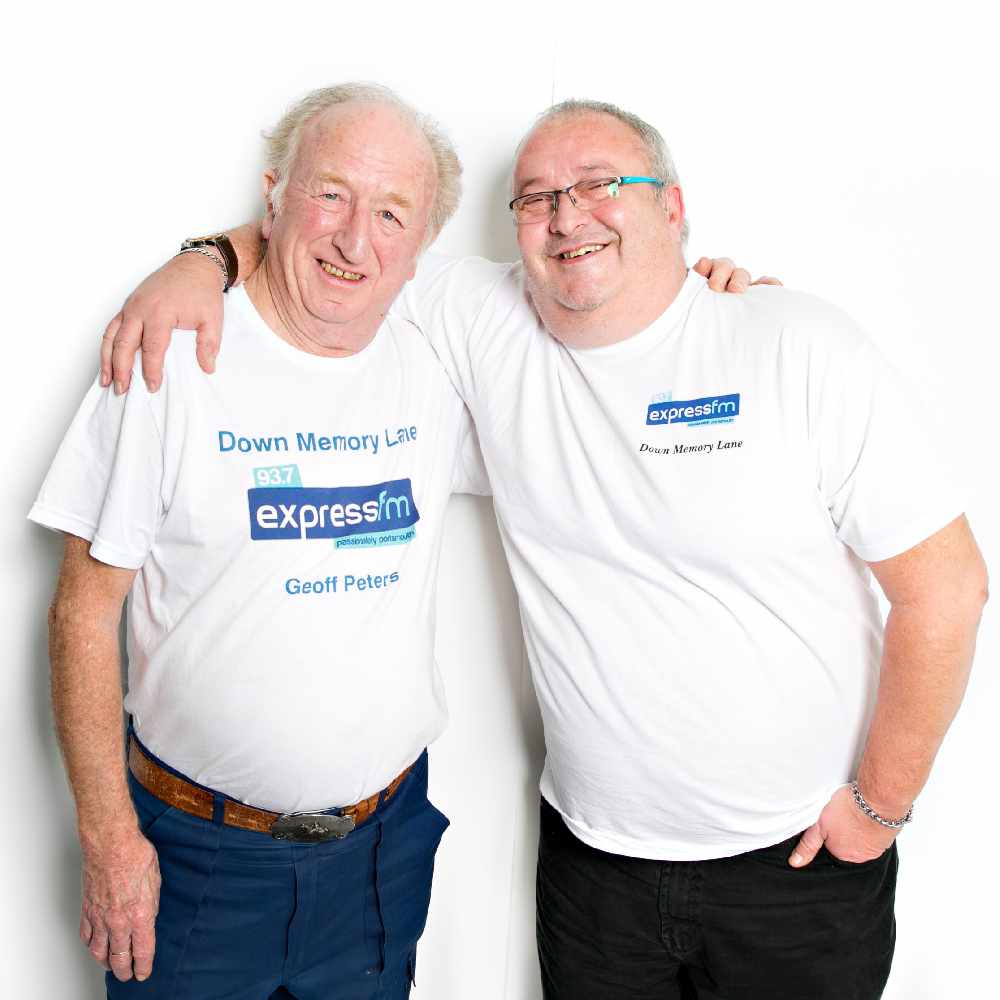 Geoff Peters and Gary Burnett guide you on a nostalgic trip 'Down Memory Lane' as they look back in time and play tracks from the 40's to the 2000's, Gary's Quiz, we see who you share your birthday with, take a look back on this day in history, a dedicated song for those who are in love, and Geoff's long song.
About Geoff & Gary
Gary - I joined Express FM in 2008 and love every minute of it. I had my first radio experience on Victory FM in 1995 and went on to do my own show in 1996. In between Victory, I was involved with internet radio stations, and also the head of output at QA Hospital Radio.
Geoff - I first appeared on the local scene in 1965 with my first band The Brothers Blue. I was then offered a job on the pirate radio station Radio London, only for the station to be shut down by the Marine Offences Bill just one week after receiving the offer. Geoff is now in the band Checkers, and in 1996 finally got into radio at Radio Victory and soon took over the breakfast show, which he fronted for 4 years. It was here that he first met up with Gary Burnett. Then in 2006, Geoff returned to the airwaves on Express FM and teamed back up with Gary to present Down Memory Lane, which is still going strong to this day.
Favourite Song - Gary: This is a tough one. I suppose the one that really sticks in my mind is Vanessa Paradis & Joe Le Taxi, it was playing when I first meet my wife Kris. Geoff - Cloudbusting by Kate Bush, probably because I bunked off work one afternoon to see a film about Genesis at the old ABC cinema in Portsmouth, and they opened the show with the video of that song.
Favourite Gig - Gary: I suppose I should say my first gig was seeing Checkers live with Geoff Peters, but people might say that was favouritism. But Geoff did take me to see Steve Hackett and the Portsmouth Guildhall May 2017, what an experience that was, my first live gig. Geoff: Probably the best gig was in May of 2013, I finished a day out in London with my wife Chris seeing with Steve Hackett at the Hammersmith Apollo.
Favourite Film - Gary: It would have to be Paint Your Wagon staring Clint Eastwood & Lee Marvin. It was the first film my father took me to see and was at the Old Majestic Cinema, Kingston Road, Portsmouth. Geoff: The Yangste Incident (the story of HMS Amethyst) A brilliant film, it premiered at the Gaumont, Bradford Junction in Pompey (now the Jami Mosque).
Favourite Place In Portsmouth - Gary: So many places in Portsmouth that hold so many memories, but I have to say Chichester Road holds a lot of memories for me, the road I was brought up in. Geoff: It has to be Fratton Park. I have followed Pompey since 1962 through good times and bad, but it remains my favourite because you never know what you are going to get.
Contact Geoff & Gary
Listen Again