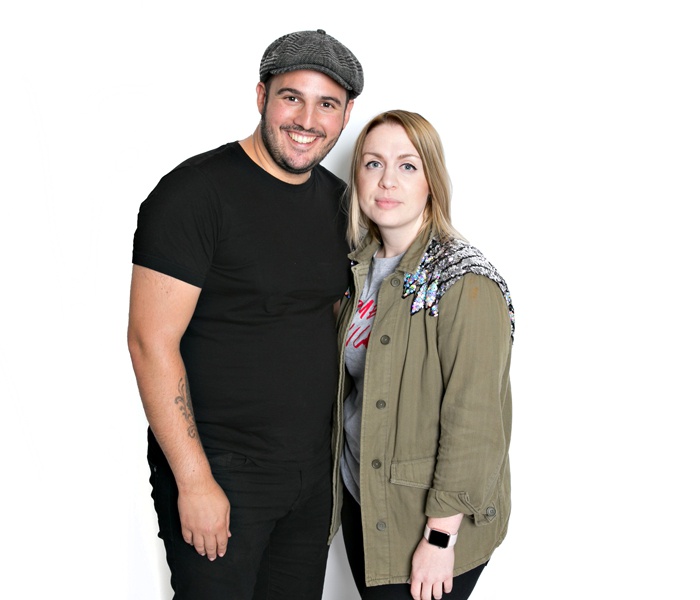 Wednesdays from 8pm to 10pm
The best indie music in and around your ears. With a Record Of The Week, our game of Simon Says where Tom & I sound clash a different topic every week, up to date news from the world of indie plus a Tastemaker track and Album Anniversary track, there is plenty to keep you entertained. Get involved on Twitter or by text; we'll save you a seat on our sofa.
About Vicki and Tom
DIY is moving into is well into its 8th year on Express FM, from its humble late night spot on a Tuesday to its current home on a Wednesday evening. For almost a decade we've been bringing you music and interviews with indies biggest & brightest stars as well as getting behind those who are crying out to be discovered.
What keeps us going? A love of all things indie, the overwhelming joy of unleashing something underground to the world and getting to hang out with other people who love music, both old and new.
Favourite Song - For DIY being able to expose our listeners to new bands on their way up is fantastic. As early supporters of SWMRs, Yonaka, The Sherlocks, Louis Berry etc. we could name you a thousand songs we love, but for us, that indie ball started rolling back when indie was at its height, so I would say anything by the Arctic Monkeys gets two very enthusiastic thumbs up from DIY.
Favourite Gig - Jamie T at the Wedgewood Rooms just before the release of his long-awaited 3rd album Carry On The Grudge has to, without question, be the best gig we have been to. It is very rare you get to go to a gig where everyone is there for the same reason and is 100% focused on the band/artists, but at Jamie T had the full attention of 500 hundred people for every hot, sweaty and outstanding minute of his set.
Favourite Film - Keeping it DIY themed, we'd have to say the Amy Winehouse documentary by Asif Kapadia, the Frank Turner Documentary 'Get Better' or the Oasis documentary Supersonic by Mat Whitecross.
Favourite Place in Portsmouth - Anywhere there is a good atmosphere and a good playlist.
Contact The Show