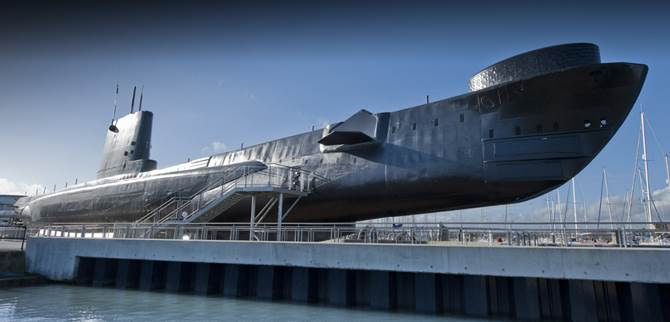 This July, day-trippers need look no further than Portsmouth Historic Dockyard for an amazing day out - with submarine HMS Alliance appearing in the latest film in the Transformers franchise, now is the perfect time to visit Portsmouth Historic Dockyard.
Promising all ages a day of heroic encounters, experiencing the ins and outs of Britain's 800 years of ground-breaking naval heritage, it's the place #WhereAdventuresBegin this summer.
Highlights for July include:
SEEN ON SCREEN - HMS Alliance appears in Transformers: The Last Knight
You've seen her on the big screen in the latest instalment in the Transformers film franchise, but now it's time to see HMS Alliance up close and personal at Portsmouth Historic Dockyard this summer. A short waterbus ride (free with an All Attraction Ticket) from the main Portsmouth Historic Dockyard site to Gosport, visitors can experience life on board as a submariner and take a peek through the working periscopes of Britain's only remaining Second World War- era submarine.
NEW for summer – miniature submarine comes to life for the first time
Visitors to the Historic Dockyard this summer will be the first to experience a new projection and sound installation on WWII miniature submarine HMS X24 at the Royal Navy Submarine Museum. The new installation will tell the miniature submarine and her crew's remarkable story as a special X-class submarine, designed and built to penetrate harbours where full-size submarines could not go.
NEW TO ACTION STATIONS – The Making of a Royal Marine Commando
Follow nine marine recruits over 32 weeks as they train to become part of the world's most elite amphibious force at Action Stations this summer. With a broad range of interactive exhibits, visitors can for the first time truly get under the skin of the training process. Learn to fire a SA80 rifle in the simulator, fold shirts 'Globe and Laurel' style and check out equipment used by mountain leaders, snipers and aircrew.
DIG DEEP - Festival of Archaeology
35 years on from her epic excavation, join the Mary Rose Team and take part in the 2017 Festival of Archaeology from the 21 – 28 July 2017. Visitors to the Mary Rose during this week will be able to hear stories of the skills adopted to excavate and preserve Henry VIII's favourite ship. Talks, special guests, hands on activities and workshops will all offer a unique insight for young archaeologists of the future.
30 YEARS of splendour – celebrate the homecoming of HMS Warrior 1860
The 30th anniversary of HMS Warrior's arrival at Portsmouth Historic Dockyard will be marked on the 27 July. Spend some time aboard the warship that never fired a shot in anger and see first-hand what life would have been like for the crew of this historic Victorian battleship.
Throughout the summer months Portsmouth Historic Dockyard will host daily family friendly activities for visitors to immerse themselves in the history of the British Navy. For more details and information visit www.historicdockyard.co.uk/events.