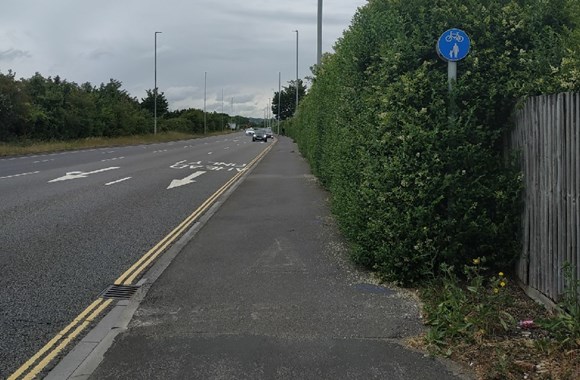 The development of a safer and improved route for pedestrians and cyclists along Eastern Road is set to start following a recent funding boost.
Portsmouth City Council's plans to improve the walking and cycling route along Eastern Road will offer people a more attractive alternative to travelling by motor vehicle. This will benefit peoples' health and create less air pollution. The improvements aim to support the development of a comprehensive network of cycle routes and footpaths that are accessible for all ages and abilities.
Eastern Road is one of the major routes into the city and an essential travel corridor for many. Over the next three years the plan is to make this a more attractive, pleasant and safer route. Proposals include the widening of the path, improving lighting and signage by relocating street lights and signs. The widening of the path will not reduce the width of the road.
The recent funding boost of £461,400 from the government's Active Travel Fund means that the first phase will start in the new year. These improvements to the cycling network are permanent and therefore different to the temporary and experimental schemes government funded in Tranche 1 of the Emergency Active Travel Fund. The council are engaging key stakeholders in their plans to co-develop them with all users of this route, as well as those located along the road and in the surrounding area. The area that has been prioritised in the first phase is the widening of the shared path along Eastern Road between Airport Service Road and Burrfields Road.
The plans have taken into account learning from previous investigations into improvements along this route along with feedback received about areas of concern and suggestions for improvement from businesses and residents.
Cllr Lynne Stagg, Cabinet Member for Traffic and Transportation, said "It has very much been my ambition to make improvements along Eastern Road as this provides a good alternative to using cars, but it needs upgrading and making safer. I hope that as these improvements are made over the coming years, we will see more and more people enjoying our beautiful city along this route by the sea as many did during lockdown".