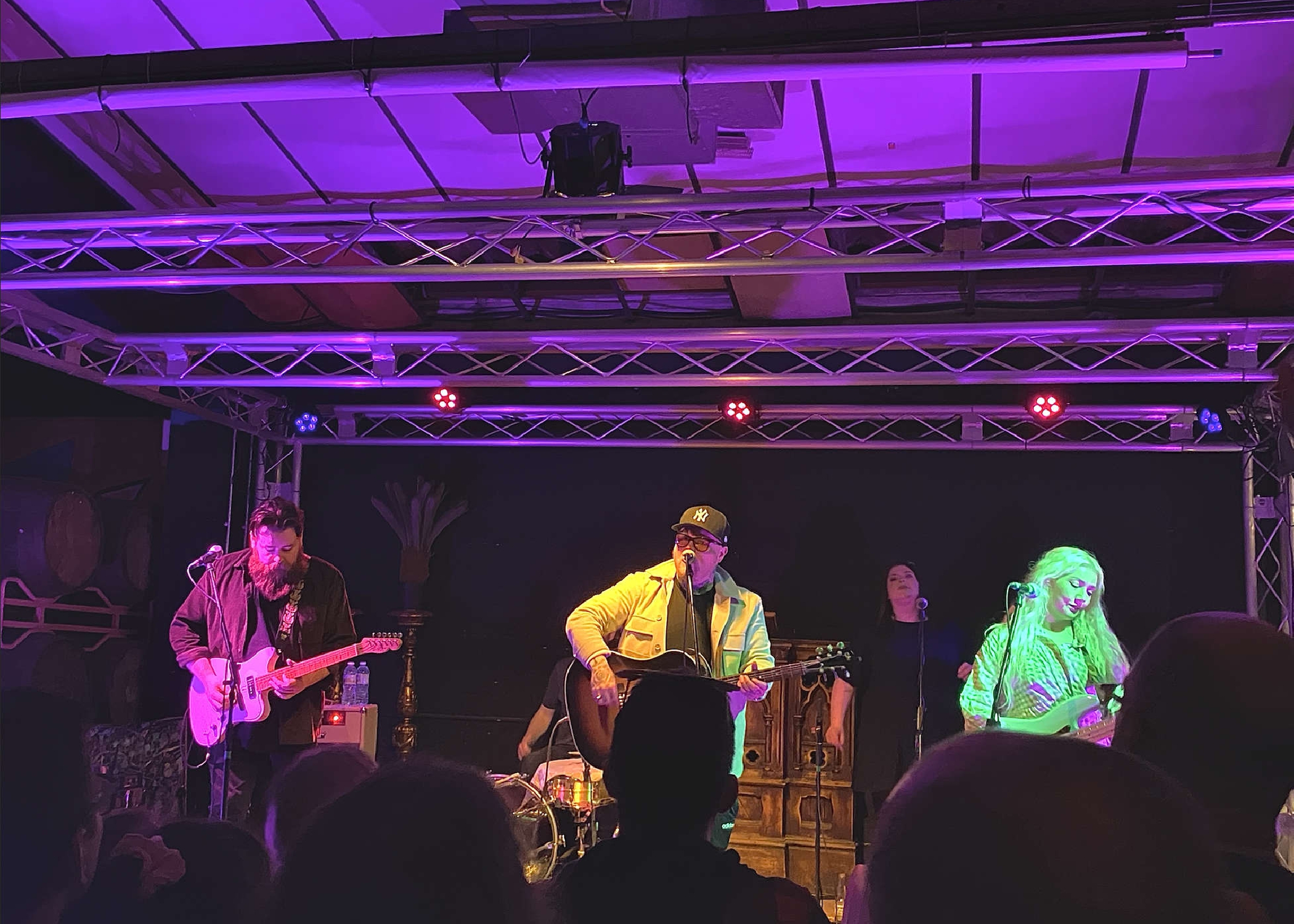 The Lottery Winners
Just days after their new record 'Anxiety Replacement Therapy' secured the Winners their first UK no.1 album, the band play a sold out show at Portsmouth's Staggeringly Good Brewery.
Hosted by Pie and Vinyl, the show was in support of The Lottery Winners' newest album, which saw the Manchester four-piece triumph over fierce competition for the No.1 album spot; beating The National despite all their Taylor Swift and Phoebe Bridgers features.
Not to say The Lottery Winner's latest effort doesn't feature additions from music legends either, with Boy George, Frank Turner and Shaun Ryder featuring. Ryder even resurrects his 'Call the cops' line from 1990's 'Step On' on the tongue-in-cheek track 'Money'.
'Anxiety Replacement Therapy' sounds like a well-balanced step forward for The Lottery Winners. It has a wider instrumental palette and even more bombastic choruses on tracks like 'Burning House' and 'Letter to Myself'. Their undeniably catchy songwriting style is evident throughout, despite the album's exploration of serious mental health issues. Though the tone of the lyrics when coupled with their energetic sound makes the album play with a great sense of optimism.
The band's set was a stripped-back acoustic set, which frontman Thomas Rylance jokingly compared to Nirvana's MTV Unplugged album. Set opener 'Favourite Flavour' proved the set was going to be the antithesis to any Cobain-esque moodiness; a bright and joyous tune already backed by quite the sing-a-long.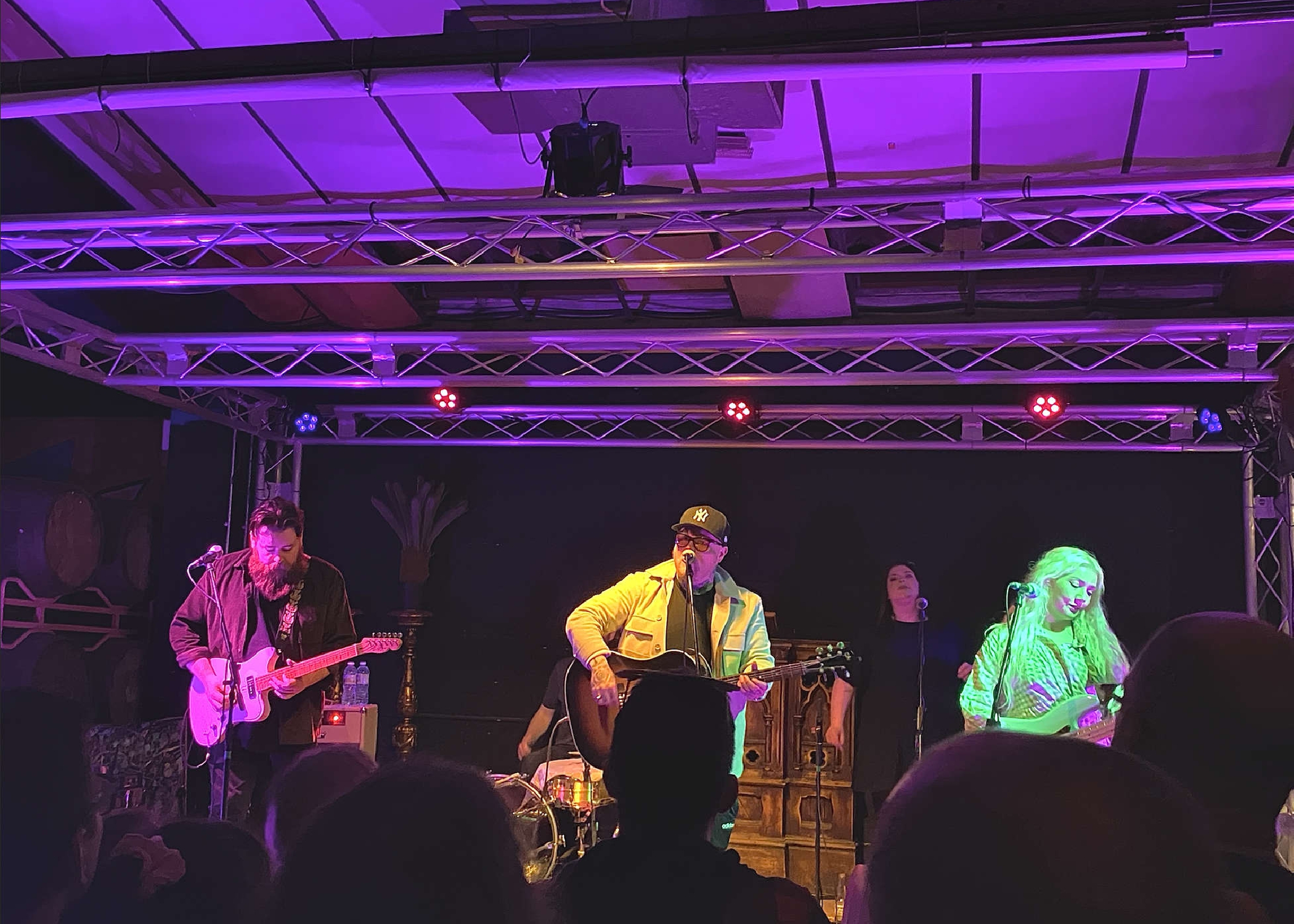 (The Lottery Winners live at Staggeringly Good Brewery, Portsmouth, 10th May 2023)
The tracks 'Little Things' and 'Sunshine' followed, illustrating the strength of the songs alone, which never lost their charm despite the lack of full instrumentation. The show allowed each member to showcase different strengths, from bassist Katie Lloyd and lead guitarist Robert Lally taking lead vocals on the dreamy 'Sunshine' and 'Let Me Down' respectively.
The two have commanding voices, with Lloyd's impressive high register giving a satisfying tonal quality when paired with Rylance's. Lally's majestic beard would have never given away his immense vocal talent.
Rylance, who had been firmly centre stage until that number, switched to playing lead guitar for 'Let Me Down' as Lally took the vocals. Rylance unleashed a completely surprising beast of a guitar solo, filled with heavy distortion, expert vibrato and harmonics, all the elements of a great hard rock guitar solo placed rather innocently into an upbeat pop song.
The joy stemmed from its out-of-place nature, it did not belong in an acoustic set, but that made it an incredibly charming move. It felt right at home with the Winners' joyful attitude.
If there was a drinking game for how many times Thom mentioned their number one album, by 2 songs in you'd be seeking some serious medical assistance.
Despite many bands playing it cool and rarely speaking in between songs, the Lottery Winners crowd interaction was incredible. It never felt forced or gimmicky, and their self-awareness shone through, an endearing quality to the band.
The interaction included passing their No. 1 trophy around during an impromptu Johnny Cash style number about the award. They even got themselves an audience member to be their own Bez onstage for the track 'Money', with the song originally featuring the Happy Mondays' Shaun Ryder.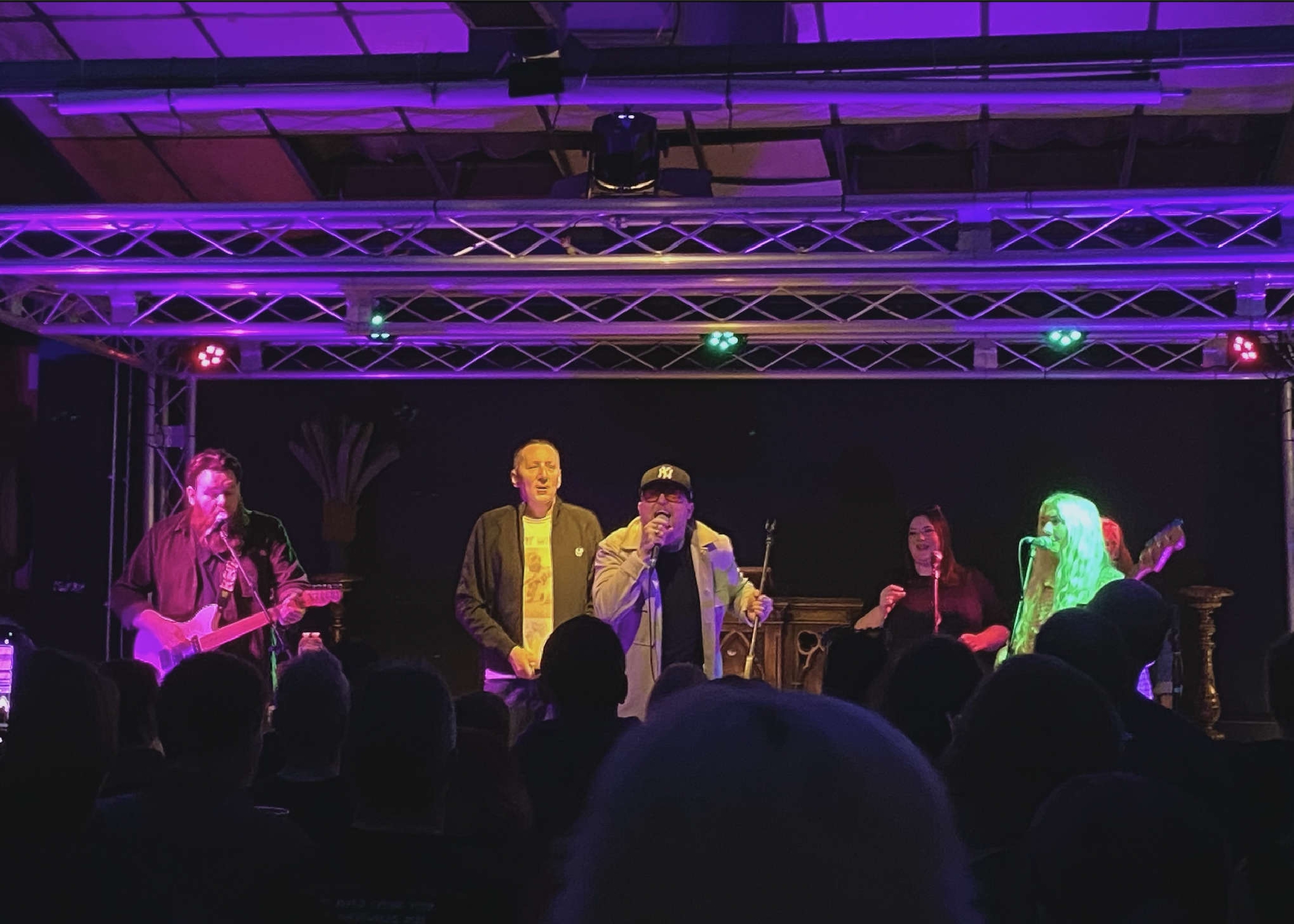 (Audience member acting as their Bez for the track 'Money')
The anecdotes were hilarious, with Thom detailing how the infamous Seymour Stein first signed the band. The story led into 'Overthink Everything' dedicated to Stein, who believed in the band wholly, but passed before this album campaign, sadly never seeing them succeed in reaching number one.
The acoustic set premise had caught the band out, admitting this is the first time they had done many of their songs in this format. A risk, for sure, though despite a forgotten verse here or there, I'd argue you wouldn't have been able to tell.
Lead guitarist Robert Lally gave the band's acoustic sound a necessary electric texture on guitar, taking a skilled, minimalist approach to his playing which sat nicely in the mix.
After finishing their main set with 2021's 'Start Again', Rylance, Lally and Lloyd took full advantage of the acoustic set premise with 'Emerald City', the first song they ever wrote together. Starting with some soft guitar, the song hit a euphoric high when their three voices were acapella.
The light-hearted tone of the set made this surprisingly earnest moment very impactful. It was a display of serious talent in how their voices interacted, with a gorgeous melancholic result.
The set ended with fan favourite '21' (changed to 'Number One' in case you had forgotten they are indeed number one this week), with a huge singalong and judging by the number of choruses they did, it was clear neither the audience nor band wanted the show to end too soon.
The Lottery Winners made the venue feel connected and welcoming, placing them on the same platform as the audience. From the exchanges of banter and self-deprecation to honest discussions about ADHD and mental health, the Lottery Winners' infectious upbeat energy was undying. They overwhelmingly fulfilled what feels like their band's goal, to make people feel better through music.