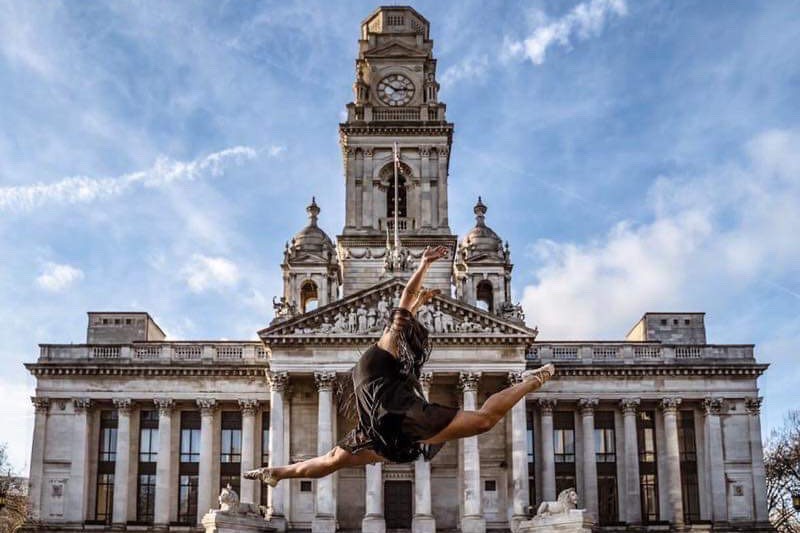 All this week, the heats of The Guildhall Trust's exciting new dance event for 7-18 year olds will be taking place at the city's iconic Portsmouth Guildhall.
Embracing an ever-changing digital world and how this is changing the face of modern performance, Dance Live! sees creative dance routines choreographed to the backdrop of a giant digital screen, as seen on the likes of X Factor and The Voice.
39 schools and colleges, featuring over 2,000 children, from across the South will be taking to the stage competing with dance routines that they have been busy rehearsing since the event was announced in October last year, with others working on technical off-stage roles.
Pupils have created 7 minute films using hand-drawn, cartoon and moving images and computer-generated design that will be the backdrop to their performance on the big screen and also a 2 minute film that explains the story behind their piece and their journey to the Dance Live! heats.
As part of that journey many schools took up the offer of a workshop to develop pupil's skills and prepare them for their performance, with digital workshops led in school by Robin Creative Media and Ricky Tart and dance workshops led by Natalie Watson.
Presented by The Guildhall Trust, Dance Live! focusses on raising aspirations and developing young people's skills for a career in the creative industry. As a registered charity (1153358), The Guildhall Trust has an active 'Get Involved' programme of courses, activities and workshops for all ages, to which Dance Live is an exciting addition.
The heats are being judged by a panel of top-quality professionals from the field of dance and the creative industry, with winners and runners up going on to compete in finals being held at the Guildhall in April.
The judging panel that will be offering their invaluable feedback to participants includes, Mark Smith; Founder & Artistic Director of Deaf Men Dancing, Natasha Waldron who has performed with The Royal Ballet Company and The Birmingham Royal Ballet, Sally Garner-Gibbons; Lecturer in Technical Theatre and Stage Management and Jamie Kluckers; Technical Consultant for Stage Electrics.
Chief Executive Officer for The Guildhall Trust, Andy Grays said, "We are delighted with the response we have had to Dance Live! from schools and colleges and the dedication they have shown to get everything ready in time! We have been amazed at the quality of the films that have been produced and now can't wait to see the dancing. Dance Live! has attracted interest from a large number of schools within the region and beyond and we are seriously looking at options to expand and accommodate more children in 2021".
Learning & Participation Manager for The Guildhall Trust, Hayley Reay said, "It has been fantastic to work alongside schools and colleges over the last 4 months and support their journey to the Dance Live! heats. The workshops conducted have added real value for pupils and staff and it has been wonderful to see first-hand the growth in pupil's skills and confidence. The students have particularly embraced the digital requirements of Dance Live!"
The new event, supported by Prospero Teaching and Wave 105, has been well-received by participating schools and colleges with comments including, "There has been a definite burst of energy in our rehearsals at school since our workshop. The children cannot wait to perform on stage!" Primary School Teacher and "Thank you so much – it has been so refreshing to have a new challenge!" Secondary School Teacher.
Limited tickets to see the Dance Live! heats are currently still available online (www.portsmouthguildhall.org.uk) and on the door. Any schools/teachers that would be interested in finding out more about future Dance Live! events are encouraged to get in touch on 023 9387 0193 or via dancelive@portsmouthguildhall.org.uk