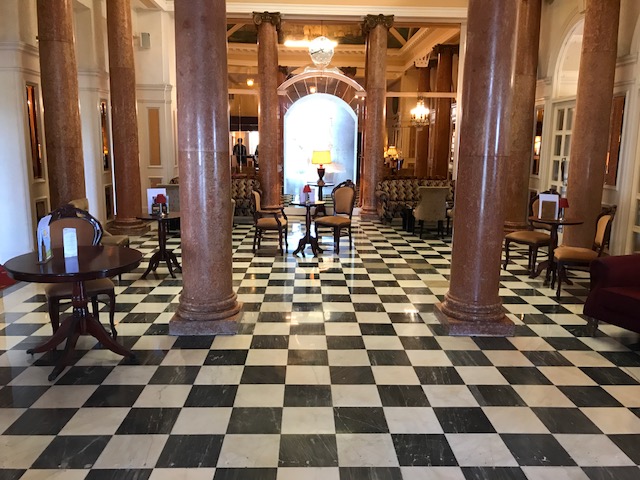 The Queens Hotel was rebuilt in 1903 by the architect T.W.Cutler into the splendid building that stands today, complete with its Edwardian baroque style in brown terracotta.
The Queens Hotel in Southsea was recently sold and the new owners have promised to bring this beautiful, historic building back to life. In its glory days the hotel was frequented by the rich and famous, an endless list of well known celebrities and even Royalty.
The new owners have ambitious plans and a 7 million budget for restoring this beautiful building to the lovely landmark Hotel she once was and they plan to re-open and refurbish all the other areas of the Hotel that have now been closed for years and hope to unveil many of the buildings original features. During the recent refurbishment of the ground floor lounge the owners have recently made an amazing discovery.
Removal of the red carpet has unveiled a magnificent black and white marble floor that has laid hidden for over 50 years. This is just the start of this exiting project and the second half of the ground floor refurbishment is expected to commece in September. The Hotel is still open to the public and is already reporting a huge growth in it's luxury Afternoon Teas, Sunday Lunches, Evening meals and fabulous Sunday afternoon garden parties.
General Manager Amanda Gilmore said: "A lot of local people don't realise that they can simply pop in for a coffee or use the bars that are also open to the public. We would love to see even more people enjoying this beautiful Hotel and seeing all the changes as they unfold."