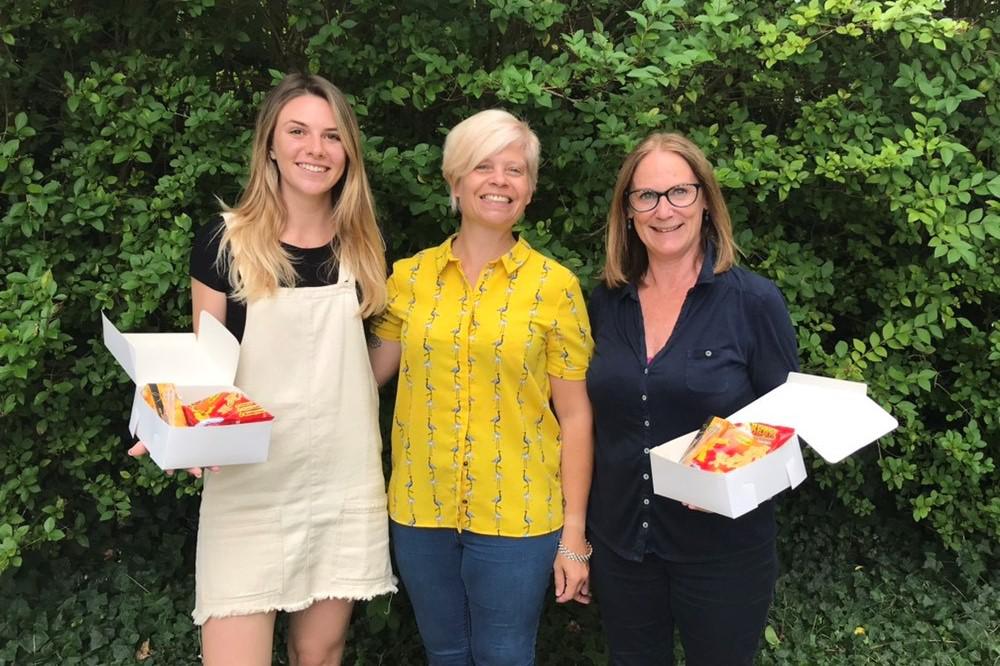 Left to Right - Alex Lovegrove, Playworker; Debs Wallace, Support Work - Children and Young People Specialist; Maxine Rayner, Support Worker - Outreach Specialist)
A local charity, Stop Domestic Abuse, has been awarded £1,000 by Portsmouth Lottery to run a new summer holiday scheme in the city.
'Family Fun Time Thursdays', which launched on 25 July, have been designed specifically to help Portsmouth families affected by domestic abuse. Relevant families are referred to the scheme by their support worker.

The six-week programme was devised by Stop Domestic Abuse to tackle the vulnerabilities that families using their service face during the summer months. Many of the charity's clients struggle to attend appointments during the school holidays, due to lack of childcare, and may also be at risk of food poverty during this period.
Stop Domestic Abuse has three refuges in Portsmouth for women and their children fleeing domestic abuse and supports hundreds more clients across the city. Many clients, especially those who have had to leave everything behind when escaping their abusive relationships, live on benefits. Such families rely on free school lunches, so the holidays create added pressure on their budgets, making it a struggle for mothers to afford enough food for their children.
'Family Fun Time Thursdays' aim to relieve this pressure by providing all children attending the scheme with a free, healthy and nutritious lunch. In addition, while their children are entertained, mothers have an opportunity to speak to an outreach worker. As such, the scheme is ensuring that vulnerable families have access to continuous support throughout the summer break.
Furthermore, the scheme provides an opportunity for families to build positive memories together. Each Thursday has a different theme, with tailored games and craft activities, and is designed to engage children of all ages. Such activities provide a therapeutic opportunity for children and mothers affected by domestic abuse to boost their self-esteem and mental wellbeing.
The funds for 'Family Fun Time Thursdays' were generated by the Portsmouth Lottery – an online community lottery focused on raising funds for local good causes. Grants were awarded to several local community and voluntary groups with good ideas for tackling food poverty during the school summer holiday.
Claire Lambon, CEO of Stop Domestic Abuse said: "On behalf of Stop Domestic Abuse I would like to thank the Portsmouth Lottery and those that participate in it for providing this fantastic opportunity to women and children living in our communities affected by domestic abuse. It is vitally important that families experiencing domestic abuse are not isolated during the school holidays and this funding has given Stop Domestic Abuse the opportunity to create a safe space for children affected by domestic abuse, where they know that the other children understand their experiences. It also gives families receiving our support the opportunity to build new positive relationships and create new memories."
Stop Domestic Abuse is an innovative and unique provider of all services to those affected by domestic abuse. The registered charity (Charity number 1146773) runs 13 refuges across Hampshire for women escaping domestic abuse and their children; outreach and resettlement services; Independent Domestic Violence Advisor (IDVA) Services (for high-risk victims); group-work; and specialist programmes for young people and children. In addition to working with victims, the charity helps perpetrators, the police and many other organisations. Its vision is a world without domestic abuse.
If you are affected by domestic abuse, please contact Stop Domestic Abuse on 0330 016 5112
If you would like to know more about the work of Stop Domestic Abuse please visit www.stopdomesticabuse.uk or email info@stopdomesticabuse.uk. Players of Portsmouth Lottery can provide monthly support to Stop Domestic Abuse by choosing the charity as their good cause when they sign up: www.portsmouthlottery.co.uk/support/stop-domestic-abuse