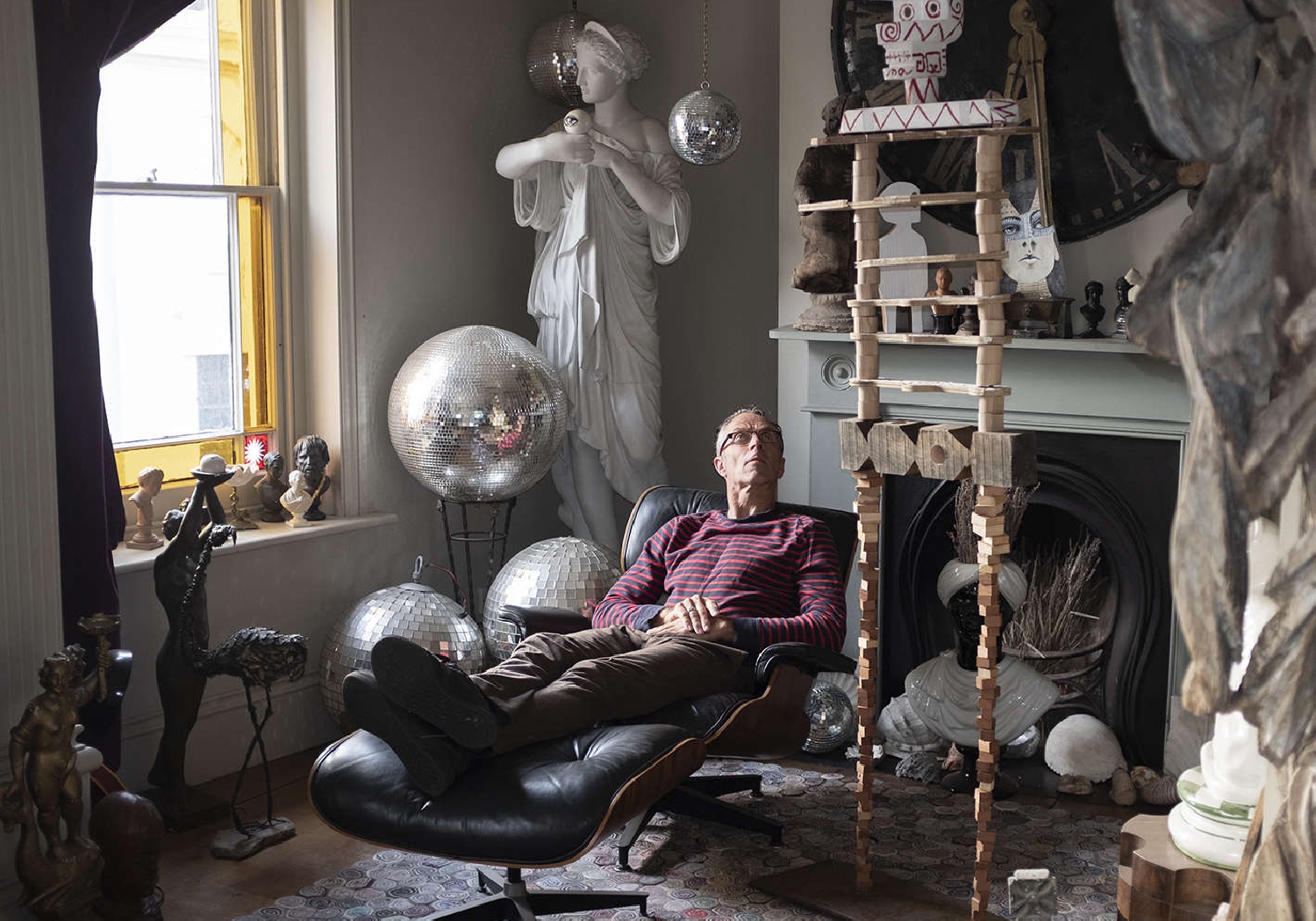 Southsea man Ian Parmiter, popularly known as Lord Sonic from cult surf-punk band Emptifish, will hold his first ever art exhibition next month, which includes World Parkinson's Day (11 April).
The 58-year-old, who is living with Parkinson's, will have his free exhibition called 'The Beauty and Pain of Being Lord Sonic', on display from 9 -24 April at CourtX, Eastern Parade, Southsea.
After his successful music career as a talismanic guitarist, Ian embarked on a 30-year long career as one of the country's leading architectural antique dealers. Despite living with Parkinson's, Ian has channelled a lifetime of creativity into creating art - a series of primitive sculptures and paintings that explore Parkinson's and his unique approach to life.
Parkinson's is the fastest growing neurological condition in the world, and currently there is no cure. It affects around 145,000 people in the UK, including 19,806 people in the South East of England. There are over 40 symptoms, from tremor and pain to anxiety.
Ian said: "I've been painting for the last seven years and I started my sculptures just before the first lockdown two years ago. I've always had creativity inside I think as I've been a musician all my life and still am. My job has always involved working with antiques and art, which has probably influenced me. I believe you absorb something - call it creativity or energy. Friends used to visit me and were blown away with what I was creating. That slowly built my confidence and I got to a point where I wanted to share my art.
"I'm inspired by life and what drives the human spirit to continue and push forward. My work explores ideas of energy, momentum, connection, connectivity, being a member of the world and a part of the universe. My Parkinson's does feed into my work but I don't want it to define me or what I do. Parkinson's is a small, yet significant part, that I want to acknowledge but in no way is it the whole picture of me or my art. I am more than that."
Parkinson's UK is the largest charitable funder of Parkinson's research in Europe, leading the way in driving better care, treatments and quality of life for those with the condition.
Paul Jackson-Clark, Director of Fundraising and Engagement at Parkinson's UK, said:
"We're delighted for Ian and excited to see his art being displayed for the very first time. Ian's creativity is a real inspiration to the Parkinson's community. We hope that this chapter of his life helps to raise awareness of Parkinson's and start some conversations about the condition.
"There are lots of misconceptions about what you can and can't do when living with Parkinson's. Ian's proof that the condition does not have to hold you back from expressing yourself creatively through different mediums."