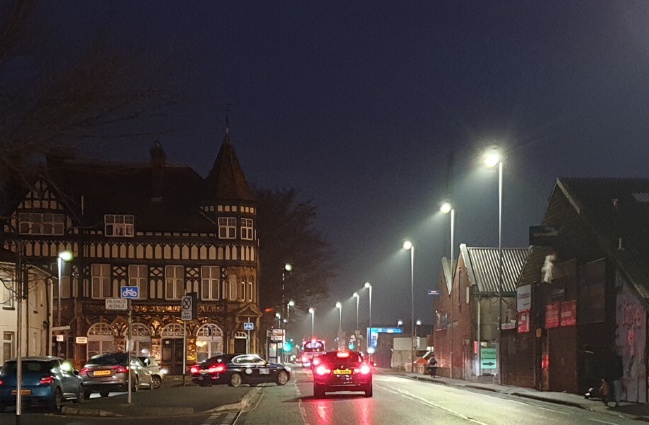 Plans to reduce the brightness of street lights on some Portsmouth roads was approved by cabinet following a successful trial.
Portsmouth City Council has installed LEDs in over 14,000 street lights across Portsmouth and this is already saving public money and cutting light pollution. Reducing the brightness of individual streetlights, between 10pm and 6am, depending on their location will improve this even further. Once all the lights are adjusted this is expected to save over £420,000 a year in total.
It is estimated that rolling out the reduced energy levels will reduce annual energy consumption by around 5,000 kWh which will translate into a reduction in CO2 emissions of approximately 140,000kg. This is the equivalent of to an average car driving 350,000 miles or 240 return trips from Portsmouth to John O'Groats.
Over 12,000 residents were within the five trial areas in the city, located in Baffin's, Cosham, St Jude, Milton and Fratton. One of these areas was designated as a placebo area with no change so that resident feedback between areas could be compared. 80% of respondents to the trial survey were satisfied with the result.
Cllr Stagg, Cabinet member for Traffic and Transportation said "The trial of reduced energy to street lights showed us that people didn't notice the difference when the level of brightness was dipped. The new system has the added benefit that darker areas can have the brightness retained when the surrounding lights are dimmed and in no way are we compromising security and safety."
A variety of factors are taken into account when identifying how bright street lights should be. This includes the road and footpath location, road speeds, road traffic accidents, crime, as well as vehicle and pedestrian movements. Safety is the first priority. For example, where there is a major junction the lighting would not be reduced.
Cllr Ashmore Cabinet Member for Environment and Climate Change said "It is important we make the most of technology to reduce our negative environmental impact. Reducing the energy in street lights will significantly contribute to our pledge to be carbon neutral by 2030".