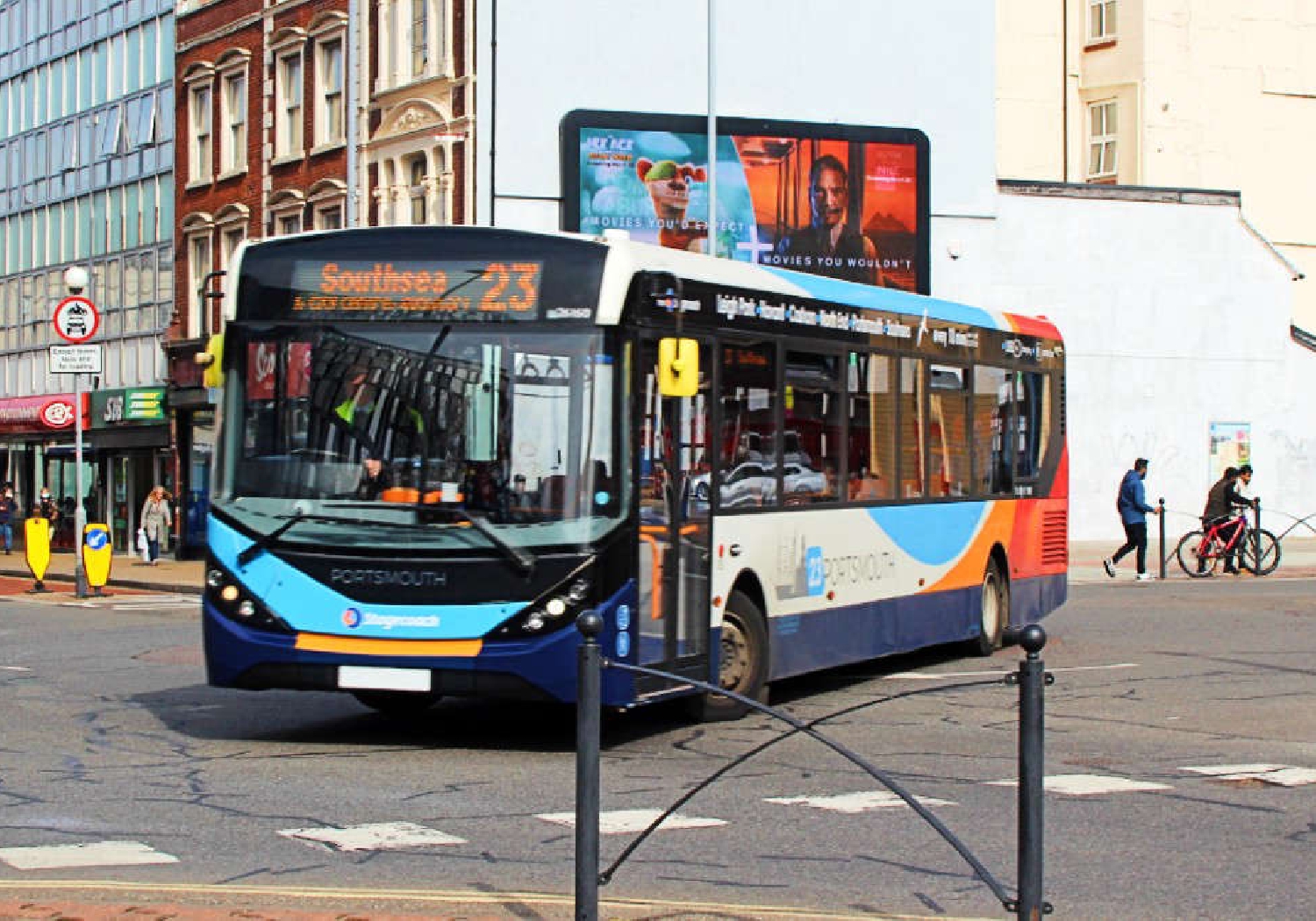 Faster bus journey times and safer cycle routes are closer to becoming reality, after a majority of respondents to a survey supported changes to key roundabouts and routes in the city centre.
Portsmouth city council has received feedback from over 570 respondents in the recent online survey to understand people's opinions on plans to improve public transport, walking and cycling in Portsmouth city centre. These include schemes around Cascades, Isambard Brunel Road and Lake Road. The feedback received from the survey will help inform detailed design of the various plans, which will soon be shared in a formal consultation before construction takes place later in 2022.
The schemes are part of a city-wide project to improve bus journey times, as well as options for people walking and cycling, and are divided into three key areas:
City Centre North includes plans to introduce a new lane for buses and taxis between Cascades Approach and Unicorn Road, as well as plans to route outbound buses via Charlotte Street
City Centre South includes plans to replace the roundabout outside Portsmouth and Southsea station with a signalised junction, and add a new crossing across Isambard Brunel Road close to Guildhall Square
Lake Road focuses on creating a new westbound bus lane west of the roundabout, and creation of separated cycle lanes on both sides of the road
These schemes are planned to make bus journey times quicker and more attractive for people to use, as well as improve walking and cycling routes in these areas.
Originally, the City Centre South scheme also included plans to make part of Isambard Brunel Way under the railway bridge open to buses and taxis only. The council are now investigating how this may affect the Clean Air Zone and more options are being considered to improve bus journey times while continuing to improve air quality in this area.
In the north of the city centre, the online survey found that 68% of respondents were in favour of routing eastbound buses through a new corridor on Charlotte Street, while 65% supported a new lane for buses and taxis between Cascades Approach and Unicorn Road.
In the south, 74% supported a new traffic light controlled pedestrian crossing on Isambard Brunel Road near to Guildhall Square and 64% were in favour of replacing the mini roundabout outside Portsmouth and Southsea train station with a signalised junction.
And on Lake Road, 74% of respondents supported improving the existing roundabout with better crossing facilities and 64% agreed with plans to add segregated cycle lanes west of the roundabout. Respondents were also generally in favour of improving landscaping in each area to make them greener and more pleasant.
These schemes are just one part of the overall South East Hampshire Rapid Transit project, funded by the government's Transforming Cities Fund (TCF), and aim to make public transport between Portsmouth and the surrounding area a quicker, safer, and easier option for all.
Cllr Lynne Stagg, Cabinet Member for Traffic and Transportation, said "I would like to see bus travel improved in our city, and making sure we develop our road network will help make bus journeys much quicker for everyone. We also want to develop safer, better-connected, and more pleasant walking and cycling routes to encourage people to use their cars less. By making these changes, we can provide healthier alternatives to motor travel, which will lead to less cars on the road and make the air we breathe cleaner. I really appreciate all the feedback we have received, and this will help us develop detailed designs that we'll share during the formal consultation process."
The valuable feedback received from the survey will help inform the next detailed design phase for the improvements and a statutory consultation on formal proposals will start soon via Traffic Regulation Order (TRO). If this is approved, construction will start later in 2022.
Full details from the consultation can be found at https://yourcityyoursay.portsmouth.gov.uk/city-centre-and-lake-road-consultation-2021/. For more information about these and SEHRT projects, visit www.sehrt.org.uk/schemes.