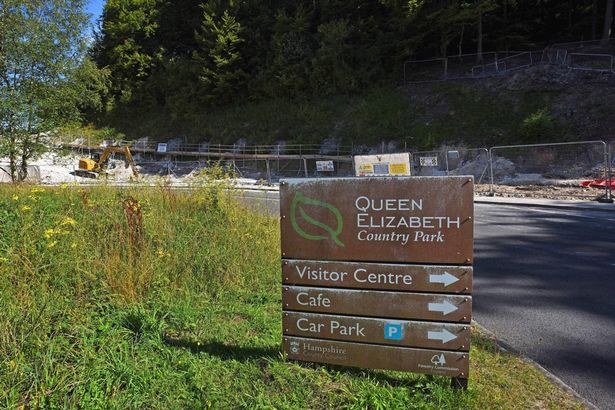 Hampshire County Council is investing £1.2 million in rebuilding the visitor centre at Queen Elizabeth Country Park, so that it can be enjoyed by even more people.
Hampshire County Council's Executive Member for Recreation and Heritage, Councillor Seán Woodward, said: "The visitor centre at Queen Elizabeth Country Park was built in 1970 and is no longer fit to accommodate the ever-increasing number of visitors that come to enjoy the park. This large-scale refurbishment will bring to life the seventies architecture while making it a space that people can enjoy and relax in when they come to the park."

Work will begin at the end of January and last for around eight months. Changes will include an entirely fresh new look and reconfigured space which will house a new reception area, shop, toilets and event space to hire. The café will also be able to seat more people in a larger brighter space and have a fresh new menu.

Councillor Woodward continued: "This is the third of four major investments we have made into the County Council's country parks following the successful renovation of Lepe Country Park in the New Forest and Royal Victoria Country Park near Netley and will be followed closely by Staunton Country Park in Havant. These projects are ensuring that our country parks continue to be top visitor destinations in Hampshire but also become self-sustaining so that they can continue to thrive in the future."

The refurbishment will also include new tables and benches as well as a covered seating area in the courtyard. There will be new landscaping to the front and rear of the visitor centre while elsewhere there will be new signage for exploring the park as well as improvements to the car parks. Lastly but no means least the kiosk at Juniper will be improved along with the toilets to match the new play area and assault course.

While the visitor centre is closed a temporary café can be found at the marquee on the meadow and a visitor reception will be located in the cabin in the main car park. There will also be visitor toilets at both these locations.

Queen Elizabeth Country Park is located in Petersfield and forms part of the South Downs National Park with extensive woodland and dramatic downland scenery over 1400 acres.