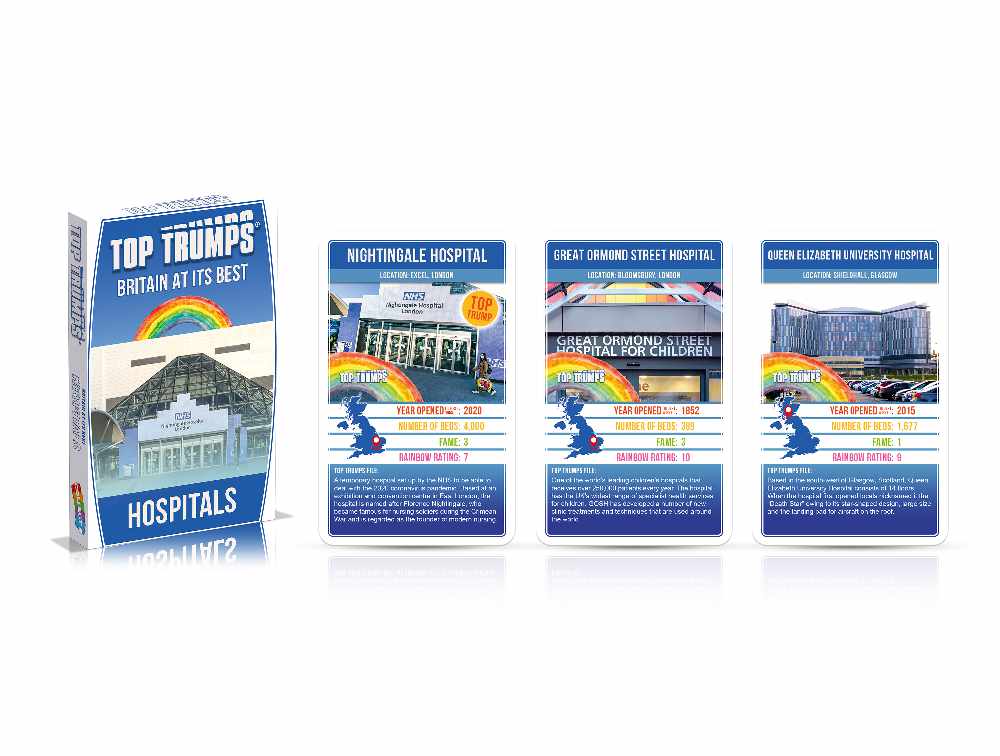 The Top Trumps pack features 30 hospitals from across the UK. 'Hospitals Top Trumps' is being launched in an effort to raise money for the NHS.
TOP facts about Top Trumps Britain at its Best: Hospitals pack...
The pack features UK Hospitals from Britain's oldest (Barts - 1123) to one of its very newest (Nightingale, London - 2020).
It's full of fascinating facts and the 30 different cards feature leading UK hospitals inc. Portsmouth's Queen Alexandra Hospital, Guy's, Addenbrooke's, St Thomas', John Radcliffe, and Manchester Royal Infirmary.
The four scoring categories are: 'Year Opened'; 'No. of beds'; 'Fame' and 'Rainbow Rating'.
St. Thomas' Hospital, where PM Boris Johnson was successfully treated during his recent COVID 19 confinement, features as one of the 30 cards.
Highest in the 'Rainbow Rating' section is Great Ormond Street Hospital, which has a rainbow theme throughout.
But arguably Britain's most crucial hospital is a moving one, not a permanent structure or even semi-permanent as in the case of the Nightingale. And that is 'The Ambulance' (which features on its very own card).
'The Ambulance' has just the one bed so in terms of Top Trumps that's a low rating. However it comes high in the OLDEST category, dating back to 1487.
Top Trumps Britain at its Best: Hospitals is available priced £5 from Monday (4th May 2020) exclusively at: winningmoves.co.uk and comes in a twin deck (the other pack being Britain at its Best: Key Workers
And the dual Britain at its Best deck really IS Britain at its very best, literally. The whole product - from concept to completion – is 100% British, with the cards being manufactured by The St Austell Printing Company in St. Austell, Cornwall.
The £5 price for both packs includes postage and packaging and the Top Trumps makers say £1.50 from each dual deck sold go to the NHS.