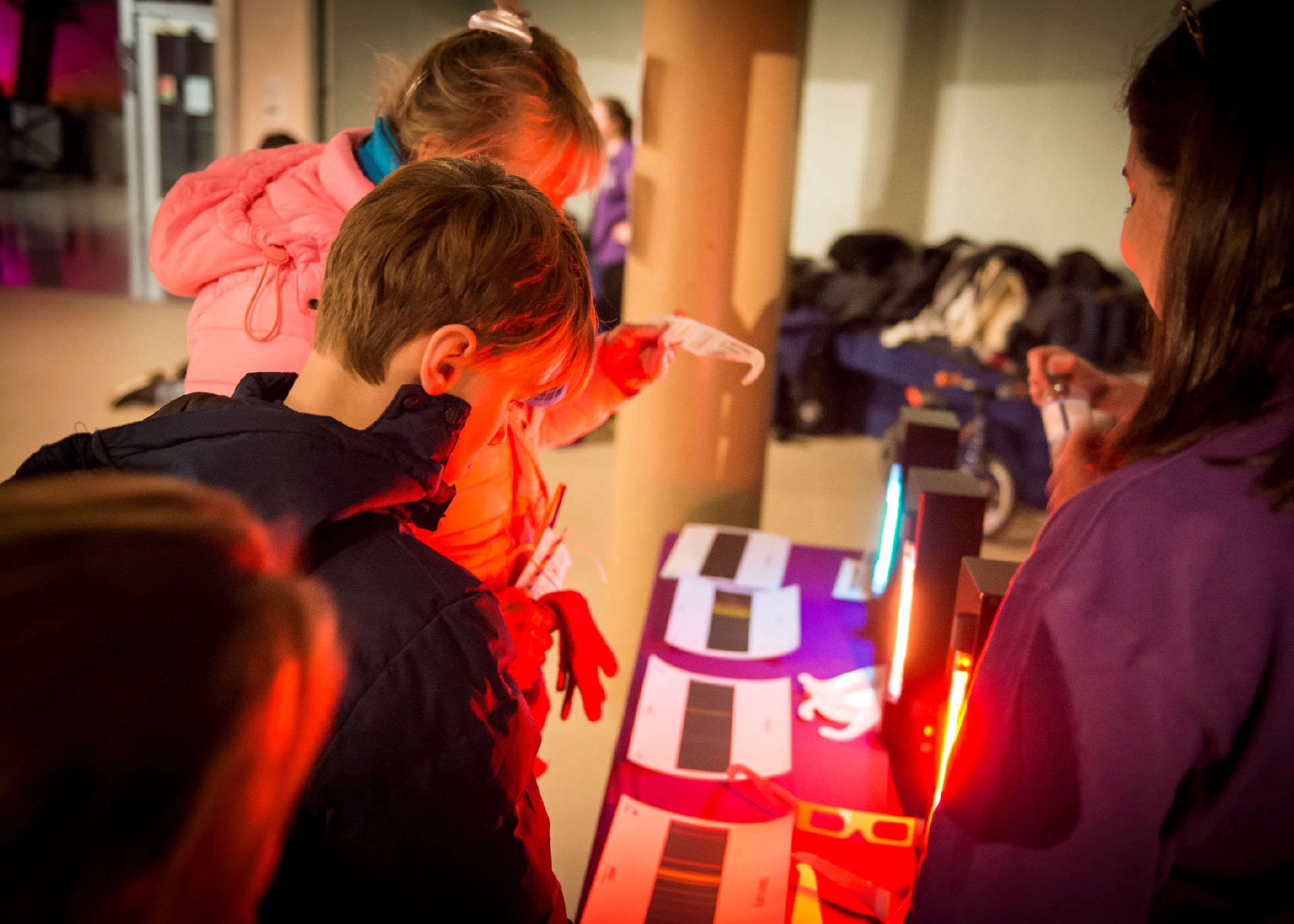 Guests from a previous Stargazing event doing a 'spot the spectrum' activity to work out what gas is in each lamp, in the same way that astronomers work out what stars are made of. Image credit: Pierandrea Guarnieri
The University of Portsmouth's spectacular Stargazing event at Portsmouth Historic Dockyard is back this year for budding astronomers of all ages to explore the wonders of the Universe.
As well as a number of interactive activities, astronomers will be on hand to explain the millions of stars, their constellations, galaxies and the Milky Way.
The evening event on Wednesday 25th January is free to attend, but tickets must be booked via the university website.
Organised by the University of Portsmouth's Institute of Cosmology and Gravitation (ICG) and the National Museum of the Royal Navy with support from the Hampshire Astronomical Group, the event takes place at Action Stations in the city's Historic Dockyard.
Dr Jen Gupta, Senior Public Engagement and Outreach Fellow at the University's ICG, said: "This will mark ten years of holding our annual Stargazing event at Portsmouth Historic Dockyard and we're excited to invite members of the public to attend again in person after offering it virtually during the pandemic.
"We always host it at the start of the year because it tends to be a good time for stargazing - it gets dark nice and early and the winter skies are beautiful with plenty to see. This year there'll be a range of inspiring and interactive activities for all ages so no matter whether you're a budding astronomer, an amateur stargazer or haven't really thought about the Universe before, there will be something for everyone."
Visitors can look through a telescope, learn how sailors navigate by the stars and find out more about our Universe and how we explore it. Short talks will be given on stargazing, cosmology and space. There will be a range of activities to suit all ages, with plenty to do and see whether it's clear or cloudy.
Please click the link to book tickets:
https://www.port.ac.uk/news-events-and-blogs/events/stargazing-at-portsmouth-historic-dockyard-2023