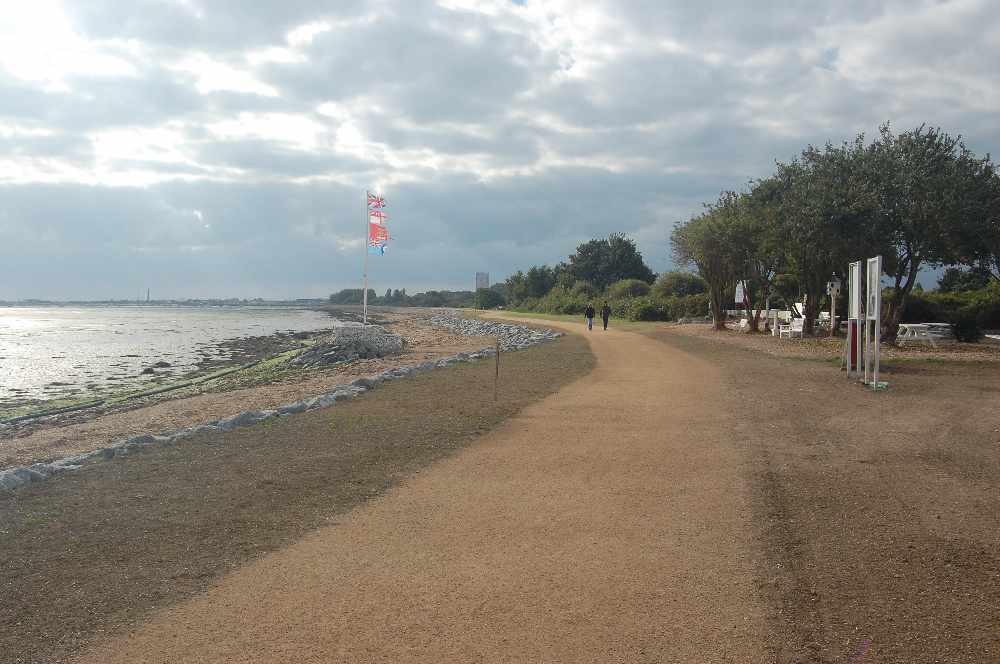 "Complex and challenging project" recognised at the Constructing Excellence in London and the South East Awards 2017
A major coastal defence scheme in Portsmouth, which will deliver protection for over 1400 residential properties and 140 businesses on the east coast of Portsea Island, has been praised by construction industry experts for the innovative approach taken.
Judges at the Constructing Excellence in London and the South East Awards declared the scheme winner of the Civils Project of the Year category. Specifically, they identified the decision to combine the coastal defence scheme with the removal of Great Salterns Quay, which had been out of use for many years, as 'inspirational'. This decision not only delivered a cost saving, but also diverted over 22,000m3 of waste from landfill - the equivalent of nearly nine Olympic sized swimming pools.
They also acknowledged the project team's efforts to minimise the impact of heavy plant and machinery in an environmentally designated area, which is also close to residential properties. Large portions of the works were constrained by tides and significant environmental mitigation was required throughout the construction phase. The scheme was delivered on time and under budget in autumn 2016.
Councillor Robert New, Cabinet Member for Environment and Community Safety at Portsmouth City Council said:
"It's brilliant that the Milton Sea Defence scheme won this award. The Eastern Coastal Partnership in conjunction with the contractors and our own Sea Defence and coastal drainage manager have done yet another fantastic job, from the sensitive requirements around the Armed Forces memorial to the removal of the old Salterns Quay. Despite being up against some other equally impressive schemes, it's clear that our guys were the front runners. Well done to all of the staff who worked on this massive project.
"The lessons learnt from this stage of the scheme will be taken forward as we deliver future coastal defence schemes in Tipner and in Southsea, which will protect even more residents and businesses across the city".
The project was delivered on behalf of Portsmouth City Council by the Eastern Solent Coastal Partnership (ESCP) and contractor Raymond Brown. The ESCP was setup in 2012 to deliver a combined, efficient and comprehensive coastal management service across the coastlines of four Local Authorities of Fareham Borough Council, Gosport Borough Council. Havant Borough Council and Portsmouth City Council.