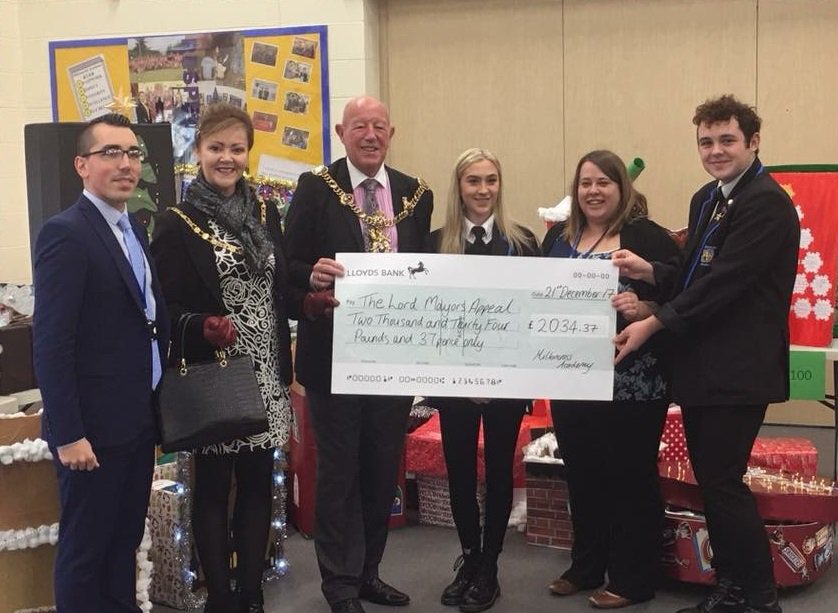 Portsmouth's Lord Mayor & Lady Mayoress receiving a cheque from Miltoncross Academy pupils and staff
Two schools in Portsmouth have raised thousands of pounds to help a trio of good causes in the city.
Lord Mayor of Portsmouth contacted all schools in the city asking for help in supporting his fundraising for the Elizabeth Foundation, Veterans Outreach Support and Headway Portsmouth, and has been impressed with the response so far.
Miltoncross Academy has raised £2,030 through a series of fundraising events while Cottage Grove Primary presented a cheque for £330.55.
The Lord Mayor said: "It is fantastic that these two schools have been able to help with our fundraising. The money will go towards three very worthy causes and support the great work they are doing in our city. I'm very hopeful that other schools will be getting in touch soon to tell us about their efforts and I'm very grateful to everyone across the city who has been supporting the appeal."
The Elizabeth Foundation is a local charity providing support to infants and pre-school children with hearing loss, and their families. It helps babies and children with all degrees of hearing loss learn to listen and speak. The foundation does this by providing pre-school education services at its family centre in Cosham, along with help, support and advice for families.
Headway Portsmouth provides support to people with brain injury and other forms of acquired brain injury, their family members, carers, and interested professionals, including personalised advice, information and practical support to assist rehabilitation, and maximise recovery and independence.
Veterans Outreach Support (VOS) provides a monthly drop-in meeting at the Royal Maritime Club and weekly mental health therapies for former members of the British Armed Forces and Reserves and their direct family members, including the Royal Fleet Auxiliary and the Merchant Navy.