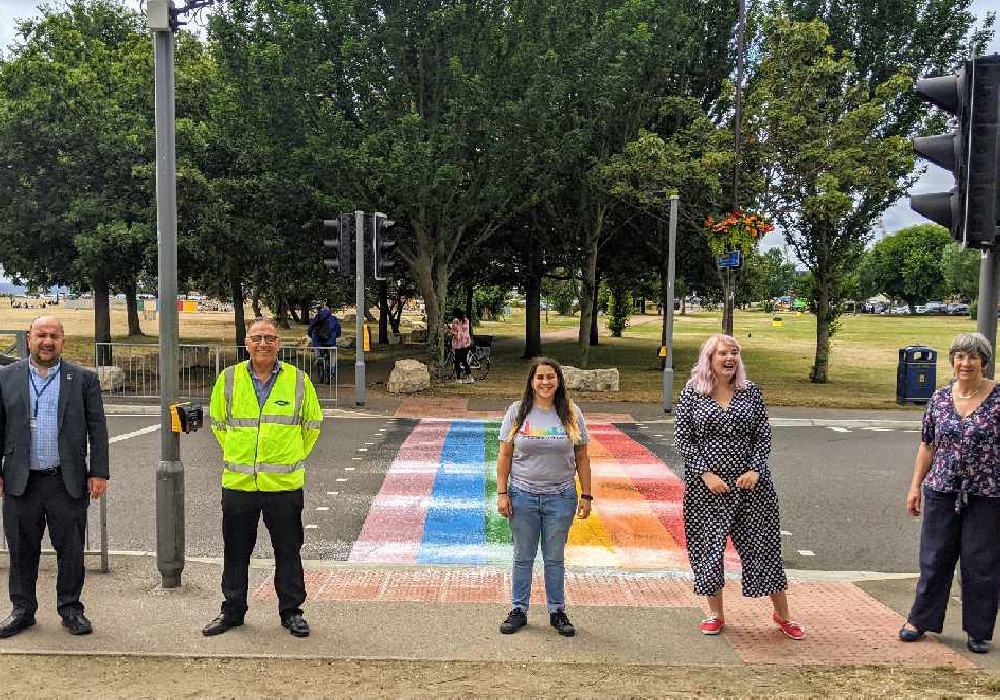 This weekend, visitors to Southsea Common can be among the first to set foot on Portsmouth's brand new Pride road crossing.
The colourful rainbow crossing has been created on Duisburg Way by Portsmouth City Council to celebrate the city's LGTBQ+ community.
Portsmouth is one of the first cities in the UK to unveil a rainbow crossing and the city council hopes it will serve as a symbol that Portsmouth is a welcoming and safe city for everyone.
"We're excited to roll out the rainbow on the roads of Portsmouth," said Cllr Steve Pitt, the council's Cabinet Member for Culture, Leisure and Economic Development & Deputy Leader. "We wanted to create a fun and visible expression of solidarity with the Portsmouth's LGBTQ+ community as one way of demonstrating that Portsmouth welcomes and celebrates all people with pride. We hope it will bring a smile to everyone who sees and crosses it!"
The rainbow flag dates back to the 1970s when it was first used as a symbol of pride for the LGBTQ community. The various colours have come to signify the diversity and unity of the LGBTQ+ community.
The new crossing has been welcomed by Portsmouth Pride, which has seen its events in the city go from strength-to-strength in recent years: Georgia Alston, from Portsmouth Pride comments; "It's fantastic to have such a bold statement of support for the city's LGBTQ+ community in one of the most popular spots in Portsmouth. Our local Pride movement is growing all the time so it's great to have an eye-catching display of unity in our city for all to see."
The rainbow crossing was created free of charge by Colas, Portsmouth City Council's highway maintenance partner, and completed on Friday 24 July. The location on Duisburg Way was chosen as it sits in an open and visible place within a prominent part of the city that is popular with residents and visitors alike.
Ray Muscat, Business Unit Manager, from Colas Ltd, comments, "It's great to see the new Pride road crossing in action and it was our pleasure to install it. The striking multicolour crossing is a fun way for pedestrians to celebrate the Pride movement. We're pleased that Portsmouth is one of the first cities in the UK to fit a rainbow crossing and we hope more will follow suit."