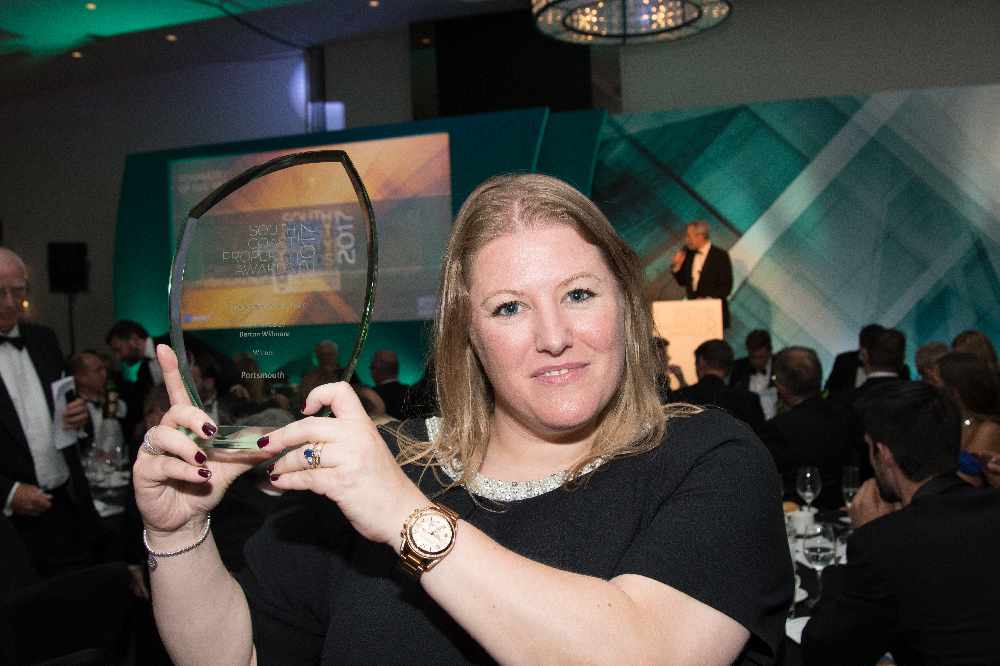 Portsmouth picked up three awards at the prestigious South Coast Property Awards last night including the top prize - City of the Year.
Portsmouth City Council's hat trick of awards also included Corporate Real Estate Team of the Year.
Council project Dunsbury Park was also named Business Park of the Year at the glitzy event hosted by BBC journalist Jeremy Vine at the Ageas Bowl, in Southampton.
Awards chairman David Murray said: "Congratulations to Portsmouth - not only for winning City of the Year, but for securing Business Park of the Year for Dunsbury Park.
"In addition, it was good to see the council's real-estate team being recognised in the Corporate Real Estate Team category for the council's innovative work in realising the value of commercial property and ploughing the proceeds back into social measures to benefit the city's population.
"Donna Jones and her team should be rightly proud of their achievements."
Leader of the council Cllr Donna Jones said: "To win three of the most important awards at a high profile event like this is great recognition of the fact that our property investment strategy is robust and sound. We're leading the way nationally in terms of income generation from property and this is recognition of the work we're doing to use our valuable assets to bring in money for the local services that matter most to local people.
"We know the government's revenue support grant is under significant pressure, and that's why we must ensure that we are a forward-thinking council with a proactive appetite for income generation and business growth.
"We promised that we would not just sit back and take the cuts without doing everything we could to bring in extra money to help maintain and improve services - and that is the basis for what we are doing at Dunsbury Park, with the innovative Wightlink Isle of Wight ferry terminal sale-and-leaseback deal and with our property investment strategy."
The council's property and investment manager Tom Southall said: "We're delighted to have our hard work, and the professional skills, experience and expertise of the team, recognised with such prestigious awards after a commercial selection process overseen by judges looking for outstanding performance in the region's property sector.
"We are using our property expertise to generate millions for local services and it's nice to have the strength of what we're doing acknowledged by our commercial peers."
Dunsbury Park is a major new business park which will create 3,500 jobs.
International clothing brand Fat Face is the first tenant of this commercial development which the council is building and managing on council owned land next to junction 3 of the A3(M).
The site offers bespoke warehouse, manufacturing and office space on a built-to-suit basis and there is also provision for hotel and conference facilities.
Dunsbury is served by a new link road directly funded by the council and the Solent Local Enterprise Partnership.
The council's development manager Kevin Hudson said: "It's great for the city that Dunsbury Park is Business Park of the Year. This is a project that will make a real difference. It's a fantastic opportunity to boost jobs, and the local economy, and to generate income for council services and I think this has been recognised by the award judges."
Another major element of the council's income generation drive is its property investment strategy, which brings in nearly £6.6m per year from the rent collected from a portfolio of ten commercial assets.
Once costs are taken off, this has already made £4.3m of profit which can be used to fund services within Portsmouth.
The entrepreneurial approach has meant the council has been able to mitigate the ongoing cuts to council spending and protect services that would otherwise be at risk. The extra money can be used to pay for things like libraries (£1.96m annual cost), museums (£759,900), weekly rubbish collections (£3.2m), community wardens (£148,800), homelessness services (£615,900) and school crossing patrols (£198,000).
More property purchases are set to be made in the coming months, generating even more money for local services.