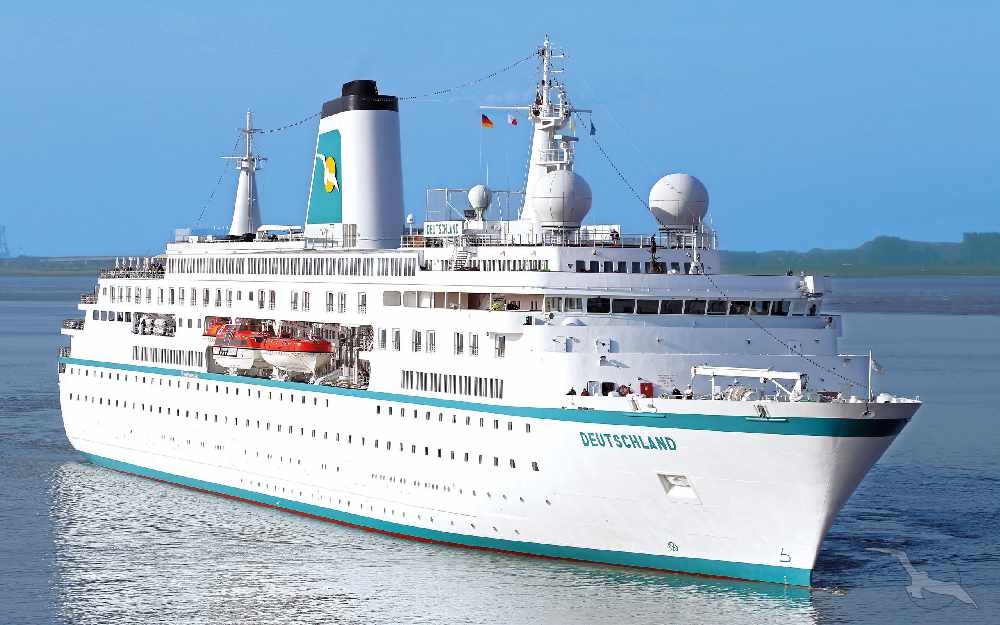 The start of a new cruise season is heading over the horizon at Portsmouth International Port, with preparations being made for the first cruise ship arrival of 2017.
MV Deutschland cruises into dock at the Great Waterfront City on Saturday 22nd April, bringing more than 500 passengers from Hamburg in Germany. The 175 metre long ship, which this year celebrates its 21st birthday, is operated by renowned German cruise company Phoenix Reisen.
Portsmouth International Port is MV Deutschland's first call on an 18 night cruise to the Canary Islands. The stop in Portsmouth is sure to be a memorable one for the mainly German passengers, with an option to start exploring the city's world class attractions within minutes of disembarking their art deco inspired cruise liner.
Rupert Taylor, Harbour Master at Portsmouth International Port, said, "After a busy Easter break looking after ferry passengers, everyone here at the Port is looking forward to the start of our 2017 cruise season. I'll be personally welcoming the passengers and crew of MV Deutschland to Portsmouth International Port, and wishing them a wonderful day out in our fantastic maritime city and the surrounding area. Visiting cruise ships are not just a key part of business at the Port, they are increasingly important to the local economy."
After leaving Portsmouth International Port MV Deutschland heads to Lisbon in Portugal, with a chance for passengers to spot whales and dolphins in the marine life rich waters of the Bay of Biscay. Further stops in Spain, the Canary Islands and Madeira all lie ahead before MV Deutschland returns home to Germany.
MV Deutschland will return to Portsmouth on 25 July with hundreds more German tourists. The visit will be the final stop on a round Britain cruise that sees the ship sail from Bremerhaven in Germany, around the north of Scotland and down the Irish Sea to Southern England.
Leader of Portsmouth City Council, Councillor Donna Jones, said: "We are delighted to welcome passengers of the MV Deutschland to Portsmouth and hope they enjoy their time in our beautiful city enjoying the many attractions Portsmouth has to offer. We look forward to welcoming many more visitors to the city throughout the 2017 cruise season as more and more cruise companies are choosing Portsmouth International Port as a popular place to call."
This year's cruise season includes some exciting new arrivals at Portsmouth International Port. Crystal's 'seven star' luxury cruise ship Crystal Symphony makes its debut at the Great Waterfront City, as does Viking Star. Viking, one of the world's best known operators of culturally rich river cruises, now offers the same experience for ocean going holidays.
A number of cruise ships calling at Portsmouth International Port in 2017 will be using the first class facilities for 'turnarounds'. The Port offers a bespoke service for cruise ships of any size up to 240 metres in length, with dedicated check in and luggage facilities for cruise passengers. The last cruise ship call of 2017 is scheduled to be Artania on 6 December.