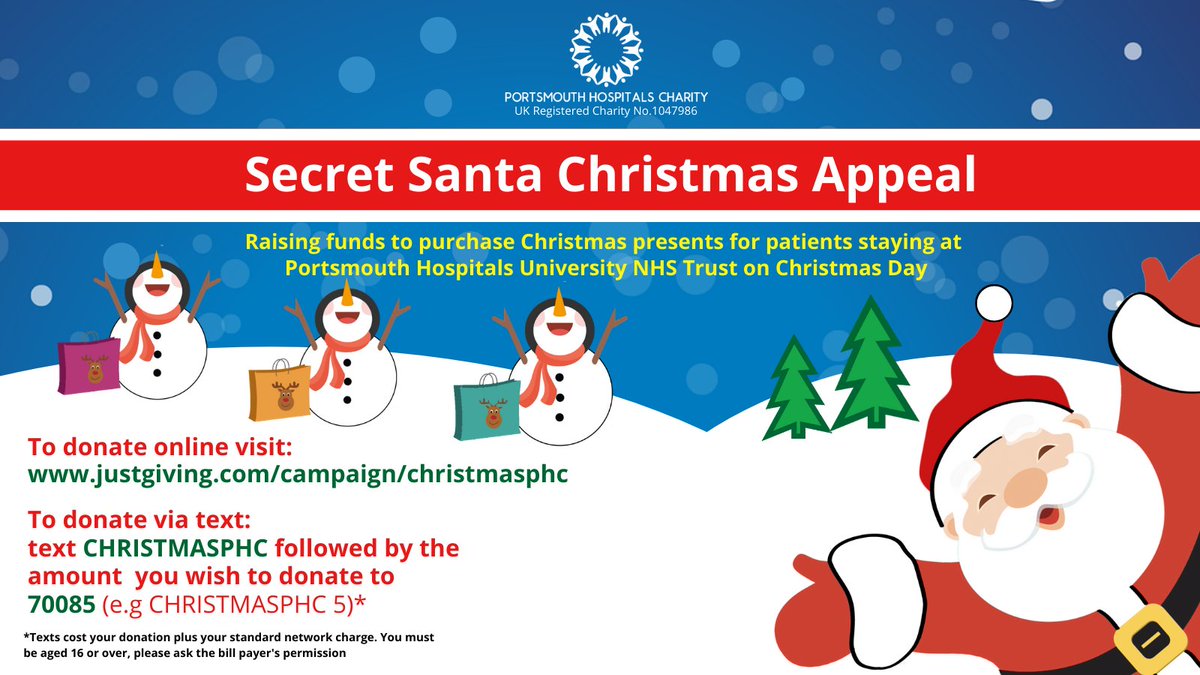 Local hospital charity, Portsmouth Hospitals Charity is thrilled to launch their Secret Santa Christmas Appeal to help bring the festive spirit to a patient on Christmas Day.
Portsmouth Hospitals Charity is appealing to the local community to help us make sure that every patient at Queen Alexandra Hospital wakes up on Christmas Day with a present. Due to the ongoing COVID-19 pandemic, Portsmouth Hospitals Charity sadly cannot accept the usual items generously donated to the hospital by our fantastic communities and businesses. So, to help bring the Christmas spirit in for our patients, this year the charity is asking supporters to kindly donate the money they would have spent on gifts so that it can purchase presents for those spending the festive season within hospital instead. The presents will be placed in gift bags for inpatients across Portsmouth Hospitals University NHS Trust to enjoy on Christmas Day.
Mark Cubbon, Chief Executive at Portsmouth Hospitals University NHS Trust, said: "We have been overwhelmed by the kindness and support we have received from our communities, particularly over the last year. Christmas is a time of year that we hope to be able to spend with our friends and family, however some people will face a stay in hospital instead. We know that Christmas will be different this year and we want to do all that we can to ensure our patients feel able to celebrate the festive season wherever possible. This initiative by Portsmouth Hospitals Charity and The News will help us to achieve this. Thank you to The News and to all those in our communities who continue to show incredible support for our patients and all at the QA."
With your help and generosity, the charity hopes to raise enough funds to spend at least £5 on gifts for every patient.
Kerry Budd, Quality Improvement Facilitator at Portsmouth Hospitals University NHS Trust who has helped with present deliveries across the Trust in the past, said: "Christmas is just around the corner and this year may be slightly different to our usual celebrations, however the act of giving a Christmas present to one of our inpatients is one of my favourite activities at work. Our patients appreciate the kindness and the thought taken to give them a gift, just to know someone is thinking of them and that they are not alone at this time of year. The simple act of kindness, community and Christmas spirit is truly magical and to bring this to the hospital is really special."
Christmas is an extra-special time for our youngest patients too, so to support those from the children's and neonatal wards, the charity has a separate plan to add that extra touch of sparkle. If you would prefer to donate a present for these departments specifically, you can do so by visiting their Amazon Wishlist, to find out more information visit: www.porthosp.nhs.uk/charity/christmas.htm.
Donations to the Secret Santa Appeal can be made online at https://www.justgiving.com/campaign/christmasphc. Alternatively, donations can be made by texting 'CHRISTMASPHC' followed by the amount you wish to donate (for example CHRISTMASPHC 5 for a donation of £5) to 70085. Please note, each text will cost the donation amount plus your standard text amount. For more information, please visit www.porthosp.nhs.uk/charity/christmas.htm
Portsmouth Hospitals Charity would like to thank the whole community for their continuous support during the challenges of 2020. Your generosity has meant so much to our patients and staff. If you require any more information please contact Portsmouth Hospitals Charity on 023 9228 3392 or email fundraising@porthosp.nhs.uk.