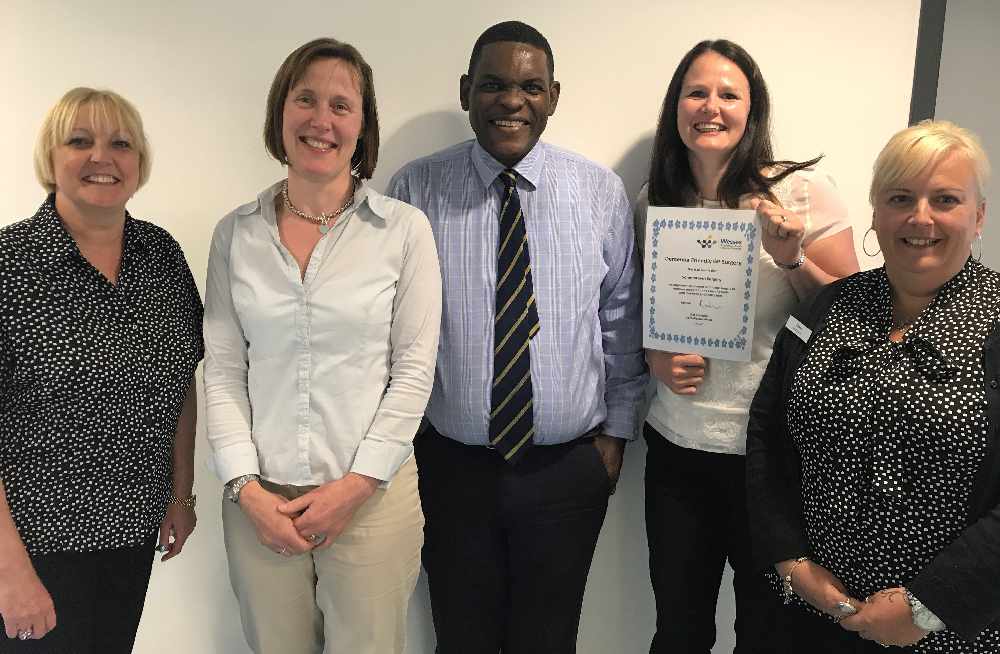 (L-R): Lisa Gosling, Dr Liz Shepherd, Dr Ola Babatolu, Carly Darwin (Portsdown Group Practice) and Helen Pinhorne (Dementia Champion).
The biggest GP practice in Portsmouth has become the 100th across the Wessex region to be officially accredited as 'dementia-friendly.'
The move means that Portsdown Group Practice, which cares for more than 43,000 patients in six surgeries, offers improved services to both dementia patients and their carers.
More than half of GP surgeries across Hampshire, Dorset, Isle of Wight and south Wiltshire are involved in the iSPACE initiative, which is spearheaded by Wessex Academic Health Science Network (AHSN).
Carly Darwin, the Portsdown Group Practice's Operations Manager, said: "I am proud and delighted that we have been accredited as a dementia friendly primary care provider. Our staff really engaged with the process, particularly the Dementia Champions that have volunteered to represent each site, and we have all found the process very enlightening.

"Many of our staff have family or friends who have been affected by dementia, and so it really is a topic close to our hearts. We are aware of the number of patients currently living with dementia in the UK today, and we hope we are now able to enhance the patient and carers experience of accessing our services, to build better relationships and improve the quality of the services we provide."
Portsdown Group Practice covers Cosham Park Avenue, Crookhorn Lane, Heyward Road, Kingston Crescent, Paulsgrove and Somerstown surgeries.
So far, 145 GP surgeries across the Wessex area have become 'dementia friendly.' Tackling dementia, and increasing diagnosis rates, is a priority for the nine NHS GP-led clinical commissioning groups (CCGs), which buy most health services for more than three million people in Wessex.
Benefits include improved experience for patients and their carers and staff being better equipped to deliver high quality dementia care.
The accreditation process involves and includes staff training, patient and carer engagement, links to the voluntary sector in the locality, an environmental audit, dementia-focussed care planning, and work to support the person with dementia and their carer.
An evaluation by Wessex AHSN found:
Implementing iSPACE led to a 16% increase in dementia diagnosis rates
1,000 staff were trained in 2016
6% reduction in clinical consultations
70% increase in memory screening
26% increase in carer identification.
Katherine Barbour, iSPACE programme manager, said: "Even though surgeries are under increasing pressure to deliver more in the same envelope of funding the staff across Wessex have embraced this project with an enthusiasm and energy that has been stunning.
"iSPACE has brought staff, patients, carers, voluntary sector, community staff and Patient participation groups together to address one of the biggest issues we currently face."