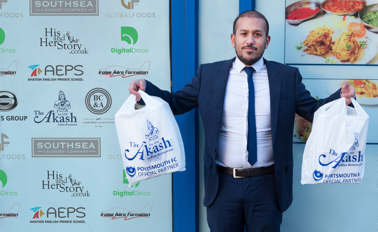 A family-run curry house is about to transform what it means to order a takeaway by delivering a meal to southwest France.
The Akash, of Albert Road, Southsea, plans to charter an aircraft and fly an order out to a group of British expats living in Bordeaux, France. The idea was inspired by Roy Buchan, who made a trip across the channel in 2014 just to tuck into his favourite spicy dish.
Faz Ahmed, manager at The Akash, said the logistics behind the project have been hard work but rewarding. He said: "Because of Brexit and other complications we were initially concerned this idea would not become a reality.
"But now I am confident it will be pulled off and cannot wait to see the outcome".
"Many of our customers have purchased meals for those we intend to send the food out to. Also, several sponsors have contributed to the price of the flight and food.
"It is an expensive thing to do but will be worth every penny when we pull it off. I'm excited."
James Emery, English ex-pat and pilot, helped to organise the event. He said: "I have been a loyal customer of the Akash for close to twenty years. Every time I popped in for a meal, I would complain about the bland and uninspiring version of Indian food we get in France. It was on one of these visits that Faz first floated the idea of delivering one to me at home in Bordeaux".
With James' help, The Akash was able to contact Iroise Aero Formation, a professional flying school based in Brest, who kindly agreed to provide the use of a 6-seater TBM700.
The aircraft will depart from Solent Airport in Lee-On-Solent, formerly known as Daedalus naval base. From there, it will fly to Saucats Airfield, just south of Bordeaux. The food will be cooked in Portsmouth, packaged, and then reheated at the other end for the participants to enjoy.
Mr Ahmed thanked those who have supported the initiative, saying: "We are so appreciative of those who have supported in making this happen. Our sponsors: BCA Chartered Accountants, His and Her Story, Global Foods, Snows BMW, Southsea Laundry Company and Digital Dinos have made a difference with making our intentions happen for real."
Customers can purchase a meal for British Expats at £32 online here: https://www.theakash.co.uk/categories/Curry-By-Air-/
Choices include: Chicken Tikka Massala, Lamb Balti, Bengal Naga Chicken and vegetable Paneer Korai. A vegetable side and naan are also included.