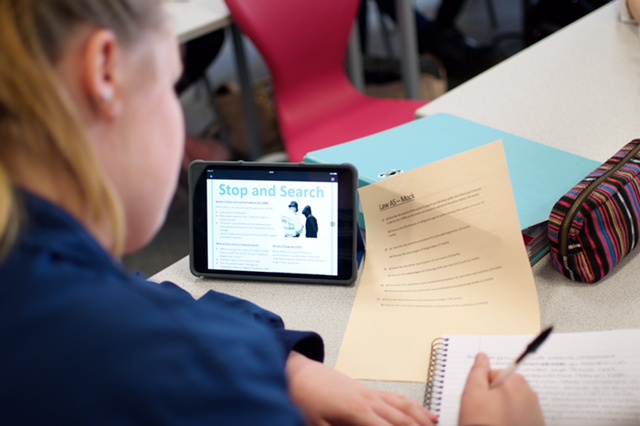 The college won the national award for Use of Technology in Further Education beating 400 other colleges.
Staff, students and governors of Portsmouth College are delighted to announce that we have won the Association of Colleges Beacon Award for the Use of Technology in Further Education. This prestigious, national award was open to all the four hundred plus colleges nationwide, so it is a huge accolade for us to come out on top!
The award recognises the outstanding and highly innovative work the college has done through its 'Curious and Creative Learning' project. This sees us equip staff and students with iPads for use in teaching, learning and assessment. As a result, the way teachers deliver their lessons and the way students learn, both inside and outside the classroom, is being transformed to meet the ways of working of 21st-century students and is having a significant impact on their learning, progress and outcomes:
"iPads are relevant, fun and integrated. Instant feedback helps us improve and develop skills. Excellent collaboration and communication
Students enjoyment of learning and digital literacy skills are also being transformed by the project:
"The iPads have enabled me to turn my students into genuine independent learners through the 'Flipped Learning' model", Lisa Arthur, Psychology
"The use of iPads has enabled me to spend much less time delivering content and much more developing high order thinking skills." Gemma Conway, Biology Teacher
"The delivery of English at GCSE and A level, and the ways students learn the subjects have been transformed." Marion Teiwes, English Teacher
"The use of iPads has revolutionised the quality and standard of my students work", Chris Wood, Music Technology Teacher
facilitates awesome student learning and progress." Megan Wade, Ex Independent Student Governor
"I submit all my work on my iPad. I get instant feedback on how to improve. A brilliant research tool to enhance my independent learning" Liam, Economics and Maths A levels
"iPads are great for developing my digital skills and confidence ready for HE. These skills helped get me my Youth Worker job." George Level 3 Health
The Beacon Award also recognises the fact that the project is a genuinely cross-college initiative, in use with absolutely all our mainstream 16-18 learners. It also recognises the real impact it has had on our year on year improvements in attendance and student results, as well as the significant growth in numbers of students choosing to study with us.
College Principal Steve Frampton is delighted we have won such a significant award:
"This national beacon award is fantastic recognition for all the hard work and innovation that has gone into making our use of technology such a huge success. It has been three years in the making and we are now beginning to genuinely transform the way we deliver our teaching and the ways our students learn. I am so happy for all our staff, students and governors, all of whom have worked so hard to make this such a great success."