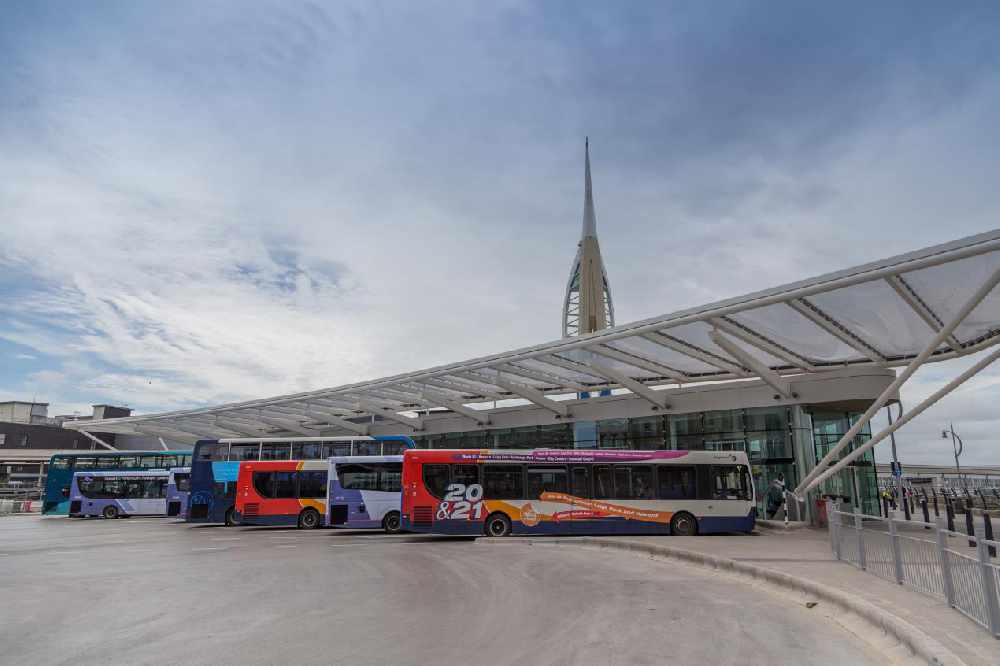 Source: Portsmouth City Council
The Hard Interchange, Portsmouth's re-vamped transport hub, opened to the public one year ago today and over seven million passengers have used the new terminal and local bus operators have hailed the facility a success.
The Hard is hugely important to Portsmouth as a transport interchange. It is a site where bus, train and ferry services come together and for many people it is the first thing they see when arriving in the city.
Public transport providers Stagecoach, FirstBus, National Express, Park and Ride and Mega Bus operate from the hub and between them facilitate over 600 bus and coach departures each day. A staggering four million ferry passengers and two million rail passengers travel through the interchange each year, and over 1.6 million bus and coach passengers have benefited from the state of the art terminal.
Marc Reddy, Managing Director of FirstBus in Hampshire, Dorset and Berkshire said. "The new Hard Interchange has significantly improved the customer experience for those using passenger transport in, and around, Portsmouth. When compared to the previous facility customers now have excellent waiting facilities and feedback from our customers has been very positive about the improvements. Buses play a major part in helping to reduce congestion on our roads and this state of the art facility further pushes the boundaries for transport in the city."
The new iconic terminal building serves as a modern gateway to the city. Complete with a gift shop, a visitor information centre, refreshment facilities and fantastic views of some of Portsmouth's finest tourist attractions, the hub now offers an improved environment for passengers.
Edward Hodgson Managing Director Stagecoach South said. "The previous facility had served its purpose well and was in need of improvement. The interchange is ideally located and now provides a modern, up-to-date gateway to the city, with a more pleasant and secure environment for customers."
Martin Lavers, Portsmouth City Council's Assistant Director for Infrastructure, who was responsible for the regeneration of the Hard said. "The Hard Interchange has significantly improved the waterfront area, and with further investment planned for the city we are excited to see how this area will develop.
We are immensely proud of the interchange and the service it provides to the city's residents and visitors. We are working closely with our contractors to establish a long term solution to the snagging experienced with the tarmac, and look forward to the interchange welcoming many more passengers in the coming months."
The regeneration of the Hard was carried out by contractors Osborne and was funded by the Solent Local Enterprise Partnership and Portsmouth City Council. Further plans to develop the waterfront and connect the existing 'Millennium Walkway' were announce in March, when Transport Minister Jesse Norman MP officially opened the Interchange. Currently Portsmouth City Council, South Western Railway, Network Rail and Gunwharf Quays are exploring opportunities to secure funding, to help make these exciting plans a reality.