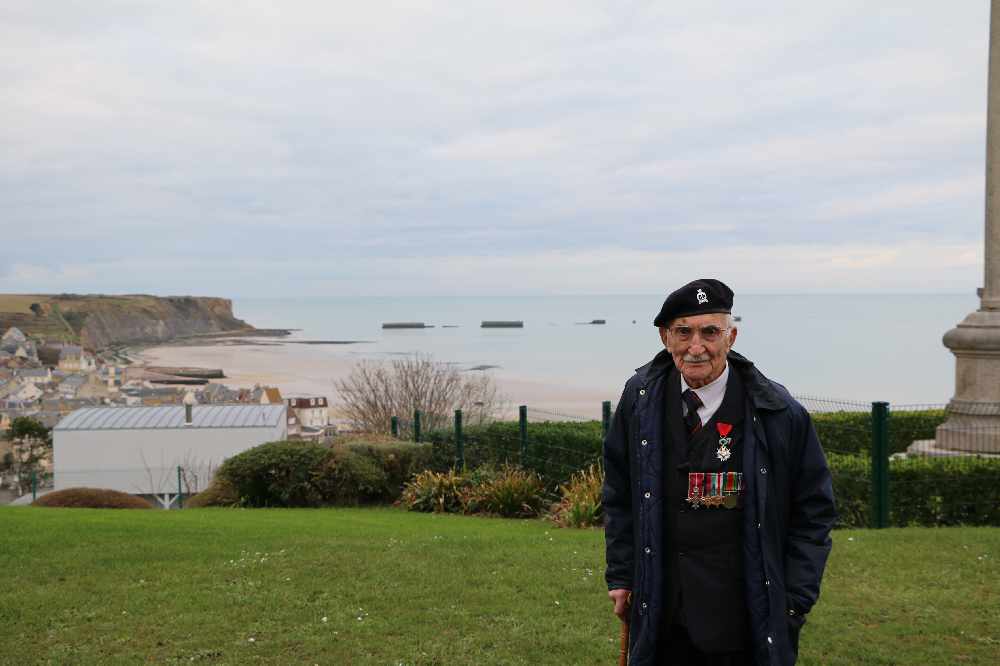 Veteran John Jenkins at Arromanches
A 98-year-old Portsmouth veteran has made his first return visit to the Normandy village where he landed soon after D-Day.
John Jenkins landed at Asnelles on Gold Beach in 1944. He served as a sergeant with the Royal Pioneer Corps and was responsible for moving ammunition forward from the beaches to the front line.
Last week he made an emotional trip back to the village, where local people gave him a hero's welcome.
The trip was laid on for Mr Jenkins by Portsmouth City Council. He joined two D-Day Museum staff, who held meetings with French tourism officials to brief them about the massive revamp project under way at the museum in Southsea.
Mr Jenkins, of Milton, has been a volunteer at the museum for many years, regularly giving talks to visitors about his experiences.
The Mayor of Asnelles, Alain Scribe, hosted a reception at the local town hall before Mr Jenkins laid a wreath at Rue des Pionniers (Pioneers Street), close to where he landed in 1944.
Mr Jenkins was also given an official welcome at Caen City Hall. He also visited Ranville War Cemetery, Pegasus Bridge, the Pegasus Memorial Museum, Bayeux Cathedral, the Arromanches 360 Cinema, the Arromanches D-Day Museum and the Caen Memorial museum.
Mr Jenkins said: "It was a wonderful trip that brought back lots of memories. I was very well treated by all the people I met. Merci beaucoup!"
The Leader of the Council, Cllr Donna Jones, said: "When speaking to John recently about the new D-Day Museum project he told me he would love to re-visit the beaches of Normandy.
"John has been a volunteer at Portsmouth Football Club for around 60 years and has given many years to volunteering in Portsmouth. I am pleased that Portsmouth City Council has been able to facilitate this trip for him."
Cllr Linda Symes, the council's Cabinet Member for Culture, Leisure and Sport, said: "Mr Jenkins has put in many hours of volunteer work at the D-Day Museum and adds so much to the experience of visitors. It was an honour for our staff to bring him over to Normandy and I'm very glad they made the trip."
Portsmouth's D-Day Museum has been awarded £4m by the Heritage Lottery Fund to enable the council, with the support of the Portsmouth D-Day Museum Trust, to carry out a £4.9m refurbishment project.
The museum will reopen in the spring after a spectacular transformation, ready to be the focus of national and international commemorations for the 75th anniversary of D-Day in 2019.
It will portray events by telling the stories of the people who were there, using a radical new layout and cutting-edge display methods. The surrounding area will include a new space which will become the home of LCT 7074, one of the few surviving D-Day landing craft.
For more information on the museum project, and to donate, go to www.ddaymuseum.co.uk