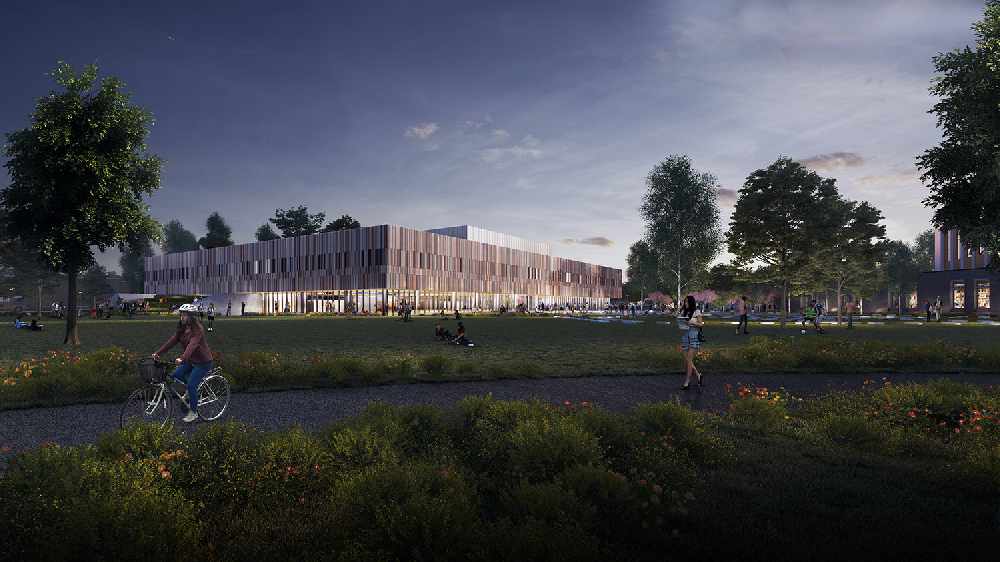 Artists impression of new sports facility
The University of Portsmouth has unveiled plans for a new sustainable sports facility. 
The £50m facility is the first major phase of the University's estate masterplan, which aims to reshape its city centre campus. The proposed plans will significantly transform the student experience, promoting health and wellbeing through the provision of a wide range of sports and fitness activities, and strengthen connections with rest of the city. It will also enhance the University's sport and fitness-related research and innovation programmes.
Facilities include an eight court sports hall, eight lane 25m swimming pool, fitness suite, multipurpose studios, squash courts, climbing wall and a ski simulator which will be available for student, staff and community use. The building will also have teaching facilities, office space and an underground car park.
The site is located on the corner of Ravelin Park and the building is intended to integrate with the surrounding park and urban environment. The building is predominately glazed at ground floor level, which will allow users of dry sport activities to appreciate the city landscape, while pool users will able to enjoy views of the park. The design aims to set new standards for sustainability and to be one of the UK's greenest sports facilities.
As part of the project, the University will be investing in developments to Ravelin Park. There will be new places for people to sit, be active and a new entrance plaza created near Cambridge road.
Professor Graham Galbraith, Vice-Chancellor at the University of Portsmouth, said: "We are excited to announce plans for the first building of our £400 million estate masterplan. It is our priority to create a facility that will provide the best experience for our students and staff, as well as reaching out to our local community."
The international design practice FaulknerBrowns Architects, who were appointed following an open design competition last summer, will lead a team comprising: Max Fordham, Mott MacDonald and LDA Design in delivering the facility.
Michael Hall, Partner at FaulknerBrowns Architects, said: "We are delighted to not only be working with an aspirational client on one of their first key buildings in their estate development masterplan, but to be responsible for delivering a sports facility with industry leading sustainability credentials."