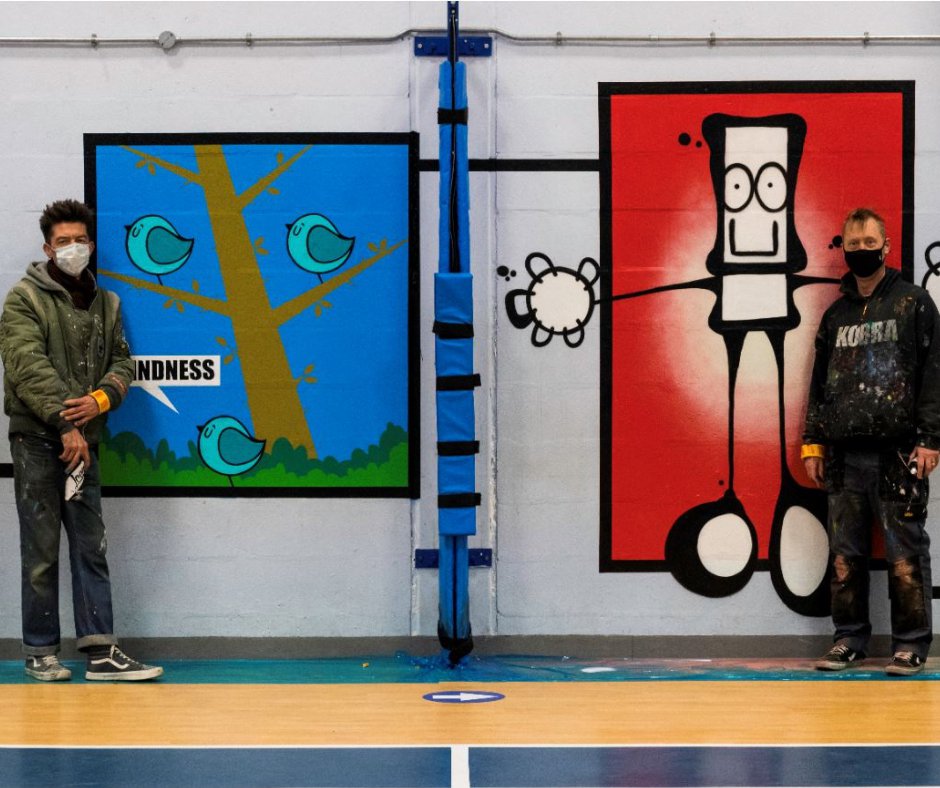 Local artists Fark and My Dog Sighs
The Charles Dickens Centre in Portsmouth now has new 360' mural thanks to My Dog Sighs (Paul Stone) and Fark (Mark Jones) which has been unveiled for World Social Work Day.
A new mural has been unveiled at the Charles Dickens Centre to celebrate the role of social workers in the city and the way they have supported our residents during the pandemic.
Across our city, social workers for children and adults have been working tirelessly throughout the pandemic to make sure those in need continue to receive support, be it: providing guidance to families, assisting people who've just come out of hospital, helping older people to get back on their feet after a fall, or providing that bit of support that means an individual can stay in their own home and keep their independence.
A virtual information event was held with care leavers, social workers and those who use the centre giving them the chance to explain what social work means to them. Local artists, My Dog Sighs and Fark, heard service users talk about their experiences and took on board the feedback for their final design.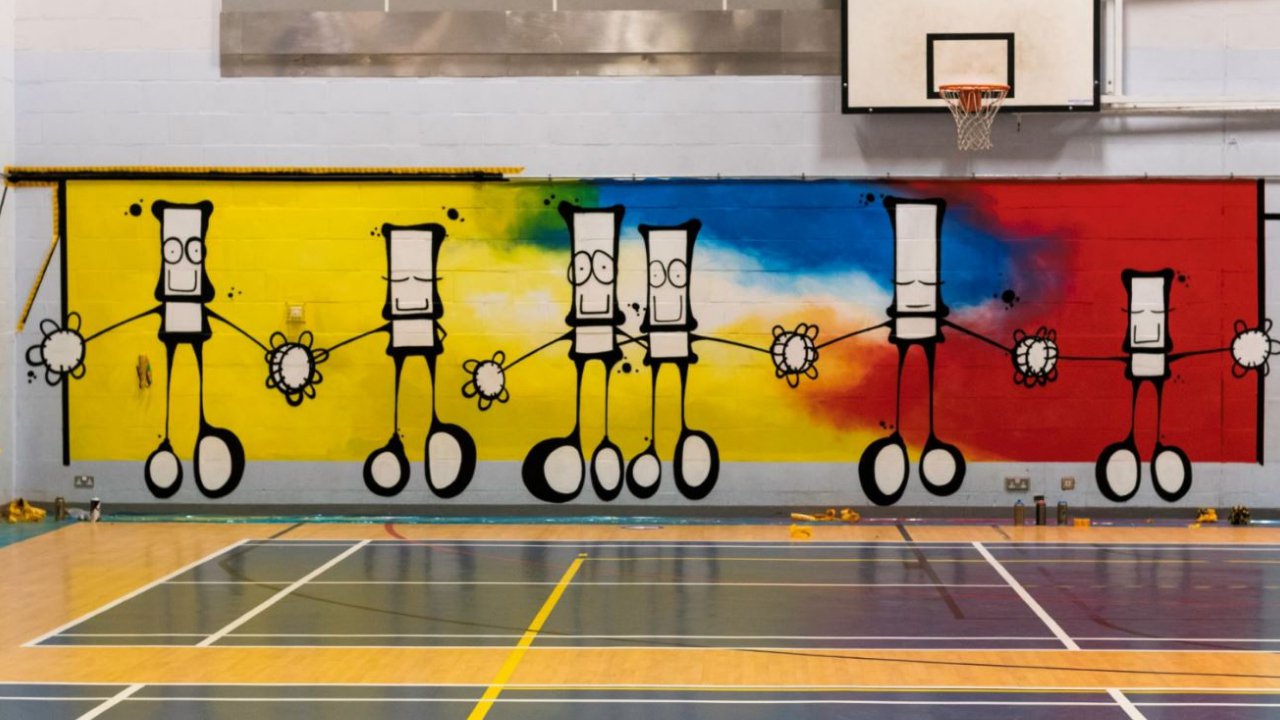 Councillor Suzy Horton, Cabinet Member for Children, Families and Education at Portsmouth City Council said:
"From the very beginning, we have worked with colleagues and service users on what a mural could look like. Not only does it celebrate the contribution social workers have made in our city but the importance of working together to support the most vulnerable in our society.
"The mural is a partnership between two local artists who are well known for their work across Portsmouth. I'm really pleased with the outcome and how the artists have listened to feedback from those who use the service."
The virtual event attended by service users showed that 'togetherness' and 'overcoming adversity' were themes that should be shown in the mural.
Sarah Daly, deputy director for children and families at Portsmouth City Council said:
"This has been a real team effort all around. World Social Work Day is an opportunity for social workers and others in the sector to celebrate the work they do. We are really proud of our workforce across adult and children's social care.
"The theme of togetherness resonates with colleagues and partner organisations across Portsmouth as we continue to support local residents when they need us most. The mural is a visual representation of social solidarity and the need for communities to work together to improve outcomes for all."
Three service areas at Portsmouth City Council including children's social care, adults' social care and learning and development have worked together to showcase the profession as part of a dedicated campaign.
Councillor Matthew Winnington, Cabinet Member for Health, Wellbeing and Social Care at Portsmouth City Council said:
"This is a great project for us to show our appreciation for social workers in Portsmouth. Over the past year during the pandemic, colleagues have shown how critically important they are to protect and support the most vulnerable people locally."
"The pandemic has shown the need to build strong relationships. The mural reminds us that togetherness and overcoming adversity go hand in hand."
Care leaver and apprentice social worker, Elliot at Portsmouth City Council reflected on the importance of such an event:
"I believe that World Social Work Day is a fantastic opportunity to celebrate social workers and their achievements. I feel it is also a time for reflection, to look back and realise the true impact they make on young peoples' lives."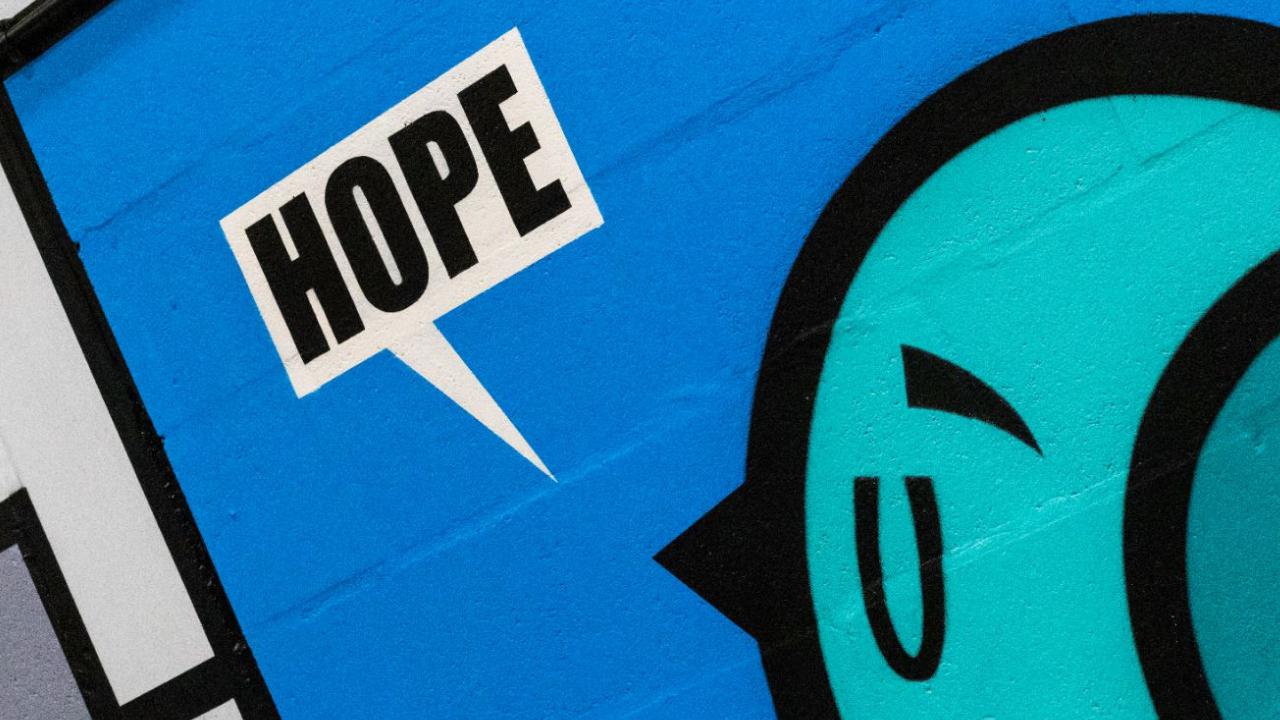 Other colleagues have spoken about the need to highlight the contribution individuals make to vulnerable groups.
Service leader, Karley in children's social care, said:
"World Social Work Day is a celebration of our profession as well as recognising the hard work and dedication that goes into making sure families feel connected. I feel very privileged to be part of their world and support them when they need it most."
Those who join the profession often make a decision based on the desire to help people. Social work is a rewarding career choice for the right person.
Social worker, Natasha in adult social care said:
"I originally trained as a hairdresser. I discovered that I didn't like doing people's hair but I liked talking to them. So I went back to college to study social work - it's been the best decision I have ever made."
Many people who become social workers often enjoy the small moments it brings. Team manager, Liz in adult social care said:
"When you're sat with an older person and you hear their life stories - it is an amazing experience. I feel so lucky to be part of that."
People are encouraged to take part in World Social Work Day with their own messages of support on social media using the hashtag #WSWDPortsmouth. More information on World Social Work Day can be found on the Portsmouth City Council website here: www.portsmouth.gov.uk/wswd.