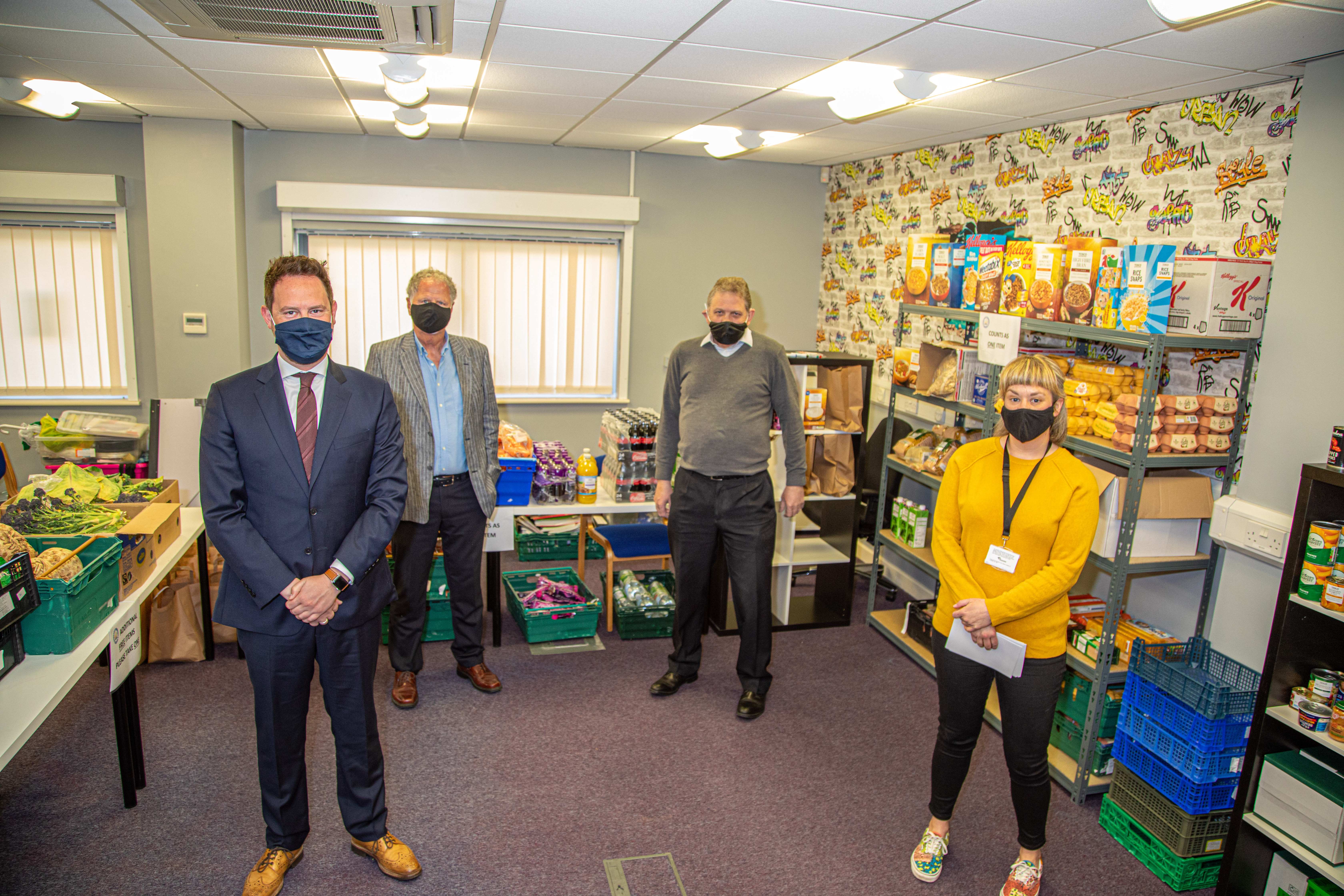 Portsmouth South MP, Stephen Morgan, Jon Muller, Richard Soutar, and Paula Windebank
Landport residents can now purchase food for a fraction of the cost of supermarkets thanks to a new community pop-up shop.
The Landport Larder was opened by Stephen Morgan MP for Portsmouth South on Tuesday 20 April. For just £3.50 a week, people can select 10 items from a selection of tins, chilled items, and fresh fruit and veg. This would cost an average of £15 from the supermarket.
The larder has been set up by Enable Ability at Landport Community Centre, with support from Abri, one of the south of England's largest housing providers.
Stephen Morgan MP said: "It's great to see initiatives like the Landport Larder offer much needed support to our communities. While we know that the pandemic has hit us all hard, it has also brought communities together, supporting each other and coming up with new, creative ways to help others. I hope we see more initiatives like this to create a positive legacy for what has been a hard time for us all."
The Landport Larder will be open Tuesdays, from 10am – 1pm at Landport Community Centre. Customers will need to bring a bag to take items home in and will need to wear a mask while in the centre.
"We wanted to do something to support out community, so we decided to set up the Landport Larder to help make sure no-one would go without nutritious food. It's open to everyone, whether you're on benefits or not. All you need to do is simply turn up, sign up as a member for £1, and then you can come down every week and buy your items," said Alan Jenkins, Landport Community Centre Manager.
Paula Windebank, Community Development Officer at Abri, added: "We're proud to support the Landport Larder and help our community access fresh, healthy, affordable food. It's part of our five-year £15m investment to create thriving communities and empower lives, making sure we're delivering change where it's needed most."
For more information go to www.landportcc.org.uk.