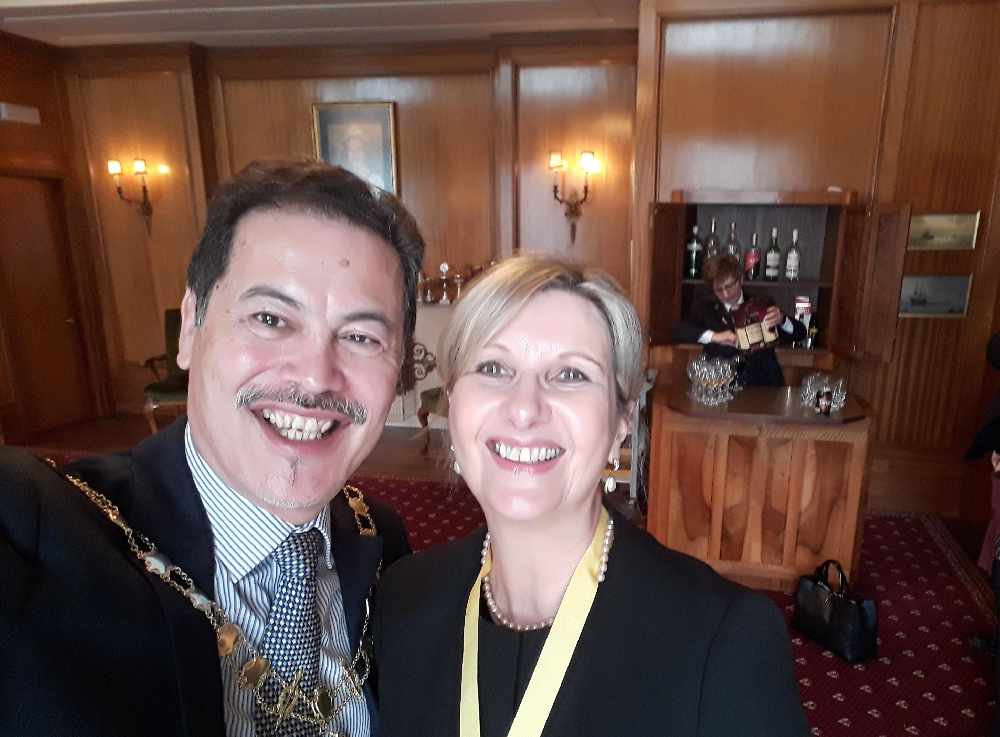 Cllr Wood pictured with wife Debra Wood, taken earlier in the year before the lock down.
Councillor Rob Wood is announced as the new Lord Mayor of Portsmouth
For the first time in the council's history, Portsmouth's mayor-making ceremony took place online this week, announcing Councillor Rob Wood as the newly elected Mayor of Portsmouth.
Traditionally a colourful and celebratory event at the Guildhall, this year's mayor-making and annual general meeting was held online because of coronavirus restrictions.
Viewed by the general public via a live streaming service, councillors made nominations for the new Lord Mayor and Deputy Lord Mayor, before voting to decide who will hold the role for the next year.
Newly elected Lord Mayor of Portsmouth, Councillor Rob Wood, said.
"I am delighted to be elected as the Lord Mayor of Portsmouth, and relieved that today's online event, a first for the council, went smoothly and without any major IT glitches.

I have served as a councillor for the past ten years, and it is a privilege to become Lord Mayor. I embrace the opportunity with pride, it is a great honour. I plan to continue the good work of Councillor Fuller, supporting a number of local charities but focusing on those who need assistance as part of the recovery from the coronavirus pandemic."
Councillor Rob Wood's wife, Debra Wood, takes up the role of Lady Mayoress. Councillor Frank Jonas was elected as Deputy Lord Mayor.
The Civic Awards, which are usually presented during the Mayor-making, will instead be announced when appropriate to do so and presented in a separate ceremony.
Councillor Wood succeeds Councillor David Fuller, who was elected Lord Mayor of Portsmouth on 14 May 2019.
In his address, outgoing Lord Mayor, Councillor David Fuller, said.
"My dear sister Leza and I have had the most fantastic year again as Lord Mayor and Lady Mayoress. We have thoroughly enjoyed supporting the city and meeting so many lovely people who are doing such great work for our city.

We feel very privileged to have been Lord Mayor and Lady Mayoress for two years now. We hope that we've brought happiness and sunshine to people across the city and thank all those who have supported us."
Leader of Portsmouth City Council, Councillor Gerald Vernon-Jackson, gave the vote of thanks to the outgoing Lord Mayor, recognising his many achievements including representing the city during D-Day 75 and VE Day 75; raising much-needed funds for local charities, and managing councillors with 'much humour and kindness'.
Councillor Gerald Vernon-Jackson said.
"David and Leza stood in at very short notice to take over as Deputy Lord Mayor and Lady Mayoress. I don't think we had any question to take their offer on, as they had been such a huge success in their previous term. They both brought charm, intelligence, hard work and dedication to their roles."