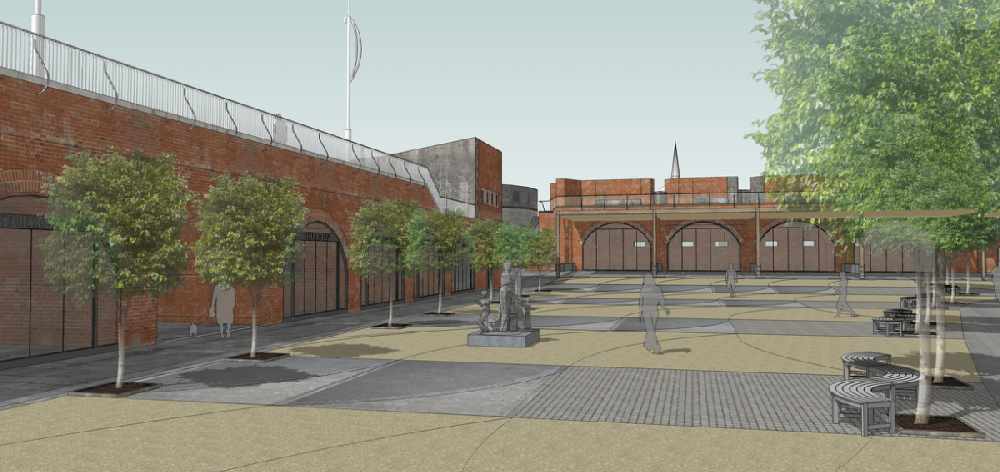 Hotwalls studios will celebrate its first birthday next month - 13 creative studios were created at the former military barracks in Old Portsmouth thanks to government, PUSH and council funding used to convert the historic monument.
Artists and designer/makers can lease the space to start or develop their business and the space has the added value of being able to be used to sell from the studio direct to visiting customers.
Cllr Linda Symes, Cabinet Member for Culture, Leisure and Sport said: "The development of Hotwalls Studios created a vibrant new creative quarter with thirteen studios and a popular deli-style café. Artists working at Hotwalls Studios benefit from stunning glass-fronted studio space, as well as having access to partners and supporters to help them creatively and to earn income from selling their work from their studios."
Carrie Swinburne from Fire Monkey - an arts collective said: "I've been at Hotwalls studios since it opened in July 2016 and have enjoyed using the large, creative space for many projects. Working in this space alongside a collective of other artists has been beneficial to my creativity and I'm thrilled with the work I have produced during this period.
"In particular I have produced a large collage as part of arts collaboration. Step dancers and musicians are working with local hip hop dancers to produce a film inspired by the life of Edward McKenzie - dancer, musician and singer who was brought up in Portsmouth and worked as a stoker on the ill-fated Terra Nova expedition to the South Pole with Captain Scott."
James Mouland from Ebru Studio said: "I've occupied studio 13 since July last year and enjoy the opportunity it provides to gradually build up the business, selling products, running workshops and collaborating with other artists. Being accessible to public and passers-by has also given me many delightful opportunities to show people that we do all have an artistic streak in us - my studio has been a great outlet to help people find theirs."
Alice Hume - woven textile artist at Hotwalls Studios said: "The studio space at Hotwalls provides a great opportunity to interact directly with the local community and even inspire some people to try it for themselves. Like the 93 year old lady who was inspired to take up weaving again. It's so wonderful to share my skills with her and it proves that anyone can still be creative no matter their age or gender."
Studio 10 will soon be available to rent so if you're a budding artists looking for a creative space to take your business to the next level get in touch via the website to register your interest.