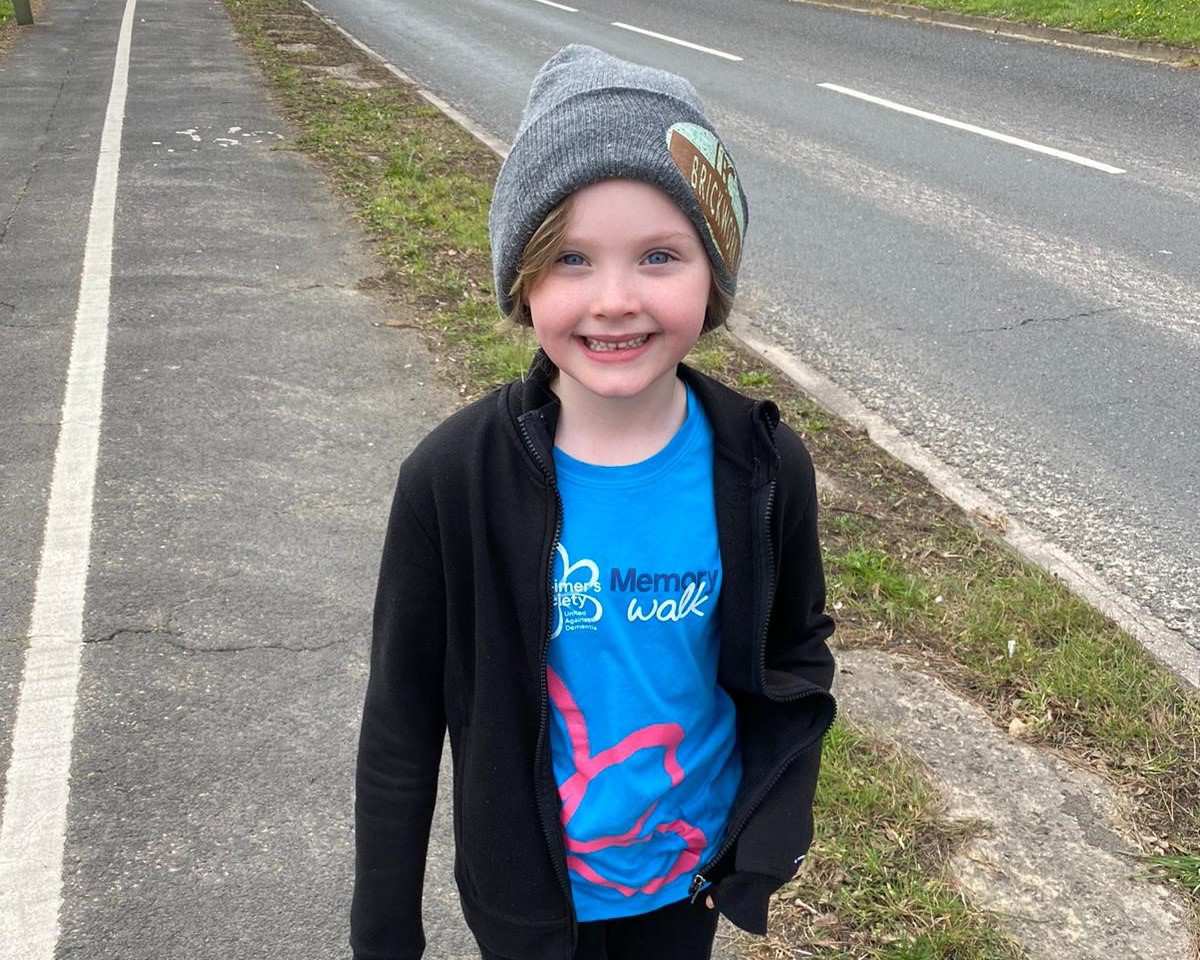 A six-year-old from Havant has joined thousands of determined Alzheimer's Society supporters, all conquering their own walking challenges to raise vital funds for the UK's leading dementia charity.
Ava Combes completed a Memory Walk in her local area to support Alzheimer's Society's vital work.
With the support of her uncle Ashley Hards, Ava wanted to walk to stop dementia in its tracks after losing her great grandad Bud Macleod to the condition
The little girl joined thousands of supporters, all marching out across the UK in a location of their choice, to complete their own Memory Walk, sponsored by Santander.
Ava raised more than £2,000 after clocking up 50 miles over a series of nine walks.
Her uncle, Ashley Hards, from Havant, said: "As a family we are incredibly proud of Ava and the compassion she has shown. She is an incredibly special and caring young lady, and the amount she has raised is way beyond our expectations.
"Her family and friends have been incredibly generous and supportive. Even strangers have donated and wished Ava well. A special mention has to go to Havant-based company Stag Security who made a donation of £500 which blew us away."
Ava's great grandad, an army veteran who lived in Havant, passed away in 2017 at the age of 82.
"Sadly, Bud had already been diagnosed when Ava was just a baby, but he loved spending time with her," explained Ashley.
"​Ava was young when her great grandad died and would often cry and ask to go and see him. She understands a bit more about it now and often says that he is a bright star up in the sky."
Inspired by Sir Captain Tom Moore and his charity efforts, Ava decided she wanted to complete a fundraising challenge herself.
Ashley came up with the idea of completing an Alzheimer's Society Memory Walk as the charity remains very important to his family.
"​Throughout most of the walks, Ava really enjoyed being outside and the weather didn't bother her. Ava is very proud of what she did and is really happy she managed to raise so much money. We wanted to help stop others facing the cruel truth of the disease."
Ava's commitment comes at a critical time for those affected by dementia. People with dementia have been worst hit by coronavirus in terms of deaths, both from the virus and knock-on effects of lockdown.
Over a quarter of people who died from the virus had dementia, and thousands more have seen their health deteriorate and mental health decline as a result of a lack of social contact and interruptions to essential care and support. Thousands of family carers have also been in complete despair because of care home visitor bans and a lack of respite.
Linda Goddard, Alzheimer's Society Area Manager, said: "I want to say thank you to Ava and everyone taking part in a walking event for us. People affected by dementia need us now more than ever.
"The coronavirus pandemic has hit us hard financially. The money raised from Ava's fundraising will help Alzheimer's Society reach, and support more people affected by dementia. Since lockdown began, our vital support services, including our Dementia Connect support line, have been used more than 3.7 million times and are proving to be a lifeline for thousands.
"We are in awe of the resilience of supporters like Ava whose dedication to raising vital funds for Alzheimer's Society ensures that we are able to support those who need it most during this difficult period."
If you would like to take part in a trek or Memory Walk for Alzheimer's Society, visit alzheimers.org.uk/events to sign up today.