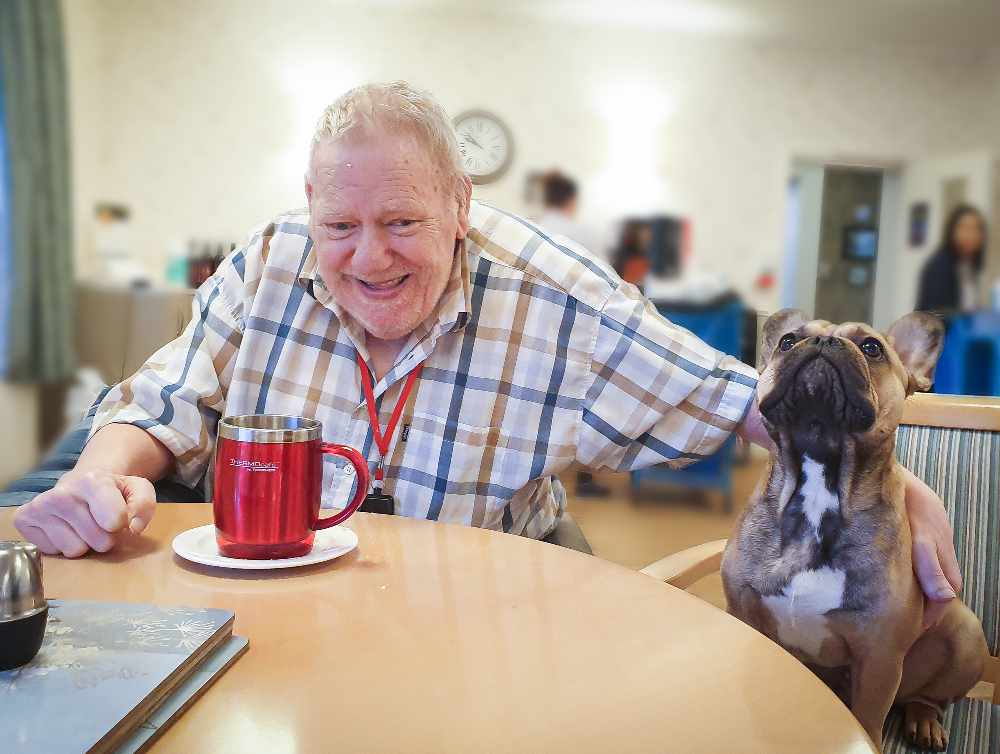 Residents at The Lawn, a beautiful care home in the rural village of Holybourne, near Alton, Hampshire run by charity Friends of the Elderly, are taking a leaf out of Dr Dolittle's book and are talking to the animals.
The care home's Wellbeing Team has been encouraging residents to care for and interact with a range of animals including a dog, two rabbits and an aquarium tank containing a variety of fish.

Tank, a friendly and loveable French Bulldog, Snowy and Rudy two rabbits and a shoal of colourful fish have a surprising thing in common, they are all improving the wellbeing and happiness the residents.

Since residents have got to the know, look after and play with the animals, staff have noticed a positive impact and improved sense of cheerfulness and pleasure they have brought to the home.
Snowy, Rudy and the fish live at the care home, with Tank, the care home manager's dog, visiting most days. Snowy and Rudy got their names after arriving at The Lawns on Christmas Eve, and have really settled in well, enjoying all the attention and cuddles they get every day from the residents.
Triinu Org, manager at The Lawn, said: "Our residents really enjoy seeing Tank doing his rounds in the morning. He really cheers people up and is such a big part of the Team. The two rabbits have also become a favourite with everyone. When the sun is out, many of our residents enjoy seeing the pair run around in their outdoor hutch.
The opportunity to be able to stroke, pat or cuddle a pet can result in lower blood pressure, normal heart rate and reduced stress levels whilst, at the same time, increase social interaction and physical activity as Tank, Snowy, Rudy and the fish give the residents an additional reason to gather, chat and have fun.
Speaking about the two rabbits, one resident said: "Snowy and Rudy are wonderful! They are so lovely and soft. I feel calm when I am stroking them."
By interacting with the care home's animals, it brings back happy memories of previous pets, which has positive effect by unlocking memories those living with Dementia and Alzheimer. In addition, the soothing nature of a pet has been known to increase levels of Oxytocin the stress-reducing hormone, also decrease the production of cortisol, a producer of stress.
Triinu added: "It really is wonderful to see the difference the animals are making to our resident's wellbeing. Even the fish are helping! Residents love watching them and helping staff feed them each day has elevated the mood and encouraged movement."
To find out more about The Lawn or to book a visit, please call 01420 841 62 or email enquiries@fote.org.uk, or to find out more about Friends of the Elderly, please visit https://www.fote.org.uk/.