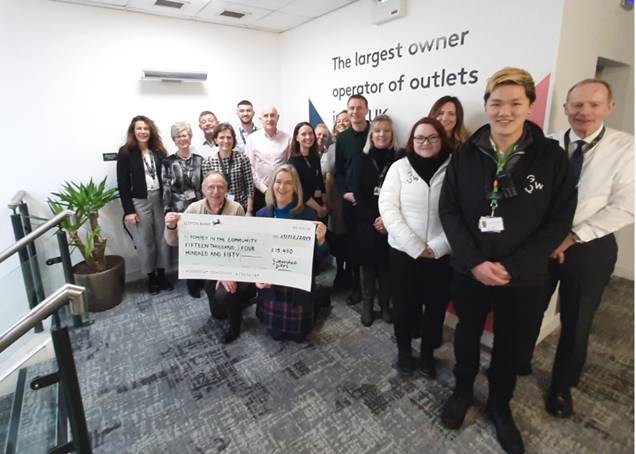 The south coast's leading designer outlet shopping centre, Gunwharf Quays, has revealed that it raised more than £25,000 for local charities in 2019.
Throughout 2019, the shopping centre raised funds for many local causes close to its heart, including £14,940 for its partner charity Pompey in the Community, and £10,000 split evenly between five groups in the city as part of its 'Supporting Others' Success (SOS) Fund'.
Ten thousand pounds of the funds raised for Pompey in the Community came directly from Gunwharf Quays and the remaining £4,940 from donations for meeting rooms, bucket collections and cake sales. The money has been used to develop a new welcome space designed to enthuse the young people it works with and enable the charity to deliver educational activities and training.
Gunwharf Quays' Supporting Other's Success Fund has also created opportunities in the local community, allocating £2,000 to five different groups in Portsmouth. The groups supported were:
The Urban Vocal Group, which is a charity that uses singing as a gateway to further participation in music and to develop confidence, resilience, positive wellbeing and key life skills in young people aged 11 - 25; many of whom live in disadvantaged areas or are experiencing challenging circumstances.
Pamodzi Creatives, which organises an annual inspirational women's awards in Portsmouth to celebrate International Women's Day. The event recognises and celebrates girls and women from a range of backgrounds and disciplines, including education, community, sport and health and business.
Ee2hear, which teaches people who have lost, or are losing their hearing how to lip read.
Motiv8, which exists to improve the life chances of young people and families. The charity aspires to reduce offending, anti-social behaviour and the risk of disengagement from learning or employment. It also delivers alcohol and drug awareness workshops for young people as well as a variety of other educational training opportunities for those most at need in Portsmouth.
Flying Solo, which aims are to provide support, mentorship and social inclusion to young people who have had a challenging start in life and been looked after by the local authority.
Colin Wilding, General Manager at Gunwharf Quays, said: "Gunwharf Quays is at the heart of the Portsmouth and we are passionate about supporting local projects and charities that work to improve our city and support our community.
"I am delighted by how much we managed to raise in 2019 and would like to thank everybody who supported our fundraising efforts for their generosity. No matter how big or small, your contribution helped us to support a number of worthy causes in the local community and continue to work towards a better future for all.
"Looking ahead, we hope that we are further able to support more local causes and enable every member of the community to reach their full potential."
Gunwharf Quays also supported Winter Sounds, a programme designed to promote local talent; Reverse Advent Calendar, a scheme to offer donations to local members of the community who are finding life hard; and the British Red Cross collection by supplying food, warm clothing and other essentials for the homeless, along with a bucket collection which raised over £600.