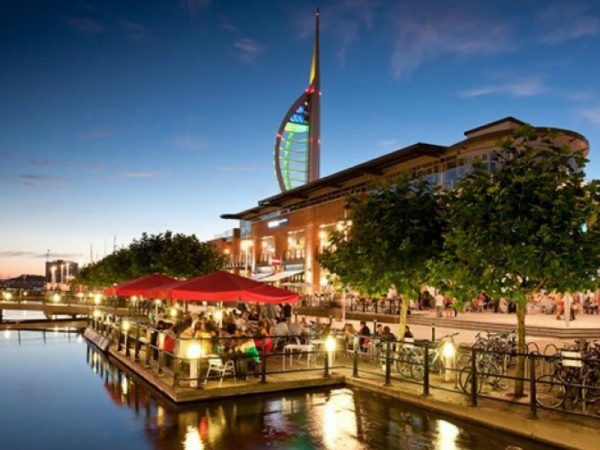 Gunwharf Quays has announced they will partner a new local charity for 2019/20. The waterfront shopping outlet will be working to raise funds to support Pompey in the Community, which is affiliated to Portsmouth Football Club.
The centre raised over £17,000 for charity partners Barnardo's and Naomi House, with fundraising taking place over the past two years.
Portsmouth in the Community offers football coaching schemes, inclusive football events as well as educational programmes for schools and community groups. The charity works to develop skills of young people in the community, tackle substance and alcohol misuse and criminality and positively engages with those at risk or involved in the Youth Justice System. The charity has been awarded the EFL Community Club of The Year in 2017 and 2019 and has gained recognition by receiving the Positive Futures Achievement Award for the under 13's team.
The charity has also set up a series of sporting sessions with the aim to become more inclusive to those with disabilities and amputations. Events include; Powerchair Football, Inclusive Football and Amputee Football. The events are run in conjunction with the Portsmouth Football Club coaches.
Colin Wilding, General Manager at Gunwharf Quays, said: "Pompey in the Community works to provide communities in Portsmouth with the tools that they need to succeed. They successfully use football to bring the community closer together with one common thread.
"Gunwharf Quays is at the heart of the community and we are passionate about supporting local projects and charities that work to improve our city and support our community."
Gunwharf Quays will be raising money throughout the year with fundraising events. In the last two years the centre raised over £12,500 for children's charity, Barnardo's, and in the past year raised over £5,000 for Naomi House.
Clare Martin, Director of Community Projects at Pompey in the Community, said: "We are extremely grateful to Gunwharf Quays for selecting Pompey in the Community as their charity partner. We are looking forward to planning many events with the centre, involving the local community to help raise as much money as possible to support the work we do across Portsmouth."
Gunwharf Quays will announce events together with Pompey in the Community as their partnership commences.