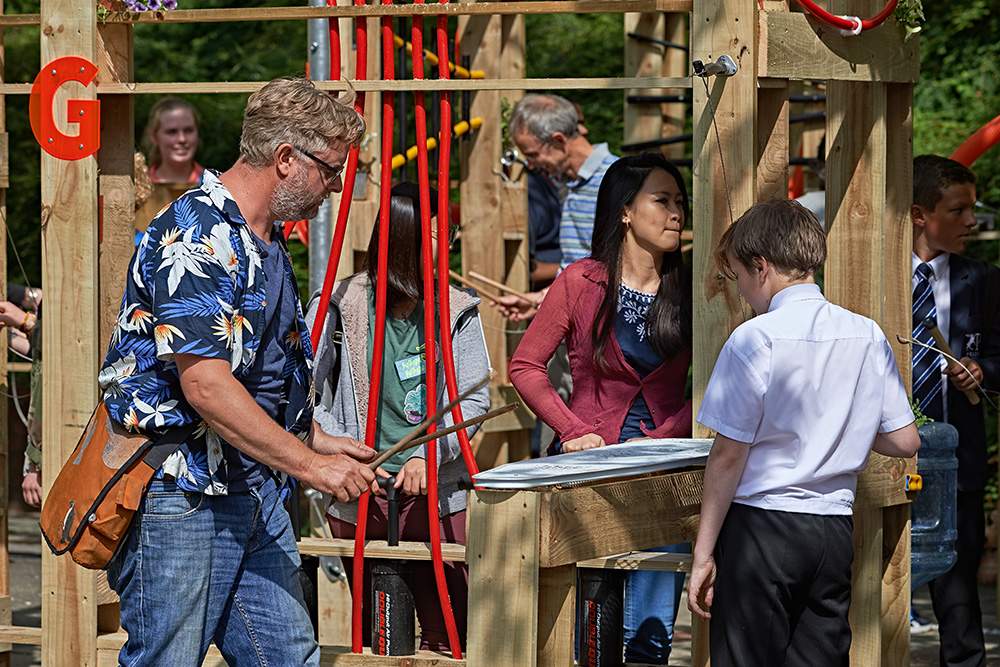 A neglected and forgotten space in the city has been transformed into a place for music and fun, thanks to University of Portsmouth students and local pupils from Priory School.
They have created a 'Sound Garden' inside the underpass of the Bradford junction roundabout in the Somerstown area of the city. They took old musical instruments, broken or disused objects and recycled anything they could get their hands on that could be used to make sounds and music
Objects in use included pans, plastic tubes, road cones, hose-pipes, plastic bin drums and old timber that was used to create an orchestra of junk sounds. All these alternative instruments and more have been built into a musical arena. The space had its official launch on Friday 30 June.
The idea was the brainchild of Guido Robazza, from the University's School of Architecture, who led the project involving architecture students and children from Priory School aged 12-13. The aim was to provide an accessible and user-friendly space for children to make music who would otherwise not have the opportunity to engage in music outside of the classroom.
Guido said: "In so many cities there is an abundance of under-used spaces and if local communities take ownership and regenerate them they can be transformational. We are taking a space that currently means nothing to anyone, people simply pass through it or don't even know it's there. Hopefully we have turned it into somewhere people might spend time and even be a little creative or at least have fun."
The construction took place last week in the open space of the underpass in the area between Victoria Road North and Priory School. There were five day-long workshops with students and pupils working together under supervision while construction of the space took place.
"I wanted school pupils to have a creative input at source and a sense of ownership of the project so they were involved in generating ideas for their own musical instruments then developing and constructing them to embed within the structure. It's a creative process that will encourage learning about design through imagination and practical techniques," Guido said.
"Now it's complete we will hold a series of musical events for the community and we hope that local people will simply come along and have a go."
The Sound Garden includes a digital system to upload the sounds that are made to a web platform from where people will be able to listen to their music and tag their friends. The recordings will also be used for research purposes, looking at changing the use of public spaces and measuring the impact of these spaces on the quality of public urban life in contemporary cities.
The project was sponsored by the University of Portsmouth and Portsmouth City Council.