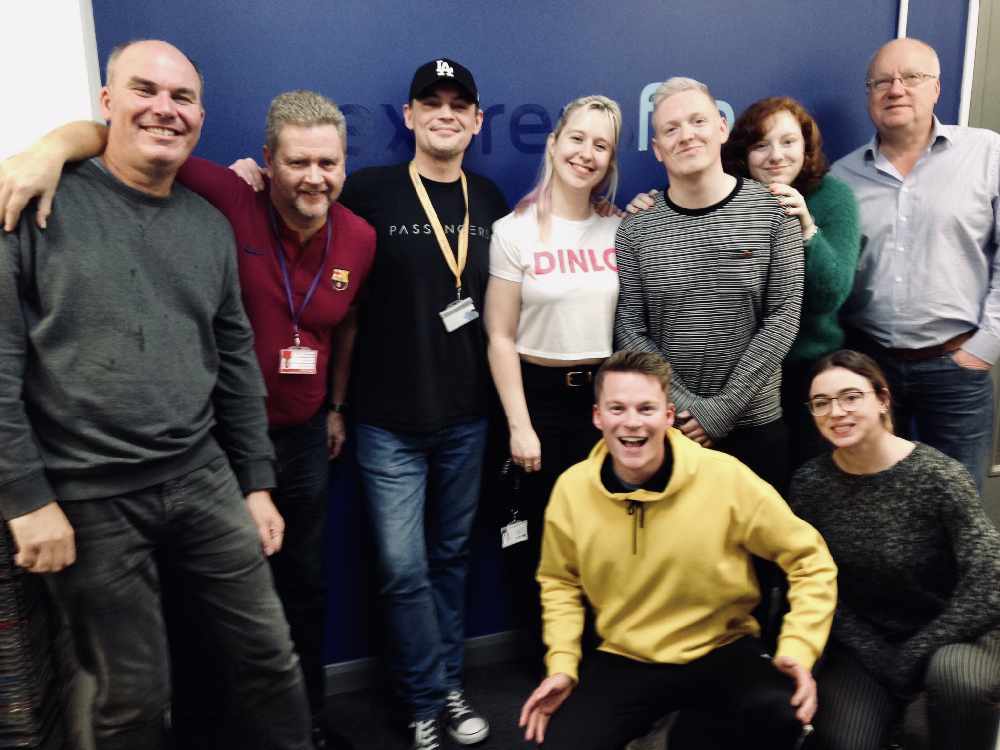 The team at the end of the marathon show.
Portsmouth Hospitals Charity, Pompey in the Community and All Call Signs will all be receiving a huge amount of money thanks to Portsmouth's generosity. 
Station producer and breakfast presenter Mason Jordan completed the Express Radio Marathon, a 48 hour radio show, on Friday 1st November in order to raise money for the three charities.
The Lord Mayor, the two city MPs, locals bands, representatives from the charities charities, friends of the station and fellow presenters all joined Mason on the show throughout to help share the message and get people to donate.
The money raised will be split three ways between the three charities. Portsmouth Hospitals Charity help fund for equipment and projects within Portsmouth Hospitals trust, Pompey in the Community educate, train, and engage young people in the community;, and All Call Signs is a relatively new mental health support network for veterans and serving military personnel.
Upon completing the 48 hour broadcast Mason said, "It's utterly astonishing to have made it through the entire 48 hours, the generosity of people in Portsmouth has blown me away and it's the donations that really kept me going.
"I know the charities will be hugely grateful for the amount of money raised and I'm so proud I could be a small part of making this happen."
Local businesses were keen to support the ambitious fundraising efforts. Sandwich shop Andres created a sandwich in honour of the charity marathon with proceeds going towards the total. Whilst Biscoes, Southern Coop, and the Artillery Arms all made substantial contributions. Robert Piggot from Believe and Achieve Events contributed a massive £482 towards the total.
Station Director, Miles Henson said, "First of all a huge thank you to Mason, who never stopped during the 48 hours and was determined to raise money for these 3 fantastic local charities.It always amazes me how people of this magnificent city pull together for something like this along with the support of the Express FM volunteer team, we should be proud of the part everybody played to support this event."
You can see highlights from the 48 hour radio marathon, including a live session from local artist Fugitive Orchestra, a paranormal investigation with medium Justin Pearce, and a surprise slithering guest on the Express FM website, www.expressfm.com.