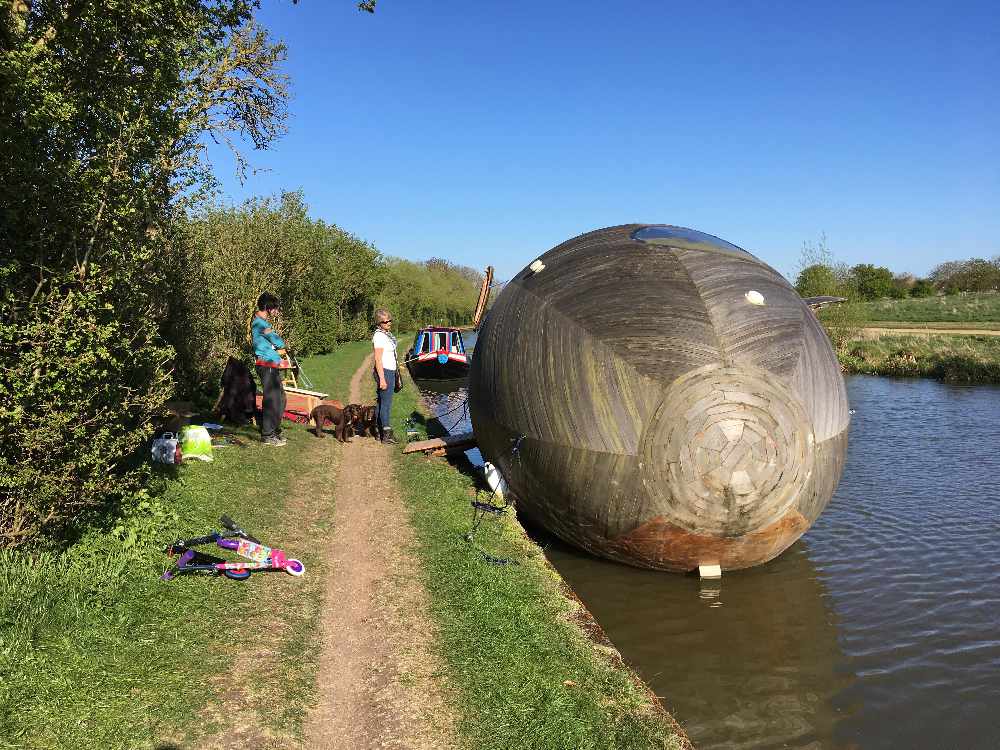 From 16th May, Stephen Turner, the artist who created the Exbury Egg (as featured on Grand Designs) will host an exhibition at Gunwharf Quays.
'Exbury Egg' is a wooden egg-shaped sculpture in which Stephen lived and worked for over a year through 2013 and 2014.
At Gunwharf Quays, 'Stephen Turner's Exbury Egg' is located in the central pond of City Quay, as a monumental sculptural presence from mid May 2017 for over three months.
A month after the Egg is installed in the quay, the exhibition, 'Everything Comes from the Egg' will open at Aspex. This offers visitors an opportunity to see the range of artworks, ephemera and documentation, Stephen has made and collected over the course of the project. This is a comprehensive exhibition comprising drawings, prints, photographs, found objects, works on paper, sculptures and video made by Turner over the last four years. Stephen will also be continuing his exploration of places and communities as Artist in Residence at Aspex through May 2017.
Colin Wilding, General Manager at Gunwharf Quays, said: "Hosting Stephen Turner at the centre of Gunwharf Quays will give visitors an opportunity to witness this unique project up close. Our location on Portsmouth's historic waterfront will provide a truly spectacular backdrop for this incredible structure."
Joanne Bushnell, Director of Aspex, said: "We are thrilled to be hosting this exhibition, showcasing the work produced by Stephen Turner throughout this yearlong residency in the Exbury Egg and for the opportunity to work closely with Gunwharf Quays, to bring this engaging body of artwork to a wider audience."
'Stephen Turner: Everything Comes From The Egg' combines Turner's ongoing environmental, historical and cultural investigations into the natural world with a sustainable artistic practice and a temporary 'hermit' lifestyle. During solo residencies in the Egg on the River Beaulieu in Exbury, New Forest in 2013-2014 and by the Leeds & Liverpool Canal for Super Slow Way in Burnley (2016), Turner catalogued his forays in each location in collections of digital imagery, objects, drawings and personal maps.
Borrowing scientific methodologies, the artist transmuted them to his creative process; from collecting red river water in order to observe sedimentation, to presenting multiple series of glass jars filled with local flora, including Samphire and fruits, preserved in alcohol to upcycling clothing by patterning fabrics with natural dyes.
His observational drawings on discarded packaging use inks produced from oak galls; and small egg-shaped sculptures are made from dove feathers, mosses, shells, crab carapace and other natural materials. Video works reflect and comment as visual meditations on living and working in and around the Egg in different places.
During Turner's long residencies in Hampshire and Lancashire, the exposed sculptural form of the Egg has become bleached by the sun, scoured by wind and rain and accrued algae and barnacles. The Egg will present its weathered patina in Gunwharf Quays, while its interior state which shows the diverse ephemera of Turner's practice – works in progress, unmade bed, tools, kitchen ware and clothing left as evidence of occupation – will feature as a large format photograph in the exhibition at Aspex.
Turner's practice is concerned with aspects of time and the dialectics of transience and permanence. His work often involves spending long periods in odd abandoned places, noting the changes in the complex relationship between people and the natural environment.
There is a launch event taking place on Thursday 18th May at 6pm. Plus a Coffee & Conversation with Stephen Turner event taking place on Sunday 23rd July at 2pm.