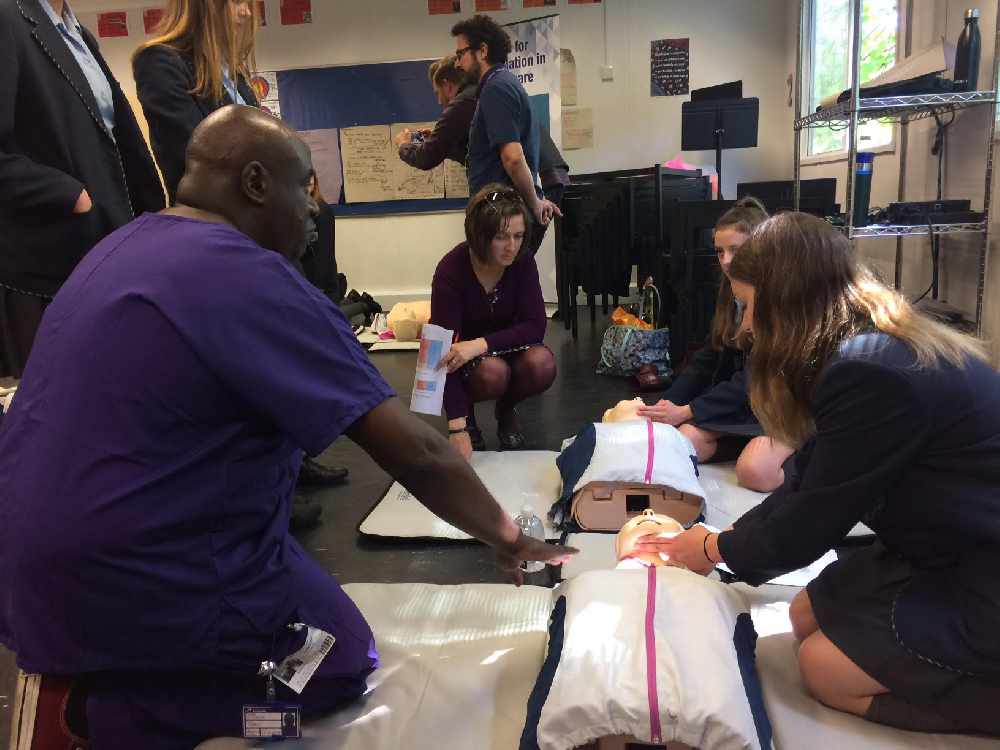 Every year 30,000 people in the UK have an out-of-hospital cardiac arrest, but the survival rate is less than 1 in 10. The University of Portsmouth is on a mission to help change that.
They're doing this by providing year 9 schoolchildren on the Isle of Wight with free life-saving CPR training.
Cardiopulmonary resuscitation, or CPR, is an emergency procedure in which a person presses up and down on the casualty's chest (chest compressions) and gives them a series of rescue breaths to help save their life when they are in cardiac arrest.
On Wednesday 24 May, staff and students from the University's School of Health Sciences and Social Work, delivered the first pilot session to 80 year 9 pupils at the Island Free School in Ventnor.
The sessions involved staff and students teaching CPR techniques to the school pupils, who then had to demonstrate their own CPR skills to bring a life-like manikin back to life. The school pupils also had an opportunity to take part in hands-on activities in the University's bespoke emergency ambulance, which boasts an impressive suite of health and care simulators and technology-enhanced learning resources.
Island Free School pupils George Pullam and Elliot Parsons, really enjoyed the day: "The best bit of the day was knowing that I can now save someone's life. It was harder than I thought, the pumping on the chest was quite tiring," said George. "I liked the fact that I didn't know that I was doing it and it all came naturally. It's easy to learn, you just need patience."
University OPD student Rebekka Grey added: "These sessions are important because the population is getting older and heart attacks could be on the increase so everyone should have basic CPR knowledge. I've had to use these skills on more than one occasion so this is a fantastic idea."
Dr Mick Harper, Principal Lecturer and Technology Enhanced Learning Lead in the School of Health Sciences and Social Work, said: "We are really pleased to be delivering these sessions to children across our region. If one child is able to sustain a life over their own lifetime then we have served a great purpose."
The day was enhanced by the pupils having a careers talk from Cathy Armstrong, Future Careers Development Facilitator for the Isle of Wight NHS Trust. She said: "We recognise the importance of inspiring and supporting young people who may be considering pursuing a career with the NHS. The Isle of Wight NHS trust is dedicated to supporting young people on the Isle of Wight, through their schools and colleges, to recognise their potential and offer various educational programmes to ensure a strong future workforce for the Isle of Wight."
If successful, the training programme will be rolled out to other schools on the Island and then in Portsmouth based on the results and outcomes of the pilot programme.