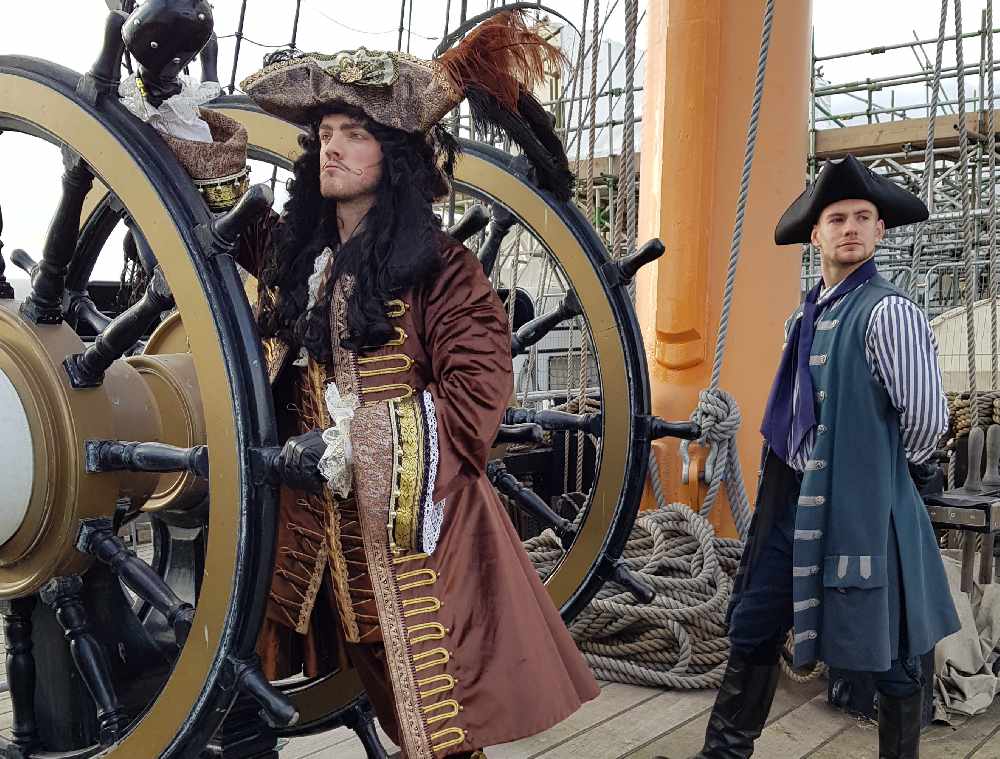 Iconic Victorian attractions come together to celebrate Christmas in Portsmouth
Dressed in full costume, Timothy Lucas who plays Hook and his sidekick Smee played by Joshua Crowther, marked the occasion aboard the pride of Queen Victoria's fleet, The National Museum of the Royal Navy's HMS Warrior.
HMS Warrior and New Theatre Royal are both regarded as two of the city's greatest historical treasures. With roots dating back to the Victorian era, New Theatre Royal opened its doors in Guildhall during 1856 and four years later HMS Warrior was launched as Britain's largest, fastest and most powerful warship of her day. Both share a rich and fascinating history through years of war and disrepair. Luckily for today's generation, the cultural significance of the theatre and warship were recognised and both have been through painstaking restoration to ensure visitors continue to enjoy and appreciate the archaeology and heritage of the landmarks.
Scott Ramsay, Director and Chief Executive of New Theatre Royal commented, "With our shared values, history and passion for our city, it seemed only fitting to launch our Christmas show, Peter Pan aboard HMS Warrior. A celebration of what Portsmouth has to offer in terms of culture, heritage and entertainment, we hope people will be inspired to visit and enjoy both New Theatre Royal and the Dockyard at this special time of year."
Peter Pan is showing at New Theatre Royal from 13 – 31 December. Meanwhile visitors will be able to explore the Victorian battleship throughout the Christmas
season. For more information visit www.newtheatreroyal.com and www.historicdockyard.co.uk