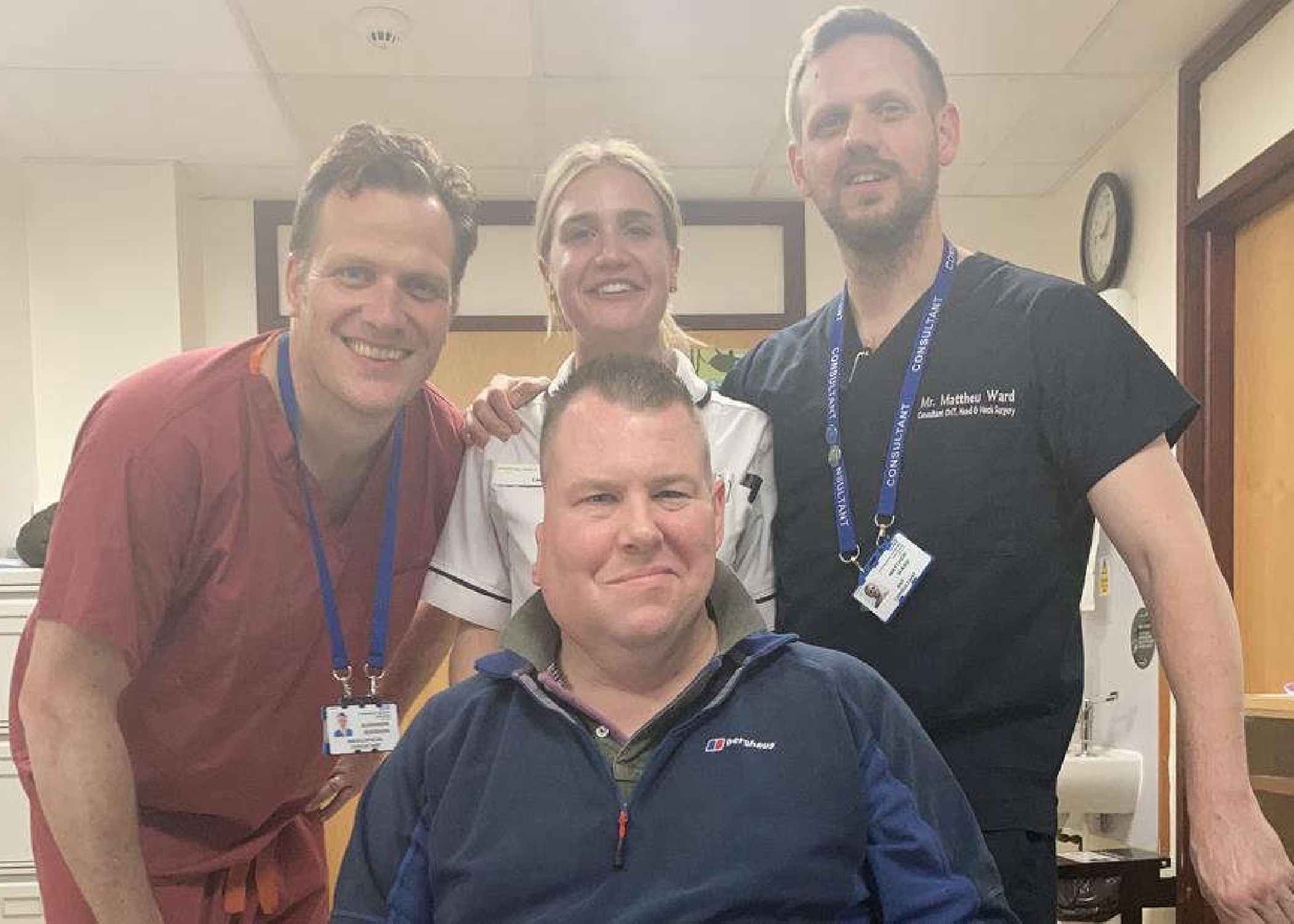 A cancer patient who lost movement in his face can smile again - thanks to innovative surgery carried out at Queen Alexandra Hospital for the first time.
52-year-old Daniel Kilty, from Midhurst, lost the ability to smile after suffering from total facial paralysis following a cancer diagnosis last year. Dan, who is an insurance operations director, was diagnosed with acinic cell carcinoma, which affected the movement in his face.
A surgical team of 12 at the hospital carried out a rare procedure to remove the tumour and connect a chewing nerve to a smiling nerve in order to allow movement and expression in his face again,
Dan first noticed the signs in December 2021, when his right eye became itchy and food was getting stuck between his teeth and inside cheek. The right side of his face slowly started to become numb, so he went to his GP who initially suspected Bell's Palsy but referred him for tests to confirm at the hospital.
Daniel said: "The team at Queen Alexandra Hospital have been fantastic – I feel like I have had the complete QA experience. I have interacted with so many teams along the way, from the radiographers doing my scans, to the ENT and Max Fax consultants and nurses, to my speech therapist and physiotherapist, as well as the dentistry team – everyone has been absolutely brilliant throughout.
"I'm not only cancer free, but I can smile again, and I have a promising future ahead. I can't thank the amazing teams at QA enough!"
Daniel was the first patient at QA Hospital to undergo this surgical technique, called 'facial reanimation', which was introduced at Portsmouth Hospitals University NHS Trust by surgeons Alex Goodson and Matthew Ward, who went to Austria and Australia to learn the technique.
Dr Matthew Ward, Consultant ENT, Head and Neck, Thyroid and Parathyroid Surgeon, added: "We're so pleased to have given Daniel, who had total facial paralysis from an invasive cancer, the opportunity to not only live again but the chance to smile again.
"Without this procedure, Daniel would have been able to eat and speak fine, but he might not have had as much social confidence to be able to smile and demonstrate emotion in private or public."