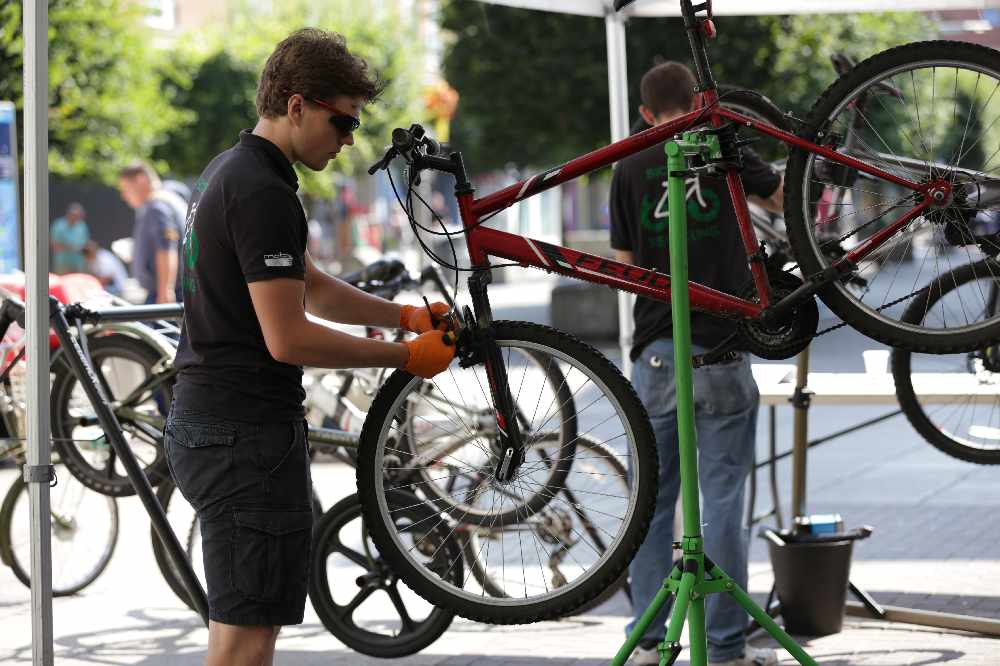 A Bike Doctor mechanic at work
Cyclists in Portsmouth can have their bikes checked free of charge through Portsmouth City Council's Bike Doctor clinics.
Bike Doctor mechanics are on hand to check bicycles and undertake repairs at two locations in Portsmouth. The Commercial Road clinic (by the fountain) occurs every Wednesday and the Cosham High Street clinic (at the top of the high street) takes place every third Monday of the month, both run from 10am until 4pm.
The team of experienced bike mechanics will check bikes are fit for the road, testing everything from wheels and gears, to brakes and lights. Any minor adjustments or basic repairs can be made there and then too. If they can't fix it immediately, they will let cyclists know exactly what needs doing and a rough cost. On average, Bike Doctors fix 12 bikes a week at these clinics. Common issues include punctures and brake repairs.
Councillor Simon Bosher, cabinet member for traffic and transportation, said. "These checks not only help to keep bikes on the road, but they enable us to convey important road safety messages to the cyclists we meet."
It's important to keep bikes in good working order. Make sure that:
it is the correct size for comfort and safety
both tyres are inflated properly and have good tread
the chain is oiled and properly adjusted
all brakes work and the brake pads aren't worn
reflectors and lights are fitted and working. All bikes must have a rear reflector and pedal reflectors fitted by law, and working front and rear lights during the hours of darkness, so remember to keep them clean!
The next clinic in Cosham is on Monday 19 February, and the weekly Commercial Road clinic continues on Wednesday.
For more information visit www.portsmouth.gov.uk and search for cycling.