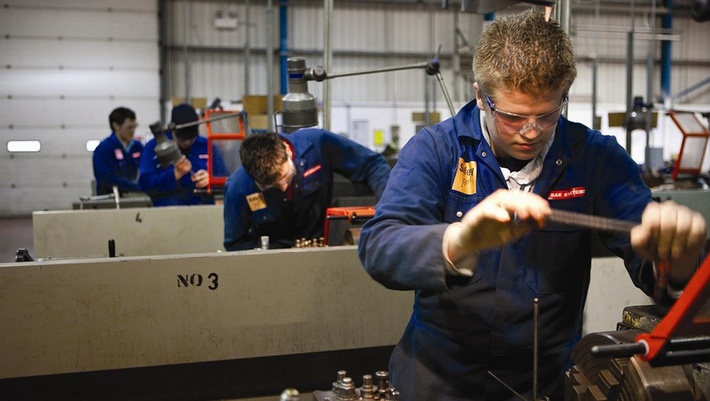 BAE Systems has launched its Movement to Work programme in Portsmouth for the fourth consecutive year.
Movement to Work assists young people who are not in education, employment or training by developing their career skills to help them secure employment.
This year, the Portsmouth programme was launched with a taster day at Highbury College in Portsmouth. Thirteen participants will spend four weeks completing the programme, including two weeks at the Skills Development Centre in Portsmouth Naval Base, which reopened in 2016 after a £2.7 million investment.
The young people will also spend two weeks at Highbury College working with The Prince's Trust and The Launch Group on valuable employability skills including interview technique and CV writing. Here, the participants will gain valuable experience working hands-on in a variety of disciplines, developing their electrical, mechanical, and fabrication abilities.
Their progress will be monitored by their skilled BAE Systems trainers to ensure that they complete the scheme with transferrable workplace skills.
In 2016, Reece Mann completed the Movement to Work programme with BAE Systems and is now on the Engineering Advanced Apprenticeship.
He said: "I'd completed sixth form with a qualification in Business and Computer Science, but it wasn't for me. I was unemployed for eight months and decided to retrain as an engineer. I was offered a place back at sixth form to study engineering, but then the Job Centre told me about Movement to Work and I chose to learn while I worked instead.
"The scheme ultimately helped me with a career that I didn't think I would ever achieve in the position I was in my life at that point. I'm now training to become a Marine Electrical Fitter, and I'm so glad I took advantage of the opportunity Movement to Work and BAE Systems gave me."
Matt Gordon, Head of Early Careers and Skills at Portsmouth Naval Base, added: "The Movement to Work programme is a great way for us to support enthusiastic individuals who need a helping hand to get back into work.
"We're privileged to have discovered some talented people who are now full time apprentices at BAE Systems, and we hope that this will also be the case with this year's participants."
BAE Systems has supported Movement to Work since 2014. The company's Maritime Services business has taken 35 young people through the scheme in Portsmouth, four of whom are currently working in BAE Systems roles.
Overall, over 90 young people who have completed the Movement to Work programme are now employed by BAE Systems across the country. The company is planning to take 98 young people through the Movement to Work programme in 2017 and will be holding a further four programmes at its sites in Glasgow, Preston, Rochester and Barrow in Furness.