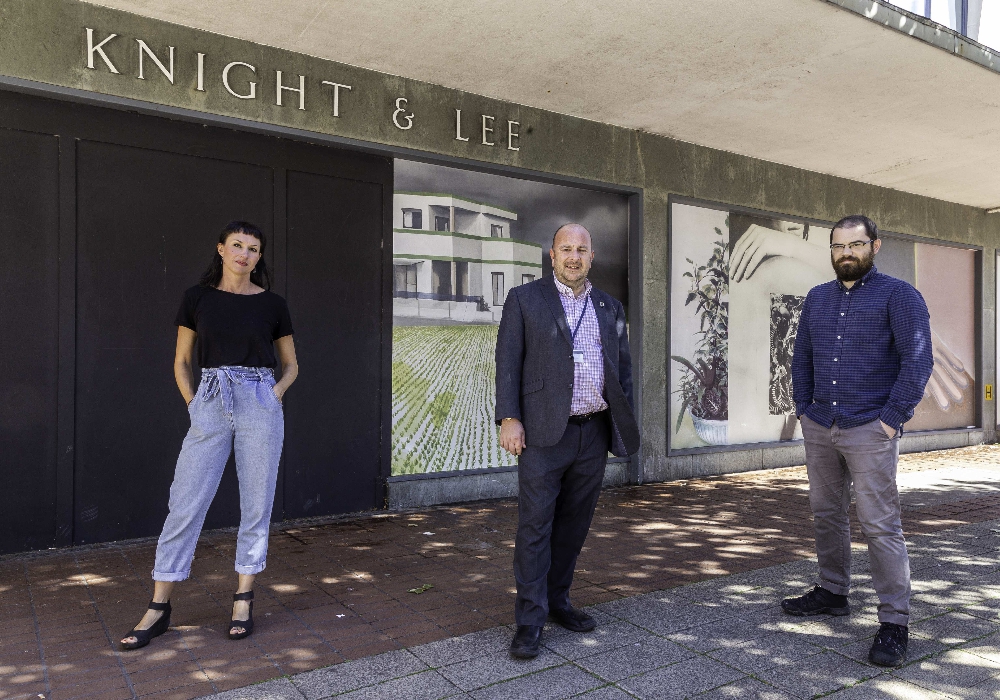 A vibrant array of contemporary artwork by local artists can now be enjoyed in Southsea thanks to the installation of the Select Dream exhibition in the windows of the former Knight & Lee department store on Palmerston Road.
The brainchild of local artists, Kate Street and Patrick Galway, the exhibition brings together twelve south coast artists who use or reference everyday items, architecture or aspects of day-to-day living in their work. The exhibition, featuring 27 original pieces, aims to lift the spirits and bring impactful art outside to be enjoyed by everyone while coronavirus restrictions remain in place in many museums and galleries.
Exhibition creator and contributor, Kate Street, comments: "I'm so pleased to see these 27 original artworks in their new home. The concept behind the project is that some of the objects used in the pieces would have been for sale in the department store - the result being a surreal, humorous and engaging display for everyone to enjoy during these strange times. Thanks to all those who helped make it happen - from the artists for their intriguing work, to THAT Group and Portsmouth City Council for the space and funding, and everyone in the community who contributed to our fundraising effort."
The exhibition organisers raised £1,000 towards the project from members of the public, working with the City Council and Shaping Portsmouth's 'pay it forward' crowdfunding scheme. This was matched by THAT Group, who are redeveloping the building into retail space, offices, a cinema and hotel.
The local ward councillors contributed a further £2,000 through their available Community Infrastructure Levy (CIL) to support the printing and installation. The Community Infrastructure Levy raises funds from developers who are undertaking new building projects in the area, allowing councillors to reinvest back into the local community.
Cllr Steve Pitt, the council's Cabinet Member for Culture, Leisure and Economic Development & Deputy Leader, comments: "It's great to see this exciting project brought to life in Southsea. It's an inspiring creative endeavour that brings new and original art to the city streets for us all to enjoy and shows just one of the ways CIL can be used to benefit local communities in different and interesting ways."
The exhibition will run until next year and remain in place when THAT Group's redevelopment of the building first get under way later this year.
Peter Tisdale, Chief Executive of THAT Group, adds: "We absolutely loved the idea of the Select Dream exhibition when it was brought to us and we're delighted to host it and help support it with a donation. The exhibition reflects the creativity of the area and it's fantastic to see original art brought onto the streets during these challenging times. It's the ideal way to bridge the gap before our exciting redevelopment plans get underway."
Exhibiting artists
Hermione Allsopp
Charlotte Brisland
Ruth Collins
Stephen Cooper
Patrick Galway
Jaye Ho
Naty Lopez-Holguin
Greg Palmer
Iain Rayner
Josephine Rock
Kate Street
Paul Vivian