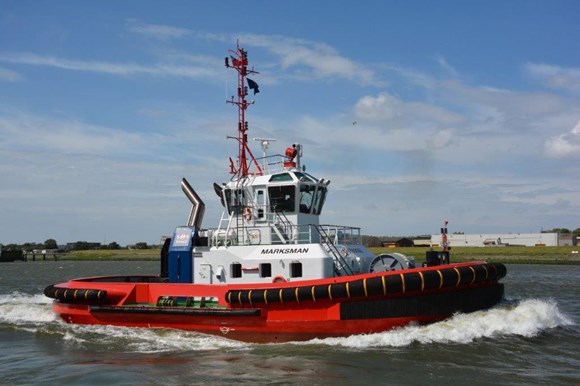 Portsmouth International Port's dedicated towage provider, SMS Towage, have boosted the port with the arrival of one of their new tugs, the Marksman.
This brand-new, Damen 2411 ASD vessel is an increase in power with a 69 tonne bollard pull capability, to ably manoeuvre and berth a ship, combining with her fellow ASD tug Yorkshireman. Together, visiting ships now have up to 119 tonnes of assistance readily available.
Mike Sellers, Port Director at Portsmouth International Port and Managing Director of Portico Shipping, said: "Our partnership with SMS Towage, which began in November 2017, has gone from strength to strength. Our ambitious expansion plans mean that we will be dealing with a wider range of larger vessels, so the arrival of Marksman gives our customers even more confidence that we can handle their ships safely and efficiently when they come to the port".
Managing Director of SMS Towage, Gareth Escreet, added: "This new tug signifies the commitment that SMS Towage have made to Portsmouth. The increased power on offer means we can easily facilitate towage of the largest vessels that come into both Portsmouth International Port and and also at Portico, Portsmouth's international cargo terminal. This will enhance service levels for SMS Towage and Portsmouth's joint clients."