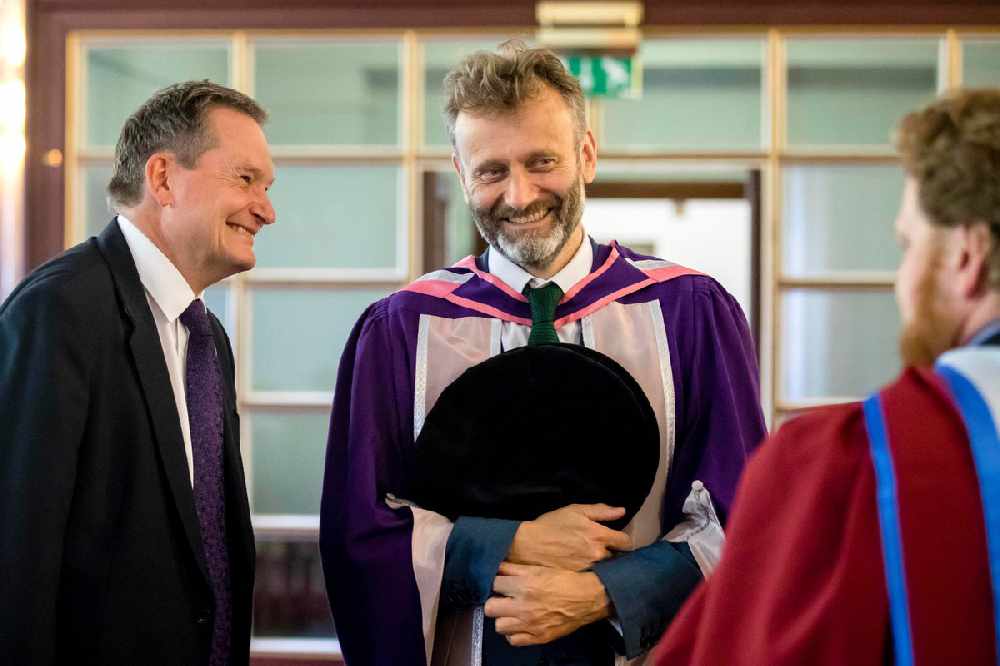 Over 6,000 students from 124 countries have received their degrees and professional qualifications during the University of Portsmouth's 2017 Graduation ceremonies this week.
This year's ceremonies were the last to be presided over by Sandi Toskvig, the University's Chancellor, who will retire after a five-year term of office.
Professor Graham Galbraith, Vice-Chancellor of the University of Portsmouth said: "Graduation is a highlight of the academic year, not just for our graduates but for the whole University. It is a time for us all to celebrate and reflect on the experiences and achievements of our students with their family, friends and fellow graduates."
The University also presented eight honorary awards to leading figures from the fields of politics, horticulture, cancer research, nursing, tribology, higher education, planning and development social justice and record-breaking adventurers including:
Sir Ben Ainslie – four time Olympic gold medallist and America's Cup winner. At his first ever Olympic Games, aged 19, he won an Olympic silver medal and went on to establish himself as the world's best by winning consecutive gold medals at the next four Olympic Games. As Land Rover BAR Team Principal, Ben led the recent British entry into the 35th America's Cup.
John McCarthy – the journalist saw his life change dramatically when he was abducted, on his first foreign assignment, by Lebanese militants and held hostage for 1,943 days. Subsequently, this terrifying experience was explored in his best-selling book, Some Other Rainbow, and in the film Blind Flight. Besides writing other books he has pursued a broadcast career on radio and television.
Hugh Dennis – Best known as the hapless, yet BAFTA-nominated dad in the multi-award winning BBC sitcom 'Outnumbered', Hugh Dennis also stars in the long-running BBC topical panel show 'Mock the Week', BBC3's breakthrough comedy drama 'Fleabag', and 'Lee Mack's Not Going Out'.
Neville Lawrence OBE – the father of Stephen Lawrence, who was murdered by a racist gang in London in April 1993, Neville is an advocate for marginalised and voiceless communities who struggle to access and be heard by law enforcement agencies. He is a strong anti-racist campaigner who works hard to highlight the scourge of hate crime and how it damages individuals and communities.
Alex Hibbert – world record-holding polar traveller who has skied further on an unsupported Arctic journey than anyone in history. Highly active in the polar and cold regions, Alex has led independent projects every year since 2006.
Alan Priddy – Portsmouth-born businessman and compulsive adventurer who has continually pushed the boundaries of technology and science for over 50 years. So far he has amassed 37 world records and for his latest project he has designed a revolutionary boat, crewed by injured ex-service personnel, to sail around the world, not only to set the record for the fastest circumnavigation but to do so burning sea water as fuel.
Jo de Serrano OBE – Portsmouth alumni Jo works in the international development industry, where she provides crisis management, operations management, emergency management and international relations. She represents the Department for International Development on improving humanitarian performance and is also a UN disaster assessment and coordination team member.
Graham Bryant – Graham has been involved in the amateur astronomical field for 50 years. Currently, he is a trustee of the South Downs Planetarium, a Fellow of the Royal Astronomical Society and chairman of the Hampshire Astronomical Group, which boasts the largest amateur observatory in the UK, situated north of Portsmouth.
The 14 Graduation ceremonies were held in the Portsmouth Guildhall last week.